In 2003, Takako Shigematsu gave us a little gem among shoujo manga. Tenshi Ja Nai!! is a fresh comedy full of romance, and teen drama. During grade-school, Hikaru Takabayashi appeared in a famous commercial; that event led her schoolmates to torment Hikaru out of jealousy. Growing up without close friends, she gradually turned into a tomboy, even though her beauty was hard to hide.
Years later, due to some circumstances, Hikaru transfers to the Seika Academy, an all-girls school, hoping to finally start a brand-new life. All she wants is to settle down, make friends, and stay away from the spotlight. Hikaru is not that lucky, though; her roommate is the popular idol Izumi Kido, so Hikaru finds herself in the eye of the storm once again. What's more, Izumi Kido isn't exactly what she seems... in fact, she is actually a boy!
This cute gender-bender shoujo manga is full of laughter, romance, jealousy, turn of events and cliffhanger. We are sure you got hooked after reading just the first few chapters, and ended it craving for more! That's why we created this list: to mention six other manga sharing with Tenshi Ja Nai!! one thing, or the other. Stick with us until the end, then!
Similar Manga to Tenshi Ja Nai!! / Similar Manga to I'm no Angel!
1. W-Juliet

Authors: Emura
Genres: Romance, Shoujo, School life, Slice of life, Comedy, Drama, Gender Bender
Volumes: 14
Published: October 1997 – November 2002
Makoto Narita is a high school boy with a big dream: he wants to become an actor. His father, though, disapproves. Makoto will inherit the family dojo, as he is the only son. Finally, thanks to Makoto's persistence, he and his father make a deal: Makoto has to spend the remaining two years of high school as a girl – Makoto Amano – and should he be discovered, he will follow his father's footsteps. Should he succeed though, he will gain the right to pursue his dream.
Tenshi Ja Nai!! and W-Juliet are both shoujo manga with the main concept of a boy who, for one reason or the other, needs to become a girl. Izumi and Makoto dress up and act as girls, but then their female counterparts find out the truth. Once their secret is out though, both Hikaru and Ito begin to help them, and in few steps their relationship begins to develop. Aside from the reasons bringing Izumi and Makoto to dress up, these two series really share a lot, so it's not a stretch to say that if you enjoyed Tenshi Ja Nai!!, you'll find W-Juliet equally intriguing.
---
2. Hanazakari no Kimitachi e (Hana-Kimi: For You in Full Blossom)

Authors: Nakajo, Hisaya
Genres: Comedy, Drama, Romance, Shoujo, School life, Slice of life, Gender Bender, Harem
Volumes: 23
Published: August 1996 – August 2004
Mizuki Ashiya is a Japanese-American track-and-field star, who transferred to a Japanese high school. The reason as to why she wanted to transfer, is to stay close to her idol, the high jumper Izumi Sano. There's a little problem, though: the high school Izumi Sano attends is an all-guys' school, so Mizuki need to disguise herself as a boy! The actual challenge, though, comes when she ends up sharing with Izumi the same room. Mizuki will have to struggle in order to keep her secret, but it will turn out much harder than she expected!
Both Tenshi Ja Nai!! and Hana-Kimi are gender bender shoujo series, which take place in high school where students live in dorms. The only difference is that in Tenshi Ja Nai!! it's a boy who dresses up, while in Hana-Kimi it's a girl. The result doesn't change: the main characters end up sharing a room, and the one dressing up has to struggle to hide the secret. Exactly like in Tenshi Ja Nai!!, in Hana-Kimi all the efforts Mizuki will put into hiding the truth will end up being in vain, as Izumi realizes very quickly that she's a girl. Pointless to say that step by step, Izumi and Mizuki, too, will begin to fall in love with each other!
---
3. Nousatsu Junkie

Authors: Fukuyama, Ryoco
Genres: Comedy, School life, Romance, Shoujo, Gender Bender
Volumes: 16
Published: October 2003 – November 2008
Naka Kaburagi is a 14-year-old model, with a problem. That is, every single time she is nervous in front of the camera, her face turns to that of something very similar to a criminal. Umi Kajiwara is Naka's rival, and the hottest model of their agency: Naka's beloved senpai rejected her, because he prefers Umi's features. Umi holds a secret though, and Naka soon discovers it: she is a he! What will become of their rivalry, after the exposure?
Tenshi Ja Nai!! and Nousatsu Junkie share the same weird situation: a boy disguising himself as a girl, in the entertainment industry. These two series are both comedies, full of romance and turns of event. Both the main female characters – Hikaru and Naka – quickly discover their counterparts' secret and begin to cooperate with them. Just like Hikaru manages to find a place in Izumi's heart, Naka and Umi will get closer, and closer. We guarantee that Nousatsu Junkie will give you the same good vibes you got while reading Tenshi Ja Nai!!, so go catch it up!
---
Any Manga Like I'm no Angel! / Any Manga Like Tenshi Ja Nai!!?
4. Power!!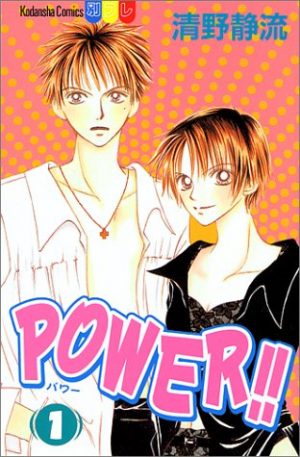 Authors: Seino, Shizuru
Genres: Comedy, Romance, School life, Shoujo, Gender Bender
Volumes: 10
Published: 1999 – 2002
Kyo Aizawa is about to begin her high school life at Seisyu Academy, and she's very excited: their girls' uniforms are the most beautiful, and she can't wait to receive her own. When the package finally arrives, and she happily opens it, she can't really understand why there's a boy's uniform in it. Turns out that since Seisyu Academy is famous for its basketball program, Kyo's father enrolled her as a boy, in order to help her fulfill the dream to become an NBA star. Problems arise immediately, though, when she will have to stay in the boys dorms, and share the room with her rival: Chiharu Eniwa!
Tenshi Ja Nai!! and Power!! share a lot, as both of them are gender bender shoujo series, full of comedy and misunderstandings. In both these series a boy and a girl begin to share a dorm room, while one of them hides a secret. Even though in Power!! it's the girl who disguises herself as a boy, while in Tenshi Ja Nai!! it's the opposite, both the situations start gags and hilarious misunderstandings. Exactly like in Tenshi Ja Nai!!, the main characters go from the initial indifference, or rivalry, just to slowly develop deeper feelings for each other. If you liked Tenshi Ja Nai!!, and wish to read something spiced up with sports as well, Power!! is a must-read.
---
5. Never Give Up!

Authors: Mutou, Hiromu
Genres: Comedy, Romance, Shoujo, Slice of life, Gender Bender
Volumes: 13
Published: February 1999 – December 2002
With a dad who is a professional model, Kiri Minase is very handsome: broad shoulders, beautiful eyes, and a very masculine look. Actually though, Kiri is a girl. This 14-year-old girl is also known as "the prince", and she has a crush on Touya Enishi since she was very little. Due to her insecurities about her looks, she never confessed. Being Touya known as "the princess", thanks to his feminine looks, in order to watch over him from afar, Kiri joins the world of fashion modeling as "Tatsuki". Can you imagine what could happen with these premises?
This is yet another cute shoujo manga sharing with Tenshi Ja Nai!! the main concept of a protagonist cross-dressing, in order to achieve something. In Never Give Up! it's Kiri, the girl, to dress up as a boy, and being Touya shorter and more delicate than Kiri, that starts a lot of misunderstandings. Just like Hikaru and Izumi in Tenshi Ja Nai!!, Kiri and Touya's relationship will build up step by step, through a lot of hardships. We really think Never Give Up! can be your next step, after reading Tenshi Ja Nai!!
---
6. Teppen! (The Top)

Authors: Tsukimiya, An
Genres: Comedy, Romance, Shoujo, Gender Bender
Volumes: 2
Published: February 2008 – June 2009
Before dying, Kobato Uehara's mother told her she had an older brother, working on TV in Japan. Left alone, Kobato is determined to find her brother and maybe get a job, so she flies to Japan and begins her research. When she accidentally bumps into Takeru Shinjou, her life is literally turned upside down. Takeru being an idol, he sees in Kobato some potential, so he forces her to auditions. She succeeds, but there's a problem: the agency hasn't realized she was a girl!
As you can see by the premises, with Teppen! we are once again in front of the main theme of the disguise. Kobato, in order to find her place in the idols' world, need to disguise herself as a boy, with the main purpose of finding her brother. Of course, there's a romance going on between the two main characters, exactly like in Tenshi Ja Nai!!. You can consider Teppen! as a shorter version of Tenshi Ja Nai!!, but we can safely say that you'll find both equally amusing, what with the gags and the misunderstandings!
---
Final Thoughts
And so Teppen! ended our list of six manga like Tenshi Ja Nai!! We really hope you can find it useful, somehow. We tried to mention all those manga sharing with Tenshi Ja Nai!! the main gender bending theme, a school setting, and a non-conventional romance full of misunderstandings. We are sure that you will love each of these six manga, as they are all full of comedy, and even tender moments. If you are into shoujo, this list will be your cup of tea; if you aren't, why don't you make it your starting point? Now please, let us know what you think in the comments below, and see you next time!