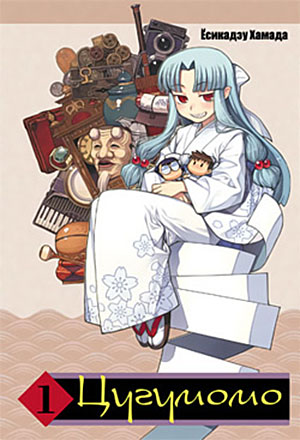 INTRODUCTION
Oh harem romance, how we can't get enough of you. Then when a harem manga series adds in supernatural elements, action and romance, it just becomes icing on the cake. That is why we have such a fondness for Tsugumomo by mangaka Hamada Yoshikazu. Hamada did such an excellent job fusing quirky characters, cool action events and just enough ecchi to really get the heart rate pounding. Now a currently airing anime, Tsugumomo truly seems to be a success. That is why we here at Honey's Anime have worked our own supernatural writing powers, which we don't really have, to come up with a new list for all to enjoy. Today we dive into 6 manga like Tsugumomo.
Let's be frank, there are a load of harem manga and anime out in the world. Japan has much success from creating some of the cutest anime girls for all to enamor over. Thus we made sure that for our list, we found manga that was similar to Tsugumomo in not just one genre but several and captures the elements fans love from it. That is why we had to get our hands dirty in the kitchen and deal with working part time to find manga that echoed Tsugumomo's theme. We won't lie we're exhausted from our research but that doesn't mean we can't do more! Without any more delay, welcome to the beginning of our list of manga like Tsugumomo.
Similar Manga to Tsugumomo
1. Spirit Circle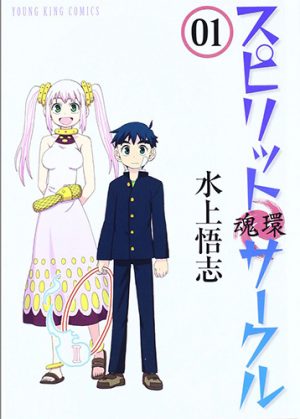 Mangaka: Mizukami, Satoshi
Genre: Action, Adventure, Comedy, Drama, Romance, Supernatural, Seinen
Volumes: 6
Published Date: May, 2012- Mar, 2016
Fuuta Okeya should be a normal 14 year old boy. However, thanks to the odd ability to see ghosts, Fuuta isn't your typical teenager. He also finds himself falling head over heels for the new transfer student Kouko Ishigami. Despite Fuuta's attempts at befriending her, it seems Kouko wishes to completely stay away from him, yet the ghost following Kouko seems to desire Fuuta for some reason. Then one day when Kouko sees a strange birthmark on Fuuta's cheek, she claims that she now is Futta's enemy. How did things turn out this way?
Man, poor Fuuta has it rough indeed. Not only does he have this strange gift but the girl he likes wants to be his enemy. Mangaka Mizukami Satoshi truly made a fun action comedy similar to Tsugumomo in so many ways in the form of their work titled Spirit Circle. An unique story and some great comedy really captivate the reader all the while there's some action thrown in for good measure. Our list starts proper with Spirit Circle and if you love Tsugumomo you'll find a special place in your heart for this quirky story.
---
2. Gan Kon

Mangaka: Sugawara, Kenji
Genre: Action, Comedy, Martial Arts, Romance, School, Shounen, Supernatural
Volumes: 5
Published Date: Oct, 2011- Aug, 2012
Ever find yourself struggling to tell someone you love them? Well not our main character Tagamori Shinta who seems to have the issue of telling any girl he falls for that he likes her. It isn't hard to imagine poor Tagamori failing each time but that doesn't stop the young man in trying. Then one day Tagamori heads to an odd shrine and makes a wish. That wish will change the young man's life forever in Gan Kon.
Gan Kon is so many elements of fun an element mirrored in Tsugumomo. In many ways, Tagamori reminds us of a more confident version of Kazuya from ugumomo albeit with maybe a bit too confident. Jokes aside Gan Kon is a fun read with some cute art and plenty of action moments. Sprinkle in some comedy and you have the relative to Tsugumomo's style of manga. We clap for mangaka Sugawara Kenji, thank you for bringing us Gan Kon.
---
3. Suashi no Meteorite

Mangaka: Konishi, Mikihisa
Genre: Action, Comedy, Shounen, Supernatural
Volumes: 5
Published Date: Jan, 2011
Ariyuki witnesses a beautiful meteor shower and makes loads of wishes in hopes one comes true. Heading home he believes that maybe his luck will change, though that reality is shattered when he finally arrives at his house, more so where his house was. All that is left of his home now is debris thanks to one of the meteors during the shower crashing into it at full speed. Heartbroken, Ariyuki truly believes his life is cursed. However, suddenly from the meteor, a young girl comes forth with a declaration that she is able to grant Ariyuki's desires because she's a goddess.
On one hand Ariyuki lost his home, that indeed sucks but on the other hand he now has a goddess who wishes to grant his wishes…seems like a fair trade. Welcome to Suashi no Meteorite from mangaka Konishi Mikihisa, a truly interesting comedy tale. Like Tsugumomo, Suashi no Meteorite really boasts a lot of things to love about it. Not only is Darumiru Kogoria Flonmell super cute like Tsugumomo's main female Kiriha, but the amount odd moments surrounding them fills our hearts with laughter and Ariyuki's with…mixed results. Overall, we highly recommend Suashi no Meteorite due to its great comedic plot and some very strong art. Seriously though, where's our goddess to grant our wishes…
---
Any Manga Like Tsugumomo ?
4. Monster Girl (Yokai Girls)

Mangaka: Funatsu, Kazuki
Genre: Action, Comedy, Ecchi, Romance, Harem, Supernatural, Seinen
Volumes: 10
Published Date: Mar, 2014- Present
Yatsuki a part time worker finds a very peculiar situation occurring to him. While walking in the park, Yatsuki is suddenly hit by a beautiful girl named Rokka that seemed to come out of nowhere. Despite their strange meeting, the two become close friends, but Rokka seems to be hiding something from poor Yatsuki. What's worse is that Yatsuki already has his hands full with other girls who seem to want to show him how much they love him in their own way. Yatsuki may believe the girls around him are normal, but he will soon learn the word normal is a word that can't be used with them.
Seriously, while we envy Yatsuki because of all of his lady friends, we don't envy what's about to happen to him in this story. Like Tsugumomo the comedy of Monster girl comes in large part from the ecchi situations that Yatsuki deals with as well as the occasional action sequence or two. The various girls of Monster Girl are indeed tough with their various powers and we won't spoil which girl does what because you'll laugh at seeing some of their fighting styles. Monster Girl is definitely a must for this list and we're sure you'll understand why after you read page 1.
---
5. Yuragisou no Yuuna-san

Mangaka: Miura, Tadahiro
Genre: Comedy, Ecchi, Romance, Shounen, Harem, Suoernatural
Volumes: 5
Published Date: Feb, 2016- Present
Ever since he was a kid, Fuyuzora Kogarashi has been troubled by his supernatural gifts. Not only can he see ghosts but Fuyuzora has also always been possessed by multiple spirits. However, as he aged many things happened to Fuyuzora both good and bad. On the good side he's been able to stop ghosts from haunting and possessing him. Though on the flip side of the coin, Fuyuzora has become homeless and seeks a place to live. When he finally finds a cheap room, he's ecstatic…till he realizes the place is haunted by many ghosts of former students. Yet when a 16 year old ghost girl called Yuna tells Fuyuzora her tragic tale, Fuyuzora decides to help her and the other tenants move towards the afterlife.
We shouldn't even have to explain what makes Yuragisou no Yuuna-san so similar to Tsugumomo but we will anyways. Both of these supernatural love stories contain all the elements of a cute supernatural love story heavy on the ecchi. Miura Tadahiro creator of Yuragisou no Yuuna-san truly blended some amazing art and a cool simple tale of otherworldly proportions. The only bad thing about Yuragisou no Yuuna-san is that we're still waiting for its completion and that means no binging. That is an issue because you'll want to binge Yuragisou no Yuuna-san since it will easily become one of your favorite manga ever.
---
6. Popcorn Avatar

Mangaka: Hoshino, Koichiro
Genre: Action, Comedy, Ecchi, Romance, School, Shounen, Super Power
Volumes: 6
Published Date: Apr, 2009
Kurando has had enough of his life and decides to end it by means of suicide. However, when he attempts to rid himself of this world he runs into a young blond beauty named Lisa who claims something ridiculous to Kurando. Lisa states that she is actually a reincarnation of a Goddess and needs his help since she needs an avatar to fight alongside her in a war of epic proportions. Given essentially no choice, Kurando decides to help Lisa thus starting this weird relationship of a normal human and a legendary goddess.
As per usual with the sixth entry that means we're nearing the end of our list. However, that's why we here at Honey's Anime will go out strong with Popcorn Avatar from Mangaka Hoshino Koichiro. Every single thing about Popcorn Avatar seems to mirror Tsugumomo. The banter between Kurando and Lisa is very cutesy like Kazuya and Kiriha and you'll enjoy that and much more. The action coming from the battles the gods have in this series, is frantic and fun giving a nice balance between comedic and serious tones. Kurando's odd drama will be your entertainment in Popcorn Avatar.
---
Final Thoughts
The genre of romance and harem usually is a theme that floods the manga market. However, works like Tsugumomo show that you can infuse just a bit of creativity and other genres to create a unique and enjoyable tale. Then as you can see from the list above clearly other manga have done the same with some success. Now we hate to bid farewell but as always we reach the end of another great article. We here at Honey's Anime are always striving to bring you another great list such as this one, so please let us know in the comments below what your thoughts are regarding the 6 manga like Tsugumomo list you've just read. As always please continue to keep your eyes glued to our great site for more articles for your reading pleasure.
---