If you are a lover of shoujo, historical romances, and fantasy, you know you have come across Tsuki no Shippo, otherwise known as Tail of the Moon, at least once. Tsuki no Shippo has a rather dimwitted and lazy main character, Usagi, who sets out to marry a great ninja to produce an heir who will be a great ninja in her stead. It is then that she falls in love with Hanzo and eventually, is forced to overthrow her lazy ways in order to survive.
If you loved this manga for all of its character development, funny moments, Usagi's pursuit of romance, of all of the historical content, then do we have a list for you. Today, we are looking at 6 manga like Tsuki no Shippo that share some aspect of its gloriousness in some way. If you are as excited to see our selections as we are to share them with you, hang tight. This is Honey's Anime's 6 manga like Tsuki no Shippo!
Similar Manga to Tsuki no Shippo / Similar Manga to Tail of the Moon
1. Shinobi Life

Authors: Konami Shouko
Genres: Action, Comedy, Drama, Fantasy, Martial Arts, Romance, Shoujo, Supernatural
Volumes: 13
Published: 2006 - 2012
Fujiwara Beni is a high school girl with a life that's far from normal. One day, she finds herself threatened on the edge of a roof at knife-point only to be knocked off the edge by a boy who just appears and lands on her from above. This boy is Kagetora, a ninja who had somehow fallen into a time portal and appeared in modern day Japan. Kagetora had once devoted his life to Princess Beni in his time, and now, he is convinced that Fujiwara Beni is that same Beni that he swore to protect!
It is impossible to start off this list with anything but Shinobi Life. While this is not a historical romance or even an adventure manga, we do have a romance story between Beni and her ninja savior. Beni will learn more about what it means to be a Ninja from Kagetora, but at the same time, she will share a bit of her world with him the same way Hanzo and Usagi did. While they may not start off on the best terms, they slowly grow to love each other and it's a cute love that really reminds us of Hanzo and Usagi from Tsuki no Shippo.
---
2. Fushigi Yuugi: Genbu Kaiden

Authors: Watase Yuu
Genres: Adventure, Drama, Fantasy, Historical, Romance, Shoujo, Gender Bender
Volumes: 12
Published: 2003 - 2013
Okuda Takiko lives in the Taisho Era of Japan. She's had to be strong because her mother is terminally ill, her father hasn't been around in over a year, and the love of her life is married. One day, when her father finally returns home, he brings with him a book that seems to consume him more so than his wife's current state. Takiko is fed up with her father and decides to steal the book away. The book is "The Universe of the Four Gods" and it opens to steal Takiko away in a flash of bright light to a place where her story as the Priestess of Genbu will begin.
Now, what exactly could Fushigi Yuugi: Genbu Kaiden have with Tsuki no Shippo? Well, both series are historical romances dealing with drama and adventure. There's also a lot of action in both series, as well. Plus, like its sequel made before it, Fushigi Yuugi: Genbu Kaiden has a few comedic moments between the love interests that makes you think of Tsuki no Shippo. Do you want a relationship that's only serious? We think not! The dynamic between Takiko and Rimudo is pretty fun and while they really care for each other, they always put each other's best interests up front first. However, Fushigi Yuugi: Genbu Kaiden has more drama and heartbreak than you might imagine, so strap yourself in if you're going to read this manga. You're in for a ride!
---
3. Hadashi de Bara wo Fume (Stepping on Roses)

Authors: Ueda Rinko
Genres: Drama, Historical, Romance, Shoujo
Volumes: 9
Published: 2007 - 2012
Kitamura Sumi is the second oldest out of her six adopted siblings with no parents. One day, she finds herself alone when her older brother skips town and her siblings are taken from her. Now, Sumi needs to figure out how to make money fast to get her siblings back. One man is willing to give her the money if she agrees to marry him.
Written by the same mangaka as Tsuki no Shippo, Hadashi de Bara wo Fume is a newer series that still has many of the same elements. Sumi has no talent and desperate for money, she is willing to do anything in order to save her adopted siblings, even if it means having to sell her body (which is technically what Usagi has to do in order to live her lazy life). However, Sumi comes across a man who offers her marriage in exchange for money with the promise of never falling in love, something that Usagi fights against in her own story as Hanzo has absolutely no interest in her. However, Sumi's world is going to change as hers is opened to the world of riches in her new marriage, a luxury she could never dream. While Hadashi de Bara wo Fume does not exactly follow the same setting as Tsuki no Shippo, they are both historical romances set in historic Japan and their love stories are far from boring.
---
Any Manga Like Tail of the Moon / Any Manga Like Tsuki no Shippo ?
4. Kanata Kara (From Far Away)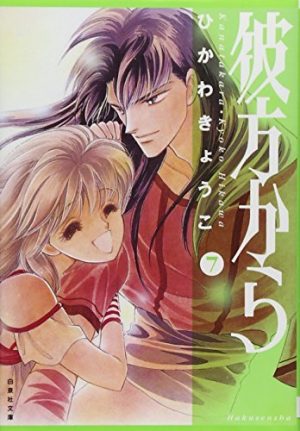 Authors: Hikawa Kyouko
Genres: Adventure, Demons, Fantasy, Romance, Shoujo
Volumes: 14
Published: 1991 - 2003
Noriko was on her way home one day when she finds herself being whisked away into a fantasy world beyond her imagination. She is rescued by a man named Izark who may seem to be the man of her dreams but possesses an evil deep within him. Prophecy dictates that Noriko has the power to release the evil that Izark has, sealing their fates together. Now, they will venture out into the world together where love and fantasy may not always be separate.
Kanata Kara is a very popular fantasy romance manga and while it may not be historical like Tsuki no Shippo, it does take us on an adventure to a new world of fantasy. It is here that we have a fantasy romance story like no other as Noriko and Izark are forced together by fate. While it may seem to differ greatly from Tsuki no Shippo, you can still expect a cute romance between Noriko and Izark like Usagi and Hanzo where they will protect each other and care for each other above all else. If you loved Tsuki no Shippo's romance but want something more serious with more fantasy elements, Kanata Kara is the manga for you.
---
5. Sora wa Akai Kawa no Hotori (Red River)

Authors: Shinohara Chie
Genres: Action, Adventure, Drama, Fantasy, Historical, Romance, Shoujo, Supernatural
Volumes: 28
Published: 1995 - 2002
Yuri is a Japanese teen who is really content with her life. One day, she is pulled from her time to the past to ancient Anatolia where the queen wishes to use her as a blood sacrifice to ensure her son inherits the throne above his many brothers. However, Prince Kail ensures that Yuri does not meet an untimely demise. Now, Kail has promised to protect Yuri until she can be sent back home and the queen will do anything to steal Yuri back. All while Yuri has to become accustomed to the Hittite and their ways.
Red River is a historical romance manga like no other. It is full of wonderful detail, great storytelling elements, and many dynamic characters that really drive the story through. While the historical romance angle is similar to that of Tsuki no Shippo, it's all of the politics and character growth in the background that really links these two together. There are struggles between different factions and our characters just have to cope with them. These may both be shoujo manga, but don't expect everything to end so simply. Red River is a tumultuous story that is much more serious than Tsuki no Shippo but as far as historical romance manga go, there is none quite like Red River.
---
6. Angel Diary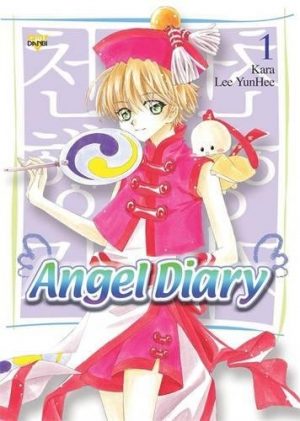 Authors: Kara, Lee Yun Hee
Genres: Comedy, Demons, Fantasy, Magic, Romance, Super Power, Supernatural
Volumes: 13
Published: 2005 - 2009
Dong Young is the Angel Princess of Heaven, forced upon her by her parents (as she wished to be a prince) so that she could marry the Emperor of the Underworld to attain peace. Resentful of her fate, Dong Young escapes to the human world and disguises herself as a school boy. Now, Heaven and Hell are doing everything they can to find her! However, Dong Young soon makes human friends, especially a mysterious one named Bi-Wal.
We really wracked our brains about this one but we thought no series did Tsuki no Shippo as much justice as Angel Diary, although we are fully aware it is a manhwa. This manhwa features a the same comedic angle as Tsuki no Shippo with a rather dimwitted female lead, Dong Young, who acts more like a tomboy and no ladylike manners. Then comes in Bi-Wal and Hanzo who are both the rather cool and collected types, except for when it comes to the girls they love. Plus, there's a few elements that really get Ange Diary's story to move on such as attempts on Dong Young's life and the arranged marriage that makes Dong Young wish to run away. There's going to be a lot of drama, but don't worry, there's still a lot of comedy too so of course, we thought of Angel Diary for this list of 6 manga like Tsuki no Shippo.
---
Final Thoughts
Tsuki no Shippo is such a wonderful shoujo manga that taps into the intrigue of ninja and provides a romance story that we can only fantasize about. We get to glimpse inside Japanese history in this historical fiction and learn a little bit more, although most of the series is centered on the growth of Usagi from a child to a full-fledged kunoichi. If you loved Tsuki no Shippo, we hope that you will enjoy these 6 manga like Tsuki no Shippo, too. If you think we're missing a recommendation, please feel free to share with us. If you read one of the manga like Tsuki no Shippo on our list and loved it, please let us know. Just head on down below to the comments to share everything!
---