También puedes leer este artículo en:Español
Kimihiro Watanuki only knew a life living alone pestered by youkai. When he enters a curious shop and meets its owner, his life turns upside down. However, the shop owner (the legendary witch of dimensions known as Yuuko Ichihara) has secrets of her own that could affect the entire multiverse. As she and Watanuki meet several shop clients, many stories interweave.
Who has not heard of CLAMP at this point? Although they have been the mothers of many highly successful stories, xxxHolic was one of their latest stars. Together with its twin sister (Tsubasa Reservoir Chronicles), these stories told us the many woes of Watanuki and his comrades as they discover who they are and try to stop the multiverse from collapsing… while they run a shop that can grant you any wish if you are willing to pay the price. Mysterious and sometimes cruel, xxxHolic made its mark on a generation. What other manga deal with magic, youkai or the price you have to pay for your dreams? Let's see if we can find out!
Similar Manga to xxxHolic
1. Youkai no Oishasan (Youkai Doctor)

Authors: Yuuki Satou
Genres: Supernatural
Volumes: 15
Published: Feb 28, 2007 to Feb 19, 2011
Yuuki Satou worked as assistant before drawing their own stories, which range from shounen to shoujo. In Youkai no Oishasan, we can meet so many youkai! Kotoko's family is in charge of exorcising them, but when she meets Kuro, she discovers that youkai have doctors. Therefore, she decides to learn the craft.
Did anyone call Watanuki to this story? The relationship between Kotoko and Kuro reminds us of him and Yuuko. The misconceptions Kotoko had about youkai also are similar to Watanuki's wanting to get rid of his abilities at the beginning of xxxHolic. The atmosphere with its heavy orientalism is also enticing. The main difference is that Youkai no Oishasan is a lighter manga. If you miss Yuuko and cute youkai, this could be a good option for you.
---
2. Rurimiya Mugen Kobutsuten (Rurimiya's Curious Antique Shop)

Authors: Makoto Sunahara
Genres: Mystery, Drama, Supernatural
Volumes: 7
Published: Jun 25, 2013 to Feb 24, 2018
Maybe you are not a fan of Watanuki as much as you are of Yuuko. Perhaps you wonder how were her younger days, or when she ran the shop without so many people and Mokonas around her. In that case, maybe you could try to visit Rurimiya. Created by Makoto Sunahara, this is only one very few titles she has released. Rurimiya Mugen Kobutsuten tells us the story of Rurimiya. who manages a shop in a quiet alley. Whoever enters can have a wish granted, receiving an antique from the shop. However, they have to be very careful or terrible things could happen.
It is true that xxxHolic and Rurimiya did not create the mysterious shop genre. However, they have such an elegant way of delivering their stories that it captures you immediately. One also has the sensation that the chapters are part of something bigger. And did we mention that both shop owners have strong personalities and know how to get serious when it is required?
---
3. Chocolat no Mahou (The Magic of Chocolat)

Authors: Mizuho Rino
Genres: Drama, Horror, Magic, Shoujo, Supernatural
Volumes: 15
Published: 2009 to Present
We all know that Yuuko is a fan of delicious food and alcohol. So, what would have happened if instead of running her shop with curious artifacts, she would have made chocolates instead? This is the case of Chocolat Aikawa, an expert chocolatiere who has her own shop, called Chocolat Noir. The best part is that she can also grant wishes for a price.
Mizuho Riho only has another story called Takoyaki Princess, so it is interesting to know that Chocolat no Mahou made it big. It even has its own OVA! Chocolat has a great style when it comes to clothing and decoration, just like Yuuko. She also has a black pet, a cute talking cat! Both protagonists can also affect the lives of their clients in great ways. This is another manga for those who really miss the Witch of Dimensions.
---
Any Manga Like xxxHolic ?
4. Usemono Yado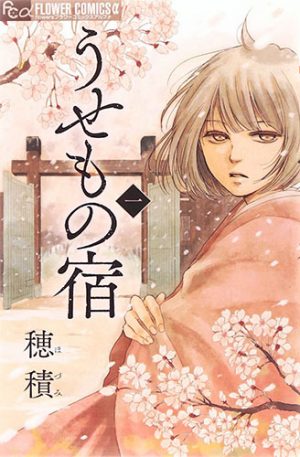 Authors: Hozumi
Genres: Drama, Shoujo
Volumes: 3
Published: Mar 27, 2014 to Oct 28, 2015
Hozumi has a few manga with a heavy slice of life influence. A traditional style inn in Japan might be the perfect place to rest for a while, reflect about your deeds or just take refuge from the outside world. However, the inn in Usemono Yado has the peculiarity of being able to show people what they have lost. After that, they can either go back to their normal lives, or keep the thing… which has consequences, of course. If you want a tour of such an inn, the peculiar landlady will take you there.
If what you miss about xxxHolic is the Japanese atmosphere or the house where Watanuki and company lived, Usemono Yado presents us with something similar. Both Yuuko and the landlady are not what they appear as at first sight. Also, the structure of the story looks like short self conclusive chapters at first, but there is a more important parallel story behind that connects everything. Hozumi is also praised for the quality of their art. All in all, Usemono Yado is an underrated jewel in the supernatural manga realm.
---
5. Crimson Spell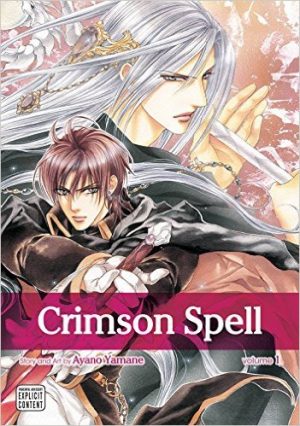 Authors: Ayano Yamane
Genres: Action, Adventure, Demons, Drama, Fantasy, Magic, Romance, Yaoi
Volumes: 5
Published: May 22, 2004 to present
Ayano Yamane has a long experience in yaoi manga, so be prepared for some hot action. So, what is this crimson spell about? Our protagonist in this manga is Prince Valdrigr Alsvieth (Vald), who turns into a monster due to the course. To break the spell, he enlists the help of the magician Lavir Hropter (Havi) and they go into a journey. Havi makes sure to keep the beast inside Vald in control, while drama and fantasy surround the pair.
If xxxHolic enticed you because of its artwork, you will like the gorgeous visuals in Crimson Spell. The relationship between Vald and Havi reminds us a bit of Watanuki and Doumeki, not only because it is slightly conflictive, but because one helps the other control their powers. And oh, the comedy is gold! Their relationship also becomes deeper with time, so, if you ever fantasized with the xxxHolic protagonists as a couple, you may want to give a chance to Crimson Spell. If you do not like yaoi, don't worry! There is enough epicness here for you as well.
---
6. Ran to Haiiro no Sekai (Gray and Wonder around Her)

Authors: Aki Irie
Genres: Drama, Fantasy, Romance, Supernatural, Seinen
Volumes: 7
Published: Dec 15, 2008 to Apr 15, 2015
Most of the work of Aki Irie has been collected in one volume collections. So far, Ran to Haiiro no Sekai has been their most successful. Have you ever wondered how life would be like if your family was magical? The Urumas are a family of four sorcerers. While mom works to keep the world safe, dad takes care of Jin and Ran. Ran has too much power and too little experience, so she lives all sorts of adventures and misfortunes in her daily life.
Ran reminds us of Watanuki, as he comes from a magical family too. Both manga can be pretty low key and enjoyable for those who like slice of life. However, there is a more serious story running in the background. The main difference besides having a female protagonist, is that Ran has a safe family environment and knows the basic rules. Watanuki had to learn everything from scratch. If you want a relaxing manga about magic people, we can not recommend Ran enough!
---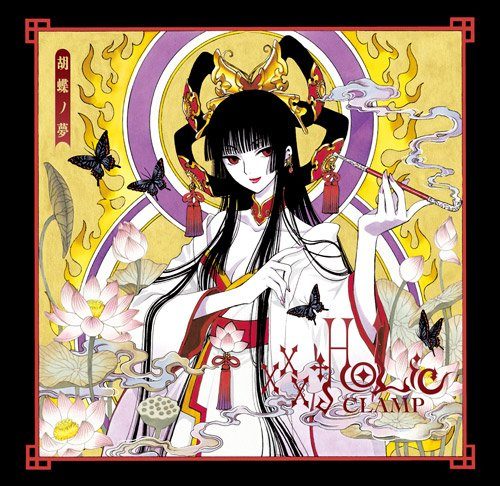 Final Thoughts
What is the price of our desires? xxxHolic and similar manga remind us that there are no coincidences, only the unavoidable. It might sound sinister for some, but if CLAMP has shown something in their stories is how strong wills can conquer everything. Yes, there are prices to pay and consequences, but if we are courageous and thoughtful enough, we can get the best of it… especially if we have friends around us, like Watanuki. And yes, youkai can be great friends too! Which other manga like xxxHolic do you like? What do you miss the most about xxxHolic? Do not forget that we are open to all your comments and suggestions. See you soon at Yuuko's shop!
---