Kono Danshi, Ningyo Hiroimashita. is a story about loneliness and the way to overcome it and start believing yourself. Shima is a high school student who was living with his grandfather. When his grandfather dies, he finds himself all alone in the world. His parents left him behind because of work, his awkward personality makes it difficult for him to make friends. Shima is at a loss of what to do. When he is saved from drowning by a merman – Isaki – his life takes a turn for the best. Isaki will be the one to make Shima understand that he wasn't an unwanted child, and that he can believe in himself because he is strong and he can do anything.
This cute story is a sort of slice of life, shounen-ai anime. This genre lately gained a lot of popularity thanks to an enthusiastic fandom, cute characters, and fluffy stories that can make viewers choke with sweetness. Whether you liked the art style in Kono Danshi, Ningyo Hiroimashita., or the shounen-ai part stating that Shima and Isaki love each other, or the funny moments between two cute boys, this is a list meant for you! We'll try to list down six other anime that share with Kono Danshi, Ningyo Hiroimashita. one thing or another. So stick with us until the end and enjoy!
Similar Anime to Kono Danshi, Ningyo Hiroimashita. / Similar Anime to This Boy Caught A Merman
1. Orenchi No Furo Jijou (Orefuro, Merman in my Tub)

Episodes: 13
Aired: October 2014 – December 2014
Tatsumi is a high school boy that, on his way back from school, finds a man collapsed near a lake. When Tatsumi tries to help the man, he realizes that there's something strange going on with his legs, in fact... That man, is a merman! His name is Wakasa, and since his house is polluted, he can no longer live in it. Tatsumi offers Wakasa refuge. What Tatsumi didn't know, though, is that Wakasa is whimsical, boisterous, and pretentious. However, Wakasa's new life begins in Tatsumi's bathtub, and so does Tatsumi's life, now forced to deal with Wakasa and his strange friends!
Orenchi No Furo Jijou is a shoujo anime that shares a lot with Kono Danshi, Ningyo Hiroimashita. For starters, the two boys – Tatsumi and Shima – look alike, and the same goes for the mermen, who are both blondies with long hair. Even though Orenchi No Furo Jijou is a defined as shoujo, it's clear as daylight that there may be something going on between Tatsumi and Wakasa. Both Tatsumi and Shima have these mermen living in their apartment and developing a deep relationship. What's more, Tatsumi, exactly like Shima, is an awkward boy who doesn't seem able to make friends. So when he has his house invaded by Wakasa, he is secretly happy. What else is there to say? Orenchi and Kono Danshi are basically the same story, with the only difference that Orenchi is a bit more on the comedy side. So if you liked one, you will totally like the other!
Orenchi no Furo Jijou Trailer
---
2. Tsuritama

Episodes: 12
Aired: April 2012 – June 2012
Living with a grandmother who, due to her job, has to move a lot, Yuki Sanada is a socially awkward boy who couldn't manage to build strong relationships during his life. Our scaredy-cat Yuki is so shy and so ashamed, that whenever he is asked to greet his new classmates, he freezes and become unable to speak. Tables turn when he and his grandmother move to Enoshima. There, Yuki meet a boy whose name is Haru. Haru is outgoing, cheerful and charismatic, and what's more... he claims to be an alien. Sticking close to Yuki, in spite of his complaints, Haru will gradually crush Yuki's wall and show him what friendship is.
Tsuritama and Kono Danshi are both shows involving water, vivid colors, cute characters and awkward protagonists. We find Yuki, who is similar to Shima: they both are socially awkward, but in the end, helped by Haru and Isaki, they will find a way to open themselves up. These two shows are slice of life with a piece of fantasy in it; Haru claims to be an alien, while Isaki is a merman. While Yuki and the others will gather, thanks to their passion for fishing, Yuki will start to make friends at school, thanks to Isaki's encouragement. If you like stories involving water and deep bonds, and enjoyed Kono Danshi, Ningyo Hiroimashita., Tsuritama has to be your next step!
Tsuritama Trailer:
---
3. Doukyusei (Classmates)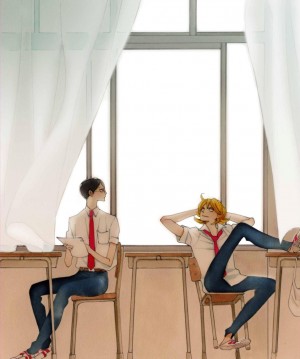 Episodes: 1 movie
Aired: February 2016
Honor student Rihito Saijou and guitar player Hikaru Kusakabe are classmates, but they never talked to each other. One day, though, Kusakabe offers to help Saijou prepare for the upcoming festival, and so the two of them begin to know each other better. Saijou is quiet, serious and socially awkward; Kusakabe is straightforward, hot-headed and popular among girls. With their character on opposite sides, what could the outcome possibly be? This is the recipe for a story full of teenage angst, cute moments and love.
For starters, Doukyusei and Kono Danshi, Ningyo Hiroimashita. are both slice of life, shounen-ai shows mainly focused on a slow-paced relationship. Both Doukyusei and Kono Danshi are kind of unique in their art style and vivid colors. Sajou and Shima are similar in their characters, in fact Saijou is socially awkward and it's thanks to Kusakabe that he will start to open up to other people. Both these couples will learn step by step what it means to count on the other, and their bond will grow deeper and deeper. These two love stories are both full of touching moments, romance and drama. Basically, they have the same good vibes that can glue viewers to the screen. It's time to catch up with Doukyusei, all the more when you liked Kono Danshi.
---
Any Anime Like This Boy Caught A Merman / Any Anime Like Kono Danshi, Ningyo Hiroimashita?
4. Loveless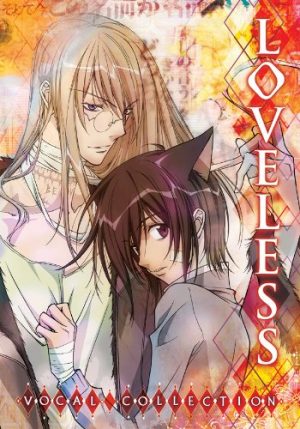 Episodes: 12
Aired: April 2005 – June 2005
Loveless is a delicate and deep shounen-ai anime, that revolves around Ritsuka Aoyagi, who is a 12-year-old boy with a broken home. His older brother, Seimei, has been killed and the truth about his murder is still hidden. His mother has totally lost it after Seimei's death, so Ritsuka is left alone to deal with a situation way bigger than him. That's when he meets Agatsumi Soubi, a guy claiming to be his dead brother's friend. Soubi introduces Ritsuka to the world of "Fighters", where basically two persons with the same name have to fight, one is the "sacrifice" while the other is the "fighter". Discovering how Soubi and Seimei were a fighting pair, Ritsuka will stick to Soubi in order to get to know more about his brother's background.
Loveless is full of drama and delicate themes, like for example a broken home, the loss of a dear family member, the struggle to be accepted. The same themes we can find in Kono Danshi, Ningyo Hiroimashita. Ritsuka and Shima face the death of one of their family member, and are both forced to deal with a totally new setting. Ritsuka will have to deal with an insane mother, while Shima will have to live alone, since his parents left him behind due to work. They both will be able to stand up once again thanks to their counterparts, Soubi and Isaki. Both Ritsuka and Shima will develop a romantic feeling toward Soubi and Isaki, but they will have to understand how to better deal with it. Both Loveless and Kono Danshi have a fantasy trait with them, and even though Loveless has a more serious tone, if you enjoyed the drama part in Kono Danshi, and Shima and Isaki's relationship, you are bound to enjoy Loveless as well.
Loveless Trailer
---
5. Robotica*Robotics

Episodes: 1
Aired: August 2010
This cute story revolves around two robots, Haru and Natsu. It's just a ten minutes episode, but it's totally worth it, as it's heart-warming and touching. Haru and Natsu just want to know what love is. While Haru is a bit more calm, Natsu has a blind fear of being discarded by Masa – the professor who took them in after they were abandoned.
This is a shounen-ai story which is cruel and soft at the same time. Haru and Natsu love each other, but they still don't know what love is. As for the similarities that Robotica*Robotics share with Kono Danshi, Ningyo Hiroimashita. we can say that the art style and the vivid colors are exactly the same. Then again, both these stories revolve around the main theme of loneliness. Natsu in Robotica*Robotics is scared to be abandoned again, and so it's Shima in Kono Danshi. Natsu will have Haru and, right after, Masa show him that he isn't alone anymore; for Shima it's up to Isaki. Basically, both these shows have the same vibes that goes from heart-squeezing to touching. We think it's totally worth your time as it is a rare gem of the genre!
Robotica* Robotics Official Video
---
6. Kono Danshi, Sekika Ni Nayandemasu. (This Boy Suffers From Crystallization)

Episodes: 1
Aired: December 2014
Ayumu Tamari is a high school student with an illness: when he is stressed, he starts to turn into a crystal. This condition affects all the aspects of his high school life, in fact he didn't manage to make friends. The only person he speaks to is his geology teacher, Kouya Onihara, who is astonished by Ayumu's transformation and finds it beautiful. Thanks to Onihara-sensei's advice, Ayumu's high school life seems to turn for the best, but that's the moment when Ayumu realizes one important thing: he is in love with Onihara-sensei. Will their relationship develop, or the fear will prevail?
These shows are related, as they both have the same director, Soubi Yamamoto. So it's no wonder how the art style, the atmosphere, and the themes in both these shows are similar. We have in one a boy who is a merman, and in the other one a boy who can turn into a crystal due to stress. Yet, since love knows no bonds, both these two boy will be loved in spite their being "different". Ayumu is very similar to Shima, and even though he wants to make friends, he doesn't manage to take the first step. So we can find in both these shows teenage angst, and the typical trouble of teenage boys. Onihara-sensei, as well as Isaki, will be there for them, giving advice. Both these shows are full of drama, romance and cute moments between two male characters. Even though the plot may seem to differ, they are both heart-warming stories that share the same vibes and unique characters.
Kono Danshi, Sekika Ni Nayandemasu Trailer
---
Final Thoughts
With this cute story, our list is over. As Kono Danshi, Ningyo Hiroimashita. is basically one of a kind show, we tried to put in this list those anime which were somehow similar to it thanks to themes like loneliness, friendship, and love. Plus, we tried to put shounen-ai shows, so if you enjoyed that part in Kono Danshi, you will find these shows just as interesting. We hope you appreciated our efforts, and as always, don't forget to share your thoughts below!