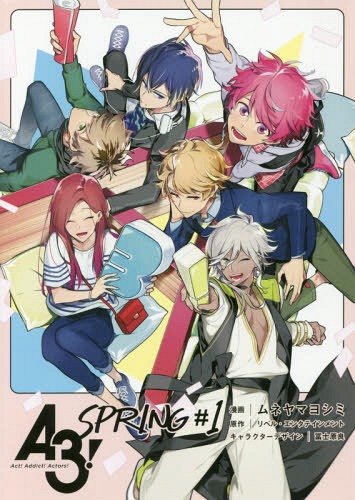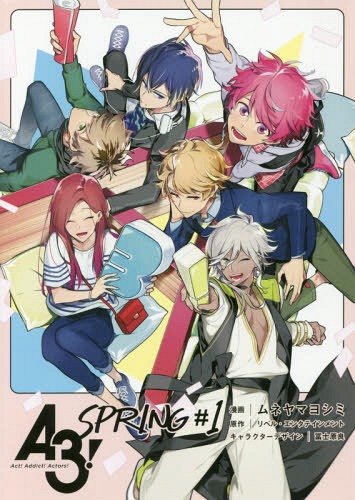 A3! Season Spring & Summer

Genre:
Idol, Music, Slice of Life
---
---
Studios:
P.A.WORKS×Studio 3Hz
Official Images / Key Visuals
Synopsis
After reading a letter of help, Tachibana Izumi visits "MANKAI Company" on the street known as "Velude Way." There used to be a theater and a troupe theater company that her father launched, but now the theater is deserted and the only member is Sakuma Sakuya. Since the company cannot repay the debt, the collectors try to take the theater away.
When she witnessed this, Izumi decided to revive the "MANKAI Company."by herself. Can Izumi somehow regain the former troupe?
Characters & Voice Actors
Sakuya Sakuma:
Koudai Sakai
A cheerful actor with a sunny disposition who's sometimes a bit too honest. He has loved acting since he was little, but while he severely lacks experience and skill, he's hardworking and puts his all into practicing. Due to a bit of a complicated family situation, he decided to audition when he heard that the theatre came with a place for members to stay in. He's the first member of the new MANKAI Company and was selected as a leader of the spring group.
Itaru Chigasaki:
Shintarou Asanuma
A refreshing, prince-type elite businessman actor...? He's a friendly, elite company employee with the refreshing and gentle aura of an adult. He's trusted by both his co-workers and superiors, and even within the company he's treated just like a real prince. But this is just how he acts during the day. It seems that he joined the MANKAI Company for a certain reason…
Masumi Usui:
Yusuke Shirai
A cool young actor who is a bit too single-minded for the director. He's the second person to join the MANKAI Company after he fell in love with the director when he saw her in the city. Although he's an amateur, he has amazing intuition for acting and is the best at memorizing lines, but all of his motivation comes from getting praise from the director and he's a bit rude towards the other actors in the group, earning him the title of a troublemaker. His parents are flying around overseas and he himself is free-spirited.
Tsuzuru Minagi:
Koutarou Nishiyama
He's a bit of a worry-wart older brother figure in the group who reacts to things in funny ways. He's third eldest of 10 brothers and is a hard-working brother who's taken care of his seven younger brothers all the way up to high school. His dream is to become a playwright and he joined the well-known MANKAI Company as a live-in actor to help reduce the burden on his family. He's experienced a lot of different jobs as he's quite strong and he's going to college.
Citron:
Masashi Igarashi
A suspicious and way too laid-back foreign exchange student actor. A mysterious foreign student who suddenly appeared in front of the directors and joined the group. He has a desire and willingness to learn Japanese for his acting, but his only fault is that he easily learns wrong Japanese by mistake. Because of this, he repeatedly says things that may or may not be true which confuses the people around him. He's also the mood maker for the spring season and helps to break the ice around the group.
Theme Songs

Opening Song: "A3ders! (sung by Sakuya Sakuma, Tenma Sumeragi, Banri Settsu, Tsumugi Tsukioka(CV:Koudai Sakai, Takuya Eguchi, Chiharu Sawashiro, Atsushi Tamaru)
Ending Song: "Home"/"オレンジ・ハート" (sung by Harugumi / Natsugumi)

Main Staff

Original Creator: Liber Entertainment
Director: Keisuke Shinohara
Assistant Director: Makoto Nakazono
Series Composition: Naoki Hayashi
Character Design: Mariko Komatsu
Sound Director: Takatoshi Hamano
Original Illustrator: Ryo Fujihara
(Credit Honey's Anime when you use our description.)
Honey's Highlights
___say_something___
___say_something___
___say_something___
___say_something___
---