Founding:
1997
When:
May 15-17, 2015 (May 20-22, 2016)
Length of Convention:
3days
Location:
Donald E. Stephens Convention Center/Hyatt Regency O'Hare in Rosemont, IL
Price:
The price for this con has risen almost every year. This year, early birds were able to preorder their badge at around the $40 mark with the price rising to $56 the later you wait. I waited too long and paid the $56 price for three days, but was still able to receive my badge in the mail. After a certain date (usually 2 months prior to the con), preordered badges will be will call only and have to be picked up at the con.
The at con prices are the same as will call badges in price as well, but a long line will be waiting for those who choose this route. There are Friday and Saturday only badges and Sunday only badges available at reduced rates, and are excellent for those who can't attend all three days. Most of the major events occur on Saturday or Saturday night, so if you can only attend one day, make it Saturday.
Hotels:
There is a plethora of hotels to choose from within walking distance to the convention. First and foremost the Hyatt Regency blocks off hotel rooms for con goers at a reduced rate ever year. The convention will usually alert those interested with a post on their website before these rooms go live, since they are highly sought after. If you are unable to get a room in the Hyatt, don't fret. Across the street there lies a Doubletree, Hilton Rosemont, Crown Plaza (where I stayed), Embassy Suites, and the Aloft. Book early and you won't have to pay incredible prices like I did.
---
Corporate Message:
Anime Central (ACen) is Chicago's and the Midwest's largest anime, manga and Japanese convention. The convention is currently held in Rosemont, IL, less than 30 minutes from downtown Chicago.
As part of its mission, ACen brings fans together with guests from the Japanese and US sectors of the anime and manga industry, as well as gaming, cinema, and Asian culture personalities. The event includes a huge exhibit hall, a massive video game room, concerts, dances, educational panels and workshops, premiere screenings, autograph sessions, 24-hour video rooms, tabletop gaming and much, much more!
- via ACEN.org
What To Expect: Anime Central(ACen)
FUN! Expect a lot of FUN! Not only do attendees get to purchase all kind of goods normally unavailable to those outside of Japan, but there are tons of like-minded people to befriend as well. There is something for everyone at the convention and the fun never stops. From dances, shopping, panels, guests, and fan art, to cosplay, viewing rooms, concerts, tabletop gaming, trading card games, and video game tournaments. The sky is the limit. I only wish I could be everywhere at once.
What to Bring: Anime Central(ACen)
I've been a con-goer for over a decade now and there are a few things I never leave at home. Depending on how many people are trying to fit into a room, and whether or not any of them are cosplaying, I find the following items extremely helpful.
Bring your own towel. Sure, housekeeping seems to have unlimited linens, but everyone else in the hotel is trying to obtain the same thing and it may take over an hour for fresh towels. That's an hour wasted not at the con. Always bring a towel.
Extra blankets and an inflatable mattress with a pump (unless you want to try to blow it up by mouth). Extra blankets always help if a bedmate likes to hog the covers or if there is a pull out bed. Both of these items also help if you have extra people in the room that plan on sleeping on the floor.
Toiletries seem like common sense, but they are one of the items people forget the most. Also, don't forget to shower. It can be hectic, but no one wants to smell you.
Hand Sanitizer is the only way to avoid con plague. When there are 30,000 people in one area and in close quarters, there are bound to be sick people. Those sick people will touch the buttons on the game controllers in the gaming room and the handles to doors and whatever else you pick up. Going to the bathroom constantly sucks so bring hand sanitizer with you for a quick clean up. (If you're really paranoid, bring vitamin C tablets.)
You badge is your ticket inside and possible the most important item on your list. If your badge was mailed to you, DON'T FORGET TO PACK IT. You can no do anything without this.

Pull out cash before you go. In the age of Square, many booths do take cards now, but many still do not. Cash also helps me limit my spending so I don't get out of hand.
Bring snacks! Convention food is expensive and most times there are no cheap restaurants around. The hotel SHOULD have a mini-fridge so stock that baby up. If the room has a coffee pot, it's a little known secret that ramen can be made inside. Just boil water and stick the ramen in. Instant dinner. If you're adventurous, you can take the iron and make grilled cheese, but please be careful. No one wants a hotel fire.
If you have a Nintendo 3DS, bring it! You will get a million street passes and if you have Pokemon, random battles are super fun!
If you are cosplaying, make an inventory checklist of all the items you need before you leave. While packing, check off each item as it is placed in your bag.
The most important item outside your badge will be your ID. Many panels, after 10pm or so, will be 18+ and require identification to prove you are old enough. Without an ID, nighttime can become somewhat lame. If you're younger than 18 though, don't fret! There are some family friendly panels available still, but don't expect much after midnight unless you plan on gaming.
What is Available:
Panels are one of the major draws of conventions and ACEN does a very good job at having many different kinds to choose from. Panels are made for discussion and are usually run by a handful of people guiding the audience. Panels can last anywhere from 45 min to a few hours depending on the topic. I have attended many types of panels ranging from a basic discussion of an anime and it's plotline to drag shows and comedy hours. The schedule is usually released a few days ahead of time online so attendees can plan ahead.
In addition to the panels, many people attend for the shopping opportunities. The Dealers Room offers an enormous selection of anime and nerd related goods. Some vendors specialize in figurines and clothing, while others sell rare games from Japan. If shopping is your game, buy what you REALLY want on Friday and wait for Sunday's deals if you aren't sure. Many vendors are also willing to haggle a price, so don't be afraid to make an offer on an item you wish to purchase. The worst that can happen is the vendor says, "No."
Right next to the Dealers Room lies Artist Alley, where attendees can find all sorts of fan art for decent prices. If you get there early, many artists are willing to take commission, making dreams come true in the process. Many of these artists don't draw full time, so it is nice to support their amazing talent by purchasing their prints.
ACEN also sports an amazing Masquerade each year where people from all over the globe attend to compete with their cosplay either in walk-ons or with a skit. The Masquerade always takes place Saturday evening and lasts a good two hours. Many get in line an hour early in order to get good seats. I've been to a lot of conventions, and ACEN never disappoints me. If you are leery of getting up on stage, but still wish to compete, ACEN offers a hallway cosplay contest with prizes as well.
If dancing is your thing, then you are in luck! Both Friday and Saturday night, ACEN hosts some awesome raves with high class DJ's from all over Chicagoland. You can hear many of your favorite anime themes remixed while spinning glow sticks all night. At midnight, the rave becomes 18+, so don't forget an ID and don't be discouraged by the long line for entry. Many end up raving in the line while waiting!
Raving isn't for everyone and many of ACEN's younger attendees miss their high school prom in favor of the convention, but ACEN said, "No MORE!" On Saturday night, ACEN hosts an Anime Prom where attendees can either dress as themselves or cosplay their favorite character in formal attire. Dance lessons are available to those who are worried about their skills 30 minutes prior to the Prom as well.
ACEN has really amped up their musical guests these past few years. Friday night, ACEN usually hosts a concert by a Japanese band. This year, SCANDAL were the musical guests. In addition to the Japanese guests' concert, the last two years ACEN has hosted a spin-off of the Distant Worlds concert called, A New World, featuring a smaller chamber ensemble, but still the same great Final Fantasy music. The concert is Sunday afternoon and doesn't cost extra. If you plan on going, arrive early since seats are first come, first serve.
Even after all of these major events, ACEN still has more to offer. Gaming is a key element to ACEN, with sports bot video game and trading card game tournaments in addition to holding tabletop campaigns for those interested. The gaming area consists of its own wing featuring 4 rooms for TCG, tabletop gaming, and a ballroom split in two for video games. The first half of the ballroom is set up with flat screen TVs and consoles, while the other half consists of arcade games such as, DDR, Time Crisis, and Guitar Freaks.
ACEN has many smaller points of interest as well, such as cosplay shoots, guest autograph sessions, video viewing rooms, and speed dating. ACEN continues to grow every year, so the options have become so vast that sometimes it's hard to choose! This year, the con sported over 30,000 attendees! So next year there should be even more to do!
Cosplay: Anime Central(ACen)
Whether it be pro or amateur, a good portion of ACEN's attendees will be cosplaying in some way, shape, or form. Cosplay is a very personal matter and many people have different reasons for dressing up as their favorite characters. Some people enjoy the challenge of replicating outfits and learning new skills in the process. Others enjoy bringing their character to life and interacting with others. Whatever the reason, cosplay is just plain fun.
Don't hesitate to call out to a cosplayer by their character's name either. Most of the time, cosplayers LOVE this and will gladly pose for a picture. Be sure to tell them how awesome they look since many have spent months building their costume. The only "don'ts" consist of mostly common sense rules. For starters, when a cosplayer is eating or visibly resting, please respect their time and ask for a picture later. Cosplaying is hard work, and breaks are few and far between when con-ing.
On another note, be respectful of female cosplayers no matter what they are wearing. Rude comments or pick-up lines are not appreciated, and oftentimes you will be labeled as a creep. In addition to this rule, NEVER touch a cosplayer or their outfit without permission first. Many of these outfits are carefully made and are somewhat fragile. A slight tug can ruin hours of work. All in all, just be smart about your interactions with cosplayers. After all, they're people too.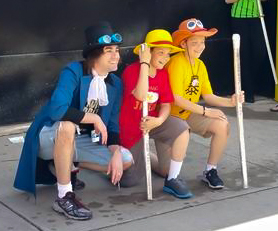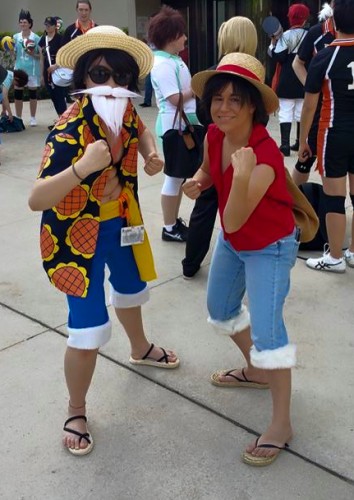 Final Thoughts: Anime Central(ACen)
ACEN is a larger convention where there are many options available to those wanting to attend. Expect to spend money and have lots of fun. The con itself is run rather smoothly though there are still some slight hiccups at times due to lack of communication among con staff. This can sometimes lead to headaches in regards to major events and line formation, but overall, staff is friends and willing to always help.
The Dealers Room has a good variety of vendors for attendees to choose from, and gets bigger and more robust every year, and the same can be said for the Artist Alley. When I was younger I spent a majority of my time in the Dealers Room, but now that I'm older, I've switched over to the Artist Alley. Both have their merits and both destroy wallets.
The quality of the panels has increased immensely from when I first started attending in 2005 and I'm happy to see that it will only get better. Fans are becoming more creative with their time slots and I'm curious to see what the next few years brings.
My only real gripe is the lack of cheap food available for those on a budget. The food within the hotel and convention center is lacking and overpriced, while across the street there are only sit down restaurants with even more expensive options. The lone McDonalds lies down the street after a 10 minute walk and is often packed with a line out the door. I suggest bringing food to this convention, especially if you want to save money for shopping.
ACEN has always been a personal favorite of mine since my first convention ever was ACEN 2005. I love the atmosphere and age range of the attendees, as well as all the things to do! I only wish there were more hours in the day so I could experience everything ACEN has to offer! I highly recommend this convention. It will not disappoint!
Anime Central 2015 - Masquerade Opening Performance
Anime Central ACEN 2015 TOY STORY "You've Got A Friend In Me" Randy Newman Cosplay Music Video
Anime Central ACEN 2015 COSPLAY - THANK YOU ARIGATOU - Home Made Kazuko 家族 Music Video
---