What You Need to Know:
You may know ALTIMA recently because they performed the theme song for the Accel World Movie alongside anime song giant KOTOKO, Plasmic Fire. If you have been a fan for a while, you may also recognize them from other series.
They also performed the Theme song to Shakugan no Shana Final, Strike the Blood, and the Accel World TV series. Recently it was announced at the Animelo Summer Live event that ALTIMA would be suspsending all activities as a group from here on out.
MAON, better known as Maon Kurosaki is a solo artist and will continue to release music. No one is quite sure what motsu will do as he was part of a group called m.o.v.e that disbanded in 2013. Satoshi Yaginuma, the third member, is the producer and instrumental side of fripSide so it is assumed that he will continue to work with Yoshino Nanjo. Sad to see a group go. We here at Honey's Anime wish them all the best in their future edeavors.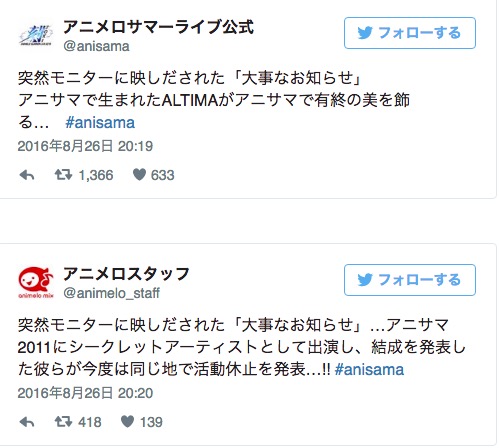 Source: Yaraon
Reactions Around the Web
They really have not had any tieups...
Wasn't this band originally only supposed to last for a little bit of time?
Isn't "suspending activities" the same as breaking up? I wish KAT-TUN would...
How could they do this at an anime festival... eesh...
It's so backhanded that it makes you laugh.
---
Always sad to see a group break up. They were not industry giants but still... dang.
It is sad! Man! I really wish they would have kept going but at least we can still enjoy music produced by two of the three artists.
---