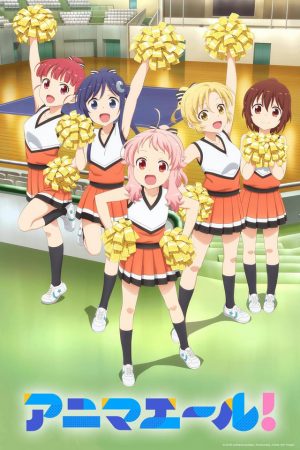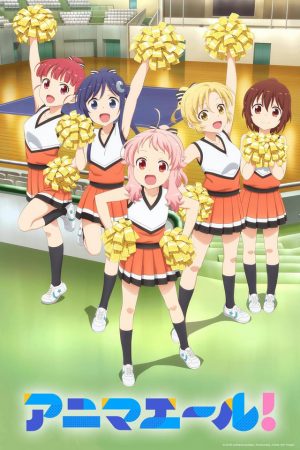 Anima Yell

Genre:
Slice of Life, Sports
---
Airing Date:
October 8 2018
---
Honey's Highlights
Hinako Note, Comic Girls, and now Anima Yell! Will Manga Time Kirara ever not make amazing stories?
The girls are all so cute! This reminds me of Lucky Star! Plus cheerleading is something new, the last time we saw anything like this was Cheer Danshi.
I just watch these because they are all-girl and there is so much skinship to enjoy. Oh and passion about sports too of course.
Oh Bee-kun, what are we going to do with you?
Official Images / Key Visuals
Synopsis
Kohane Hatoya loves to be able to support and help others. When she is graduating from middle school, she becomes completely fascinated with cheerleading. Now in high school, together with experienced cheerleader Hizume Arima and Kohane's childhood friend Uki Sawatari, Kohane decides to participate in a cheerleading competition.
Three Episode Impression
Well, yet another anime about cheerleading has come out, but this time, it's an all girls anime! We have Kohane, our main character who gets into a sport she knows absolutely nothing about so when she goes to join in, she gets put into all of the drama. This works really well for lots of anime like Yama no Susume, Harukana Receive, and Long Riders. Heck, it's the same formula for Bakuon and K-On (which isn't sports related but you get the picture), but Anima Yell!! is just not as engaging as we'd like it to be. It's not as interesting at all, despite playing off the same ideas like trying to get equipment to start the club i.e. pom poms and uniforms. Then it jumps straight into grades in episode 3, which is actually really early on in the season. This shows they don't have much to talk about. The character, Arima, who is introduced with a bunch of drama from her past really gets back into cheerleading without much hassle. Kohane is also kind of irksome in personality. There's nothing quite amazing about this anime, and hearing them cheer can be grating on your ears. Still, I can't forget that in the first cheerleading scene, I was reminded of Lucky Star's OP and how insync it all was and fun. It also takes me back to the days of high school when I watched the high school colorguard team performing thinking how cool they were (though I had zero interest in participating). Maybe this will get you to be more active, or you'll enjoy it as a slice of life. For us, we'll skip Anima Yell!! Also, stop with all of the Cheer-Chair jokes, please. We get it; they sound similar in Japanese if you use the western pronunciation for 'cheer.' Bleh.
Characters & Voice Actors List
Kohane Hatoya

Voice Actor: Yuka Ozaki
---
Kohane loves to be able to support and help other, and she has a positive outlook on the regular. She's more motivated than anyone else, but she's clumsy and doesn't have much experience with sports. Towards the end of her middle school career, she encounters cheerleading and is fascinated with it.
Hizume Arima

Voice Actor: Yuna Yamada
---
Hizume is an experienced cheerleader. She's serious to a fault. When she was a part of another cheerleading team, they were so strict when it came to matches, that Hizume felt cut off from everyone else. She's rather emotionless, but whenever she is performing, she breaks out in a smile.
Uki Sawatari

Voice Actor: Mikako Izawa
---
Uki is Kohane's childhood friend and tends to be the straight-man of the group. She follows Kohane who always seems to end up spinning her wheels and getting nowhere. Uki comes off as frank, but in reality, she really likes cute things.
Kotetsu Tatejima

Voice Actor: Tomori Kusonoki
---
Kotetsu is Kohane's classmate. She's an invert lacking in self-confidence, but she also has a side to herself where she will blurt out the first thing that comes to mind. She has a complex about her name.
Kana Ushiku

Voice Actor: Haruka Shiraishi
---
Kana is one of Hizume's former teammates. They are in the same grade at school, but Kana adores Hizume and refers to her as 'senpai'. She normally is cool and calm, but when Kana is around Hizume, she undergoes a complete change.
Episodes
12
Theme Songs

Opening Song: Jump Up↑Yell!! by Kohane Hatoya, Hizume Arima, Uki Sawatari, Kotetsu Tatejima, and Kana Ushiku (Yuka Ozaki, Yuna Yamada, Mikako Izawa, Tomori Kusonoki, and Haruka Shiraishi)
Ending Song: One for All by by Kohane Hatoya, Hizume Arima, Uki Sawatari, Kotetsu Tatejima, and Kana Ushiku (Yuka Ozaki, Yuna Yamada, Mikako Izawa, Tomori Kusonoki, and Haruka Shiraishi)

Adaptation

Manga


Main Staff

Original Creator: Tsukasa Unohana
Director: Masako Satou
Script: Fumihiko Shimo
Series Composition: Fumihiko Shimo
Character Design: Manamu Amasaki
Animation Director: Manamu Amasaki, Atsushi Soga
Sound Director: Takuya Hiramitsu
Music: manzo, Hiroaki Tsusumi
(Credit Honey's Anime when you use our description.)