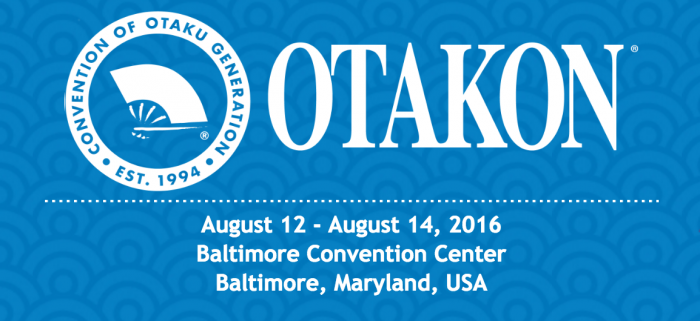 Summary of "said" Event
The end of an era begins in August. After 17 years the last Otakon at the Baltimore Convention Center will open its doors before moving down the road to Washington, DC. The convention that once ranked in the top three anime conventions in the U.S. lost its title because it needed more space to grow. Otakon has found that room 60 miles to the south with its eyes on regaining its leading role in the Anime Convention community.
"We want to grow because the more people that attend the more money we are able to spend creating a better convention experience," says John C. Gluth, Otakon's 2016 Convention Chair.
 We know from experience that Otakon is an amazing celebration of Otaku culture and this year we are going to have one hell of a party saying goodbye to the Inner Harbor of Baltimore.  You can still register at
https://www.otakon.com/
Otakon Greetings 20th
Otakon 20 Commercial
Events / Panels
2016 Otakon Matsuri Yukata Contest
Panels*
Maid Cafe
AVM's
Gaming
Shopping
Voice Actors
Workshops
Dance Party
Artists
Workshops
Portable Kaiju Super Battle League
Karaoke 
So much more!
*Unfortunately we do not have a list of panels at this time, but we know that everyone can look forward to a diverse array of panels covering all things related to anime.*
Who is Coming?
Jason Charles Miller
A musician, singer, songwriter, and voice actor will be performing at the Matsuri festival. His credits include song writing for Marilyn Manson, Evanescence, Nine Inch Nails and television programs like True Blood and WWE Friday Night Smackdown.  Miller has also appeared in over 60 animated productions and video games, e.g. The Legend of Korra (The Sheriff), Code Geass (Urabe), and as Diablo III (Radek the Fence).
Kazutomi Yamamoto
Yamamoto is the voice actor who won the Best Rookie Actor at the 7th Seiyu Awards in 2013 and preformed on stage at the first live event "Cute High Earth Defense Club LOVE! LIVE!" in 2015.  He is best known for voicing Yumoto Hakone in "Cute High Earth Defense Club LOVE!" and Kio Asuno in "Mobile Suite Gundam AGE".
Lotus Juice
A rap pioneer known for his anime and game music that draws inspiration from 90s hip hop, Lotus Juice has had his works featured in anime such as "Jojo's Bizarre Adventure," Soul Eater," "Noragami" and "The Irregular at Magic High School." He is also currently working on his third studio album.
Shihoko Hirata
While this songstress is considered soft-spoken offstage, she has the power to lift the roofs of houses with the power of her voice. The artist is mainly known for work on the soundtrack for "Persona 4". The game soundtrack won a Nihon Gold Disc Award for soundtrack by the Music Industry Association of Korea.
MICHI
MICHI, originally from Okinawa, broke onto the scene with her debut single "Cry for the Truth/Secret Sky," the opening theme of the anime "Rokka-Braves of the Six Flowers."  The 19-year-old's second single "Checkmate!?" is the opening track for "Dagashi Kashi" and her third single "Realistic!" opened the series "Kuromukuro".
NPC Collective
NPC (or Nerdy People of Color) is an organization that includes rappers, educators, students, athletes and even WWE superstars among its ranks. The ensemble produces music and performances to express their otaku interests and serve as an example for other NPC to express themselves. 
Diana Garnet
Diana Garnet is a second-generation otaku immersed into anime by her father at a young age.  She left Washington, DC to become a singer and Japan, got a big break in 2013 and can now be heard singing the theme songs for "Naruto: Shippuden," becoming the first foreign artist to sing an amine theme song. 
Yui Makino
Makino is a Japanese voice actress, singer and pianist with a multiple voice acting credits.  She debuted as a voice actress in the role of Sakura, the main character of "TSUBASA CHRoNiClE," she was also the songstress responsible for the open and closing songs in the TSUBASA CHRoNiCLE movie. She has released dozens of works since her debut in 2005 and recently released a 10th anniversary album of collected works titled "Yui Makino 10th Anniversary Live- So Happy!!
Alyson Leigh Rosenfeld
You may not know her name, but an entire generation knows her voice as the kind and caring Nurse Joy from "Pokemon." She also played the role of Shark's younger twin sister Rio Kastle in "Yu-Gi-Oh!" as well as many other characters in anime and cartoons.  Alyson is also an accomplished stage actor in New York recently appearing in "Suessical."  She even broadcasts her own web series "Crumbly Kitchen," a show about a struggling wannabe television cook.
Basic Information
Place / location
Otakon 2016- Baltimore Convention Center, Baltimore, Maryland
Length of event
August 12th - August 14th
Cost
For the first 10,000 online registrants:

| | |
| --- | --- |
| for those who renew a previous online registration | $80 |
| for those who are registering as new members/th> | $85 |

For the remaining online registrants up to 25,000:

| | |
| --- | --- |
| for those who renew a previous online registration | $90 |
| for those who are registering as new members | $95 |

For at door registrations:

| | |
| --- | --- |
| or both those who are new or renewing | $100 |

*registration time to have your badge mailed to you has passed. You will need to pick up your badge at the convention center.

Hotels & Transportation

Most of the hotel rooms are booked but you can still give it a go. You will find that any of the hotels downtown that may have rooms available will be at a premium ($250+).

- Baltimore Harbor Hotel
- Baltimore Marriott Waterfront Hotel
- Brookshire Inner Harbor Suite Hotel
- Days Inn Inner Harbor
- Doubletree by Hilton – BWI Airport
- Embassy Suites Baltimore-Downtown
- Fairfield Inn & Suites Inner Harbor
- Four Seasons Hotel Baltimore
- Hampton Inn Baltimore – Downtown/Co
- Hilton Baltimore
- Hilton Baltimore BWI Airport
- Holiday Inn Inner Harbor
- Holiday Inn Express @ The Stadiums
- Home2Suites
- Hotel Indigo
- Hotel Monaco
- Hyatt Place
- Hyatt Regency Inner Harbor
- Lord Baltimore (formerly Radisson Plz)
- Marriott Inner Harbor
- Renaissance Harborplace Hotel
- Sheraton Inner Harbor
- Wyndham Baltimore Peabody Court

Established
Otakon is entering its 23rd year and has become one of the hallmark festivities celebrating east Asian popular culture on the east coast.
"We think this [Otakon] is a great way to expand people's knowledge of east Asian culture. For example they may come to hear a band play and they may come across something else that interests them like an anime," says Gluth.  
The convention is considered one of Baltimore's largest city-wide events, drawing 34,000 people across all three days.  The event embraces enthusiasm for anime, manga, music and video games. If you visit Baltimore the weekend of Otakon it isn't that strange to see cosplayers in full gear walking the streets outside of the convention center, eating at the restaurants of the inner harbor or just standing in line at Starbucks. 
Your ticket covers all three days of the convention and the most packed day is sure to be Saturday since it is everyone's day off!
If you need some rest or to cool down, the AMV rooms are great for it. Also be sure to bring a water bottle and use the free water fountains to recharge.
Be sure to respect the cosplayers and not touch them randomly or be rude!
Speaking of rest, food is outside of the convention hall and restaurants are accommodating.
Don't forget Bombon, that the fountains or the harbor are great backdrops for photoshoots.
There will be concerts daily and they are usually held in the evening. Be sure to catch one or two!