Bento boxes have become such a normal part of anime and life in Japan, that we can even see it spreading to western countries. Adorable, portable boxes packed with healthy morsels for lunch. Made by loving mothers, thoughtful sisters or hopeful sweethearts, there are all kinds of bento found in anime.
Today people have found a new way to show their love for anime through the art of bento making. Called kyaraben or character bento, it is the art of creating bento boxes based on favorite anime and cartoon characters. Here we have the top 10 anime character bento boxes found from all over the world. These people put their hearts into their creations, and their love for the anime characters in them really shines through the seaweed, rice, and sliced cheese.
10. Hamtaro from Hamtaro (Tottoko Hamtarou)

Episodes: 296
Aired: Jul 7, 2000 to Mar 31, 2006
Hamtaro is a children's anime from the early 2000s that captured the hearts of children all over the world. We follow the adventures of Hamtaro and his huge group of friends known as the "The Ham Hams" as they explore, learn, and even protect their owners. This cute crew aired on Cartoon Network and helped introduce children to the kawaii side of anime.
This adorable 3D hamster will find his way into your heart. The artist for this box is a Japanese woman living in the Netherlands. She holds bento making workshops for people interested in learning the art of bento. This bento is mostly rice, with the body of Hamtaro being made of white rice and yellow tinted rice. The easiest way to tint rice a different color is to use colored furikake, or rice seasoning. She then shaped a 3D body for Hamtaro so it looks like he is just resting inside the box. Ham was used for the pink parts of his hands, feet, and ears. For the dark eyes she used a thick kind of seaweed called konbu. Surrounding Hamtaro are star cut-outs of carrots, eggs, and wieners. Unfortunately, the artist could not find a sunflower seed, so Hamtaro is seen holding a peanut, which is sure to be equally delicious if you can bring yourself to eat this cute bento.
---
9. Vegeta from Dragon Ball Z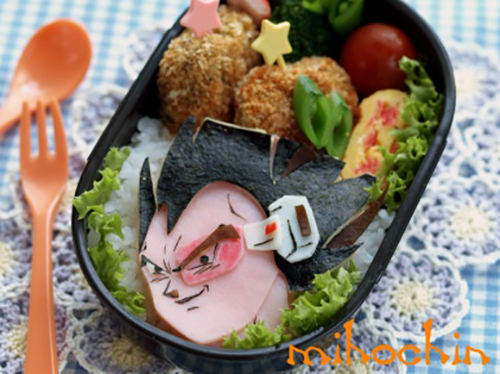 Episodes: 291
Aired: Apr 26, 1989 to Jan 31, 1996
If you want your wish to come true, just travel the world and gather the seven magical dragon balls, that when combined will grant any wish. Dragon Ball Z is a classic that is known to all children growing up in the 1990s or early 2000s, whether they watched it or not. It is Goku and his friends' mission to save planet Earth from a multitude of enemies that seek to destroy it.
Dragon Ball Z has a plethora of kyaraben online so it is impossible to choose just one favorite. We went with this one of Vegeta because of the careful details used to make his Scouter that read power levels. Without it, we would not have that famous line that is still quoted to this day. This bento is in a 2D style with a layer of rice supporting the image of Vegeta. It looks like his face is made of ham, cheese, and the extremely detailed cuts of nori, or seaweed, to create that signature smirk. Recreate this bento and your kyaraben skills will definitely be over 9,000!
---
8. Detective Conan from Case Closed (Detective Conan)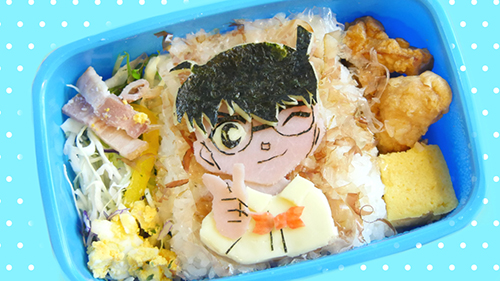 Episodes: Currently Airing
Aired: Jan 8, 1996 to present
Case Closed follows a detective who, through nefarious circumstances, has been transformed into a seven-year-old boy. This does not stop Conan from continuing his detective services and solving crimes. Conan is now a boy genius who hides his identity from everyone and solves crimes though the official detective Mouri Kogorou, who gets the credit.
For this bento, there is an entire tutorial online by the artist. She gives step by step instructions on the process of making this bento. She explains the trick to making such accurate 2D images in your kyaraben. The trick is to print out an image of your character and trace it in several layers. She makes 4 layers for Conan and cuts out ham and cheese to create the image. In the video she doesn't hide the fact that this is a process and not the easiest bento to create. If you are interested in creating your own kyaraben, this tutorial is a great place to start!
---
7. Chopper from One Piece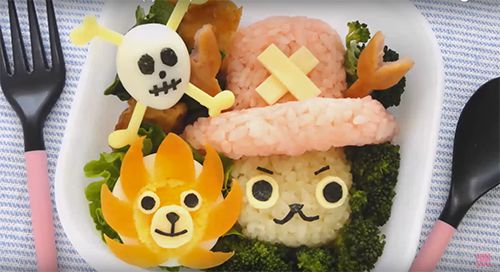 Episodes: currently Airing
Aired: Oct 20, 1999 to present
One Piece is the treasure left behind by the pirate king Gol D. Roger after his demise. His declaration right before his death, was that he had hidden the greatest treasure known to man, One Piece. This began the battle of pirates for this coveted treasure. The show follows a huge cast of characters, and after over 700 episodes, the search for One Piece still goes on.
This is another anime that is popular to create bento boxes for. You can find cute creations everywhere. For this list we went with a 3D bento of One Piece's signature cute character, Chopper. The artist uses furikake rice to make Chopper's huge pink hat, and a small quail egg to create an adorable skull and crossbones. There is no speaking in this video, but the instructions are easy enough to follow. This video has many unique and creative methods to try out when making kyaraben. Follow her tutorial to create your own treasured kyaraben.
---
6. Nyanko-Sensei from Natsume's Book of Friends (Natsume Yuujinchou)

Episodes: 13
Aired: Jul 8, 2008 to Sep 30, 2008
Natsume just wants an ordinary high school life. He doesn't want to see yokai, or demons, he only wants to find a place where he belongs. After being taken in by a sweet elderly couple, he is determined to make this family work. But his plans go awry after encountering the demon he later names, Nyanko-sensei. He learns about his grandmother and the book of demons' names she created during her life. This book has the ability to control the demons whose names are written inside. Because of this, it is highly sought-after by demons who wish to control others and by those who want to free their name.
Despite the amount of demons seen in this anime, it is a surprisingly slow-paced and heartwarming story. We are able to see the friendship between Natsume and Nyanko-Sensei grow as Natsume accepts parts of himself he didn't before. In this bento, the artist created a 3D version of Nyanko- Sensei jumping out of the box. He is joined by small replicas of other friendly demons seen in the show. The details of this box and the touching story behind it is why it is on our top 10 anime character bento list.
---
5. Colossal Titan from Attack on Titan (Shingeki no Kyojin)

Episodes: 25
Aired: Apr 7, 2013 to Sep 29, 2013
When you think of characters that might pop up in a bento box, your first thought probably isn't something creepy like the skinless, giant titan from Attack on Titan. But he is here to break any walls or preconceptions about kyaraben. It can be cute or creepy, and this bento definitely pulls off creepy perfectly.
The artist for this bento box only uses a flat bed of rice and creates the image of the titan's face on top. She uses a variety of meats to create the different muscle tones (Yum!). Imitation crab, ham, and cheese are the main ingredients for this creation. She has a video tutorial going into detail on how to create this kyaraben yourself. While this isn't the most appetizing box you might see, it doesn't make it any less impressive.
---
4. Ren Jinguuji from Uta no Prince Sama

Episodes: 13
Aired: Jul 3, 2011 to Sep 24, 2011
Fall in love with your bento box! Ren from Uta no Prince Sama is the kyaraben heartthrob that we have all been waiting for. From the popular reverse harem anime, Ren uses his killer voice and dance moves to win the hearts of all the girls. While not as popular as One Piece or Attack on Titan, Uta no Prince Sama is definitely at the top of its own genre.
This bento was also chosen because it uses a technique not usually found in most kyaraben. Instead of tinting the color of the rice using furikake, or cutting out individual pieces of seaweed to create the 2D image of the character, this artist has come up with a whole new method. She uses thin, transparent sheets of starch called oblaat, and draws directly on them before placing them over the rice. This gives the bento an almost printed effect and shows a real level of skill and innovation.
---
3. Outer Senshi from Sailor Moon

Episodes: 46
Aired: Mar 7, 1992 to Feb 27, 1993
The most famous magical girl show, of course, has an enormous amount of kyaraben dedicated to it. Sailor moon and her Sailor Scouts are so cute and beautiful it would be a sin to leave them out of our top 10 list. The main character, Usagi, must save the world several times over from the powers of evil with the help of her friends. To do this, they all must transform into the lovely warriors, the Sailor Scouts.
This bento was chosen because it includes not only one Sailor Scout but all four the Outer Senshi seen in the show. The amount of time and work put into this bento is incredible. As we saw earlier, creating the realistic 2D images of anime characters takes an amazing amount of effort, and this bento has four! Each strand of hair and eyelash had to be meticulously cut-out and carefully put in place. Huge props to the creator of this bento!
---
2. Pikachu from Pokemon

Episodes: 276
Aired: Apr 1, 1997 to Nov 14, 2002
Pokémon is a show full of characters, how could we not include it on our list? With so many adorable creatures to choose from, the options are endless. Truly, we had such a difficult time picking just one Pokémon kyaraben for this list! But in the end, we decided that going with undying favorite character, Pikachu, was the best choice.
This 3D creation is so cute that when you open it you will think there is a real Pikachu waiting inside. This smiling Pikachu is so lifelike it is like you've somehow transformed the inside of a pokeball into a bento! The artist for this kyaraben has an image-based tutorial showing the basic steps of making Pikachu's face. On her website there are several other variations of Pikachu that you can choose from. But, this bento is our personal favorite, with Pikachu smiling back up at you!
---
1. Cat Bus from My Neighbor Totoro (Tonari no Totoro)

Episodes: 1
Aired: Apr 16, 1988
We could not complete this list without something representing the most popular kyaraben character. My Neighbor Totoro is a classic, cute anime movie that is the first choice for most kyaraben creations. From dust sprites to Totoro himself, people can't help but recreate the cuteness in food form. While there are many Ghibli movies to choose characters from, My Neighbor Totoro seems to be the top choice because of the simple character designs.
Now, most people will choose to create Totoro from this anime movie, but we decided to go with this Cat Bus bento because it also included many characters from the classic Ghibli film. Dust sprites made of meatballs, a baby Totoro made from a quail egg, and of course the fun-loving Cat Bus himself. The artist goes into detail on how she created this masterpiece. This is a New Year's themed box, so not only is it full of Totoro themed characters, but also lucky food to bring in the new year!
---
Final Thoughts
In the world of kyaraben creations, there are really too many to make a definite decision. So these are just some of our favorites we have found in our extensive search. If you have any that we just need to check out, please let us know. Did we miss any obvious choices, or were we completely on the mark? If this is your first time learning about kyaraben we hope it inspired you to try making your own. Start small and pick characters you love. Creating a 3D Eevee out of rice may be more fun than you think it is!
by Devan Baird