Fuaaaaah~! It's the second day of AFA and we're all already exhausted. Well that's mostly because we had such a fun time at the Anisong Concert the previous night, and yet we still arrived at AFA at the start of the day, because we're hardcore like that. Like every day at AFA, there is an absolute gauntlet of things for us to run through and experience. So what will we be focusing on today?
Well the concentration that we had was on the startling amount of technology present at the convention itself. Figurines are fine and all, and we love cosplayers too, but when presented with the idea of combining advanced technology with anime stuff, how can we possibly resist? That's what makes Sword Art Online so irresistible after all; the promise of experience a fantasy anime world inside your mind as if you were really there.
VR Idol Stars Project "Hop Step Sing!"
With the advent of Virtual Reality on the market, a large amount of previously undoable experiences have now become reality. With a Virtual Reality head device strapped to your head, you can see from your own point of view the sprawling jungles as a soldier, manage a restaurant as a master chef or explore the oceans as a scuba diver without the actual dangers of really being there.
That's when an anime fan came upon the device and thought, "Well why not anime stuff?" And so they did. Introducing VR Idol Stars Project "Hop Step Sing!" Why go to a concert in real life when you can experience the fun of one right in your home with the help of Virtual Reality? In Hop Step Sing, you get placed right in the front row of the concert where you get to see three idols choreograph out their dance while singing your typical cutesy idol song.
With a character design by tanu, music done up by Lantis (From Love Live!), VR animations produced by Polygon Pictures (Star Wars: The Clone Wars), we can be guaranteed that anything done by them is a sure fire hit! It's like the avengers of anime world assembling to bring to you the best anime vr experience possible.
And this isn't speculation at all! It's definitely good! We know this because we had the chance to try it out ourselves at AFA. The booth that they were using was small, unassuming and out of the way. Truly we thanked our lucky stars that we stumbled upon it entirely by accident. From the outset, we were equipped with a HTC Vive, with the headset and the two motion controllers.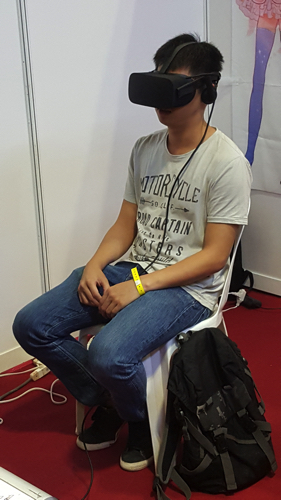 When the lights came on the headset, it's like we entered a whole new world completely. It felt like we were right there at the concert despite the idols being 3DCG rather than live action actresses. They moved all over the stage, allowing us to move our view around with our head to see as much as possible. Heck, we even flinched a few times when some of the particle effects came close to our face.
If you're interested in trying out VR Idol Stars Project "Hop Step Sing!", you can find it on Steam and it will be available soon, alongside another song.
Steam Website:
http://store.steampowered.com/app/538000
Imagination drives Future FEAT.: Tomotaka Takahashi and Robi

Mr. Tomotaka Takahashi is an associate professor at Tokyo University, Research Centre for Advance Science and Technology, Visiting Professor at Osaka Electro-Communication University, Faculty of Information Science and Arts, Department of Computer Science, Advisor for Human Academy RobotSchool and CEO of ROBO GARAGE.
Needless to say, this is a respectable man with many accomplishments and accolades to his name. But what does any of him have to do with AFA or anime at all? It sounds like a stretch at first, but keep with us and you'll definitely understand by the end.
Robi images are here.
Tomotaka Takahashi introduced his newest invention at AFA, the Robi Robot. What is a Robi Robot? Robi is the latest in robotic innovation. He is a tiny robot that can accompany you anywhere as your personal little helper. With a wide varied database, he is able to understand what you say and can answer back in return, allowing you to have a full conversation with a robot. His motion sensor even allows him to detect where you are, so that when you speak to him, he will face you and answer you appropriately.
Robi Robot is even able to dance and sing, moving with a large range of motions due to a high tech servomotor. And if you're too lazy to change the channel, Robi Robot can do it for you by interacting with your tv like a remote would. Best of all, he's easy to assemble and operate, allowing anyone to do it with ease regardless of technical expertise.
Robi Robot also doubles as a smartphone, allowing you to answer calls, take pictures and surf the web. You can view the pictures and videos you have taken as well as surf the web through a built in projector that Robi has. Tomotaka Takahashi has expressed that these functions were especially put in to eventually replace the smart phone and give you reason to carry Robi with you wherever you go.
But what's the point? Why make a robot phone at all? Tomotaka Takahashi has expressed that he grew up watching anime his entire life. He was inspired by shows like Astro Boy, and wanted to make shows like that a reality. The Robi Robot is the first step in the direction that he wants to take the world in as a whole, bringing robotics into reality.
The purpose of Robi Robot, other than its technical use, is that of a sidekick. Like many anime shows that have a Happy to Natsu, or a Kyuubey to the Mahou Shoujo, Tomotaka Takahashi wants to create a sidekick for everyone everywhere, allowing real life to be more like anime each step of the way. Maybe we won't get magic ever, but the technological side of anime won't be a dream for long with minds like Tomotaka Takahashi leading the way!
Get yours today using the region related website for your country!
SWORD ART ONLINE THE MOVIE - Ordinal Scale –

Sword Art Online is the massively popular anime and light novel series that has taken the world by storm. Initially based on a simple premise, the series as a whole has exploded in view count as the years have gone by. It is so well known that even non-anime people know all about Sword Art Online. It is safe to say that the series is iconic as a whole. So it's not really surprising that they are releasing a Sword Art Online Movie for the world to watch. At AFA, they unveiled the release of their new movie…
The movie follows the gang after the events of season 2. This time, a new technology has been realised, creating the Augma, an Augmented Reality device that interacts with the real world in real time. This allows players in the show to fight monsters as they go about their daily lives, or exercise in a mountainous environment when they are actually running on a treadmill. Kirito prefers Full Dive, but is eventually persuaded by Asuna to try out the new tech with her.
At the unveiling, we were joined by the producer of the show at Aniplex, Shinichiro Kashiwada, voice actor for Kirito, Yoshitsugu Matsuoka and the voice actor for Yui, Kanae Ito. Yoshitsugu began the presentation strong by slipping into his Kirito voice seamlessly and shouting out STARBURST STREAM to the delight of the audience. After everyone introduced themselves, they finally got to the meat of the show.
They mentioned that the show itself will take place in Tokyo, and as they are using Augmented Reality, parts of Tokyo that are easily recognisable by those who live or have been there can be seen in the show. Brand new characters will be introduced in the movie, like Yuna, the AR idol, Dr Shigemura, the inventor of Augma and Eiji, the top ranked Swordsman in the game Ordinal Scale. They did not reveal much information about the characters because of spoilers.
When ask if the movie would focus on the relationship of Asuna and Kirito, and whether their relationship would come into conflict due to the fact that Kirito is reluctant to try out Augma, Yoshitsugu simply laughed in reply, and told us that it's possible for that to happen but we'd have to wait to find out.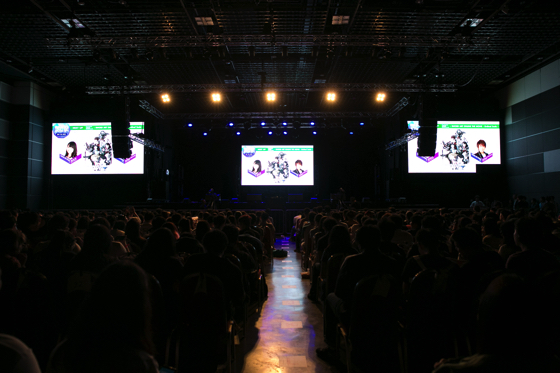 To end things off, the voice actors presented a never before seen scene from the movie, and acted it out in real time in front of the audience. Despite the lack of imagery, the charisma of the voice actors really drew everyone in. It almost felt like we were really watching the anime, and the avatar of Yui is hovering around Kirito as she chastises him for being naughty again.
Haruka Tomatsu, the voice actress of Asuna also appeared in video form, giving her best regards to the fans in Singapore and to regale a brief version of her experience voice acting Asuna. Then, to our surprise, Asuna really appeared on stage, in the form of Enako cosplaying as Asuna. Turns out, she is now the official cosplayer of Sword Art Online and they are working together to bring the franchise to greater heights.
SWORD ART ONLINE THE MOVIE –Ordinal Scale- hits theatres in February 2017, so check it out if you're interested!
Final Thoughts
That's all the time we had for on Day 1. We would've have had explored further and more thoroughly till closing time, but we had to make off for the I Love Anisong concert at 5pm. More on that in the Anisong article. However, we can say that we had a full and fulfilling day in anime heaven, and will be returning the next day for more!
Join us on day 2 as we run through the gates of heaven again!
---