For some of you readers that are enthusiasts of combat sports whether it'd be the young and rising sport of MMA or in the realm of sports entertainment, Korakuen Hall is the place to check out. The small arena has been open since 1962 and still continues to go on strong. Due to its long legacy, it has been featured in combat sports anime titles such as the newest Tiger Mask series, which alludes to other real life Japanese professional wrestling organizations such as New Japan Pro Wrestling (which has also been home to real life Tiger Masks).
If anything, just how Madison Square Garden in New York City is considered the mecca of professional wrestling in the U.S. (also home to the WWE's inaugural WrestleMania Pay-Per-View), Korakuen Hall is often considered by Japanese wrestling enthusiasts as the Madison Square Garden of Japan.
Location:
Korakuen Hall

Japan, Yubinbango112-8575 Tokyo, Bunkyo-ku Koraku, 1 Chome-3-61
JR Sobu Line Suidobashi station 10 min walk from the West Exit Tokyo Nanboku Line and Marunouchi Line Korakuen station 5 min walk from the South Exit

Cost of Admission:
General admission: Prices all vary on the events and seating locations
Hours of Operation
All depend on the event held that day. On average, expect the ticket gate to be open around 4:30PM and to have the event run from 5:30PM to 9:30PM.
Official Website
Http://www.tokyo-dome.co.jp/hall/
The Experience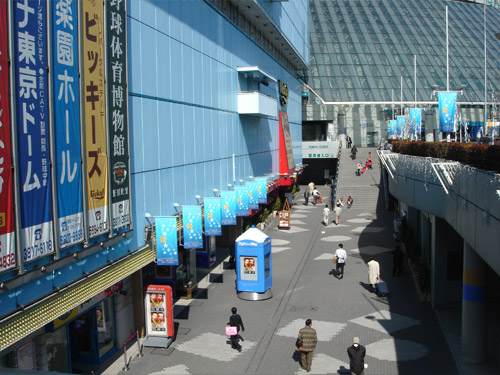 Though Korakuen Hall is famous for its numerous professional wrestling shows, it also hosts professional boxing, kickboxing, and mixed martial arts events. In the 1964 Tokyo Olympics, it held the boxing event. Even though anime portrays the Hall as larger than life, in person it is actually small and only holds up to 1,800 people (pretty surprising when you look at the number of people that can fit in Madison Square Garden)!
Comparatively, it feels like a high school gym in most parts in the U.S. Thanks to its size, no matter where you sit, you feel as if you're sitting at ringside. Some events will allow you to take pictures and videos, and there are some events that will disclaim on both posters and tickets that you cannot. Security guards are present in almost all seating sections enforcing these rules and for the safety of viewers. Some events will allow you to bring in food and drinks, some have an enforceable rule that they may be banned.
Unfortunately, concession stands are not immediately available and very rarely do people walk around selling popcorn, hot dogs, or drinks like at other sports arenas.
The ticket gate is on the outside on the first floor and after providing your ticket to the clerk, you are free to go inside and take an elevator to the third floor where the actual seating and ring are. Tickets can be purchased at the arena, on the website of the hosting promotion, or through ticket kiosks at Japanese convenience stores (very helpful if you can read Japanese). In some instances, you can buy tickets at boxing, kickboxing, and/or wrestling gyms depending on the event. Above the entrance to the seating is filled with some boxing memorabilia and is decorated with pictures of presently reigning national boxing champions. Due to its small size, access to your seat is pretty instant. The seat sizes are no different from an arena seat in the U.S., and leg and feet room are more than plenty even if you're sumo size.
In addition to the big name, wrestling shows such as New Japan Pro Wrestling, independent shows such as WRESTLE-1 and Noah also frequently host shows here. So if any of you readers are in town and wish to see a wrestling event, this is the place to see a good mix of Japan's current stars along with up and coming talent. Maybe the wrestlers you see that day may some day become the champion in Japan, or maybe be recruited into the WWE roster in the near future. Due to wrestling being worldwide, fans are likely to see performers from Japan, the U.S., Latin American countries, and most recently from China.
For kickboxing, the hall is the home to a promotion called Krush, K-1's (the premiere kickboxing organization in Japan and probably the entire world) minor league. A good number of present K-1 stars such as Segawa Takeru, Urabe Takahiro, and Kimura Minoru all made their names in Krush in this legendary arena before moving onto the big stage. Though the present K-1 does not feature women's kickboxing, if you want to see if ladies can fight, thankfully Krush features women's matches with rising stars such as champion Morimoto Kana. With kickboxers and MMA fighters from around the world, athletes could hail from Japan, China, Holland, Spain, and to other parts of Western Europe.
If any of you viewers have watched a Japanese wrestling match or an actual combat sports event on TV or the Internet, you can notice that the Japanese audience tends to be much quieter than a western audience. Many real-life wrestlers and fighters tend to get culture shock and the reverse when they compete in Japan where it's quiet, or where it gets really rowdy like in Las Vegas or Brazil. When Brazilian MMA star Antonio Minotauro Nogueira first fought in the UFC after establishing his name in Pride, Japan's former premier MMA promotion, he was overwhelmed with how loud American audiences were compared to Japanese audiences. Even American competitors such as Rampage Jackson feel shocked compared to how fans react to both environments.
In Japan, the fans treat the fight game as it were golf, but for a wrestling match, if there is a big spot (a spot is a wrestling term for a high flying technique) that excites the crowd, the audience will clap as if a putt were just made. With fighter entrances in all events, whenever the ring announcer introduces a combatant, the audience just lightly claps rather that hoot and holler. Even for highlight reel-worthy knockouts and submissions where western audiences would jump out of their seats, the reaction isn't really all that big in Japan.
This also goes as far as including hardcore wrestling matches that go as extreme as barbwire matches and other types of gimmick matches (that would NEVER be allowed in WWE and TNA) don't really get the equivalent to a "holy s**t" chant you would see like in the old Extreme Championship Wrestling days (there are some matches in Japan where the objective is to get your opponent in a tank of piranhas!!!!). This is a Japanese way of showing their respect for the sport(s) and its participants. So if you are going to scream like crazy at a Japanese show like you would in America, we can promise you will get some very weird looks directed at you.
Additional Info:
Since this place arena is home to Tokyo Dome City, there are numerous places that are instantaneously accessible. For starters, if you are more of a baseball fan in comparison to combat sports, Tokyo Dome is just right next door where you can watch the Tokyo Giants play. Also, there is the baseball museum and you can buy Tokyo Giants related merchandise. Sometimes big concerts are held at Tokyo Dome such as big name performers like EXILE.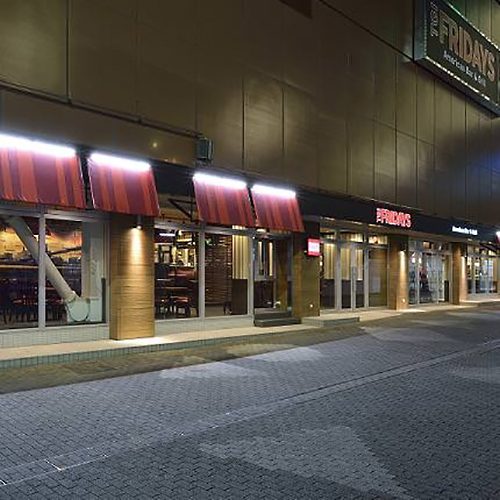 On the first floor of the building where the Hall is, if you want to feel right at home, grab a meal at TGI Friday's. And on the second floor, you can also enjoy breakfast, lunch, or dinner at Denny's. As for the Hall itself, it may not have Wi-Fi access, but TGI Friday's does have Wi-Fi friendly for overseas visitors. Around the TGI Friday's, there are souvenir shops where you can buy any kind of wrestling merchandise. You want a mask like the real Tiger Mask? You want to look cool in a New Japan Pro Wrestling tracksuit? Or get something rad like a shirt of your favorite athletes? It's all accessible on the first floor just by the ticket gate!
And since the area is famous for its combat sports events, it also has some stores dedicated to buying combat sports gear and other memorabilia. Looking for some gloves whether they are for boxing or MMA? Or some Muay Thai shorts? Or do you want a cool karate gi? Or maybe some RVCA label hats? There are plenty to find! Also right around the corner is the Kodokan, a dojo/dormitory for those who are interested in learning the art of Judo.
Also nearby is Tokyo Dome City, a small amusement park with some basic rides, a few arcades, a skating rink, laser tag, indoor rock climbing and many other fun activities. This small area outside the Hall within Tokyo Dome City may not be Disneyland but should keep you occupied for most of the day. If you're looking for something more traditional, feel free to check out Korakuen Garden, where you can enjoy some nature in the big city! Last, on the Sobu line from Suidobashi station, Akihabara is just a couple of stations away!
---
Final Thoughts
We can promise if you are at all a fan of the art of fighting, this is the place to check out for any kind of event. This place has virtually everything you can think of. It is a good mix of home, modern Japan, and traditional Japan. There is so much to enjoy and a majority of the area is within a reasonable budget. Are you likely to catch your favorite stars after a show? Probably. Sometimes some stars are available for pictures and autographs before or after the event. Some posters will disclaim if there are meet and greets before or after the show!
So if you're in Tokyo and looking for something fun to check out, check out Korakuen Hall and the rest of Tokyo Dome City!