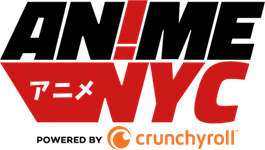 What You Need to Know:
Anime NYC powered by Crunchyroll, New York's largest dedicated anime, manga, and Japanese pop culture convention, will present three days of entertaining and educational programming about Japanese culture, the anime industry, gaming, and more at New York's Javits Center (655 W 34th St) from November 15-17. There will be special industry panels from publishers across the anime and manga industry such as Aniplex, Crunchyroll, Eleven Arts, Funimation, Denpa, GKIDS, Kondansha, Sunrise, Square Enix, Vertical, VIZ, Yen Press, HIDIVE, Sentai Filmworks and more.
Over 40,000 fans are expected to convene at Anime NYC to dive into even more exclusive screenings, talks with iconic creators and industry leaders, Japanese games, and incredible concerts than were featured at the inaugural show in 2017. With over 200 hours of programming planned, fans are sure to fill the three days with unforgettable experiences.
All Anime NYC events take place at the Javits Center unless otherwise indicated
Source: Official Press Release
Anime NYC Premiere Screenings
There will be a wealth of various anime films and television shows debuting throughout the three-day celebration. Full details on screenings can be found at http://animenyc.com/screenings2019.
Keep Your Hands Off Eizouken!
Weathering With You
In/Spectre
Fragtime
Somali and the Forest Spirit
A Destructive God Sits Next to Me
LUPIN THE 3rd Goodbye Partner (Dub)
Gundam: Reconguista in G Movie
Friday, November 15
The Z2 Comics Panel Featuring Poppy (1:30PM to 2:30PM - Special Events Hall)
Z2 comics is the brand you trust for music comics and graphic novels. Publishing such books as "Apocrypha: The Legend of BABYMETAL," "Yungblud Presents the Twisted Tales of the Ritalin Club" and "Genesis One a Poppy Graphic Novel." Come to our panel featuring Poppy herself and a few other creators from the Z2 roster. Poppy made her critically acclaimed studio debut in 2017 with "Poppy.Computer," which Rolling Stone dubbed "one of the most surprising albums of the year…"
Yoshiyuki Tomino: Celebrating 40 Years of Gundam and Beyond (3:00PM to 4:00PM – Special Events Hall)
Yoshiyuki Tomino, original creator and director of Gundam, makes his only US appearance to celebrate the 40th Anniversary of Mobile Suit Gundam. Mr. Tomino speaks about his career, how Gundam changed the anime industry, and the success of Gundam around the world. Join us for a rare conversation with an anime legend!
BanG Dream! Girls Band Party! Special Talk Stage with Miku Ito (3:00PM to 4:00PM – 1E09)
The mobile game from the "BanG Dream!" universe, "BanG Dream! Girls Band Party!" is an exciting music rhythm game by Craft Egg Inc. and Bushiroad Inc. featuring five different bands: Poppin'Party, Afterglow, Pastel*Palettes, Roselia, and Hello, Happy World! Come join us at our special talk stage with Miku Ito, voice of Tsurumaki Kokoro (vocalist for Hello, Happy World!) as we talk about the game and her role in the franchise! There will also be exciting announcements and special giveaways for attendees!
RAKUGO with Katsura Sunshine and Introduction to J-Theatre (3:00PM to 4:00PM – 1E15)
Katsura Sunshine is a Canadian-born performer with the distinction of being the first non-Japanese Rakugo storyteller in the bawdy Osaka-based "Kamigata" tradition, and the second Westerner ever who went through the rigorous training required to become a master. He travels the world performing Rakugo, a 400-year-old "sit down" form of dynamic comedic and dramatic storytelling, known in the anime world through Shouwa Genroku Rakugo Shinjuu. This Fall, Katsura Sunshine brings the ancient art form to Broadway and is offering exclusive discounts just for Anime NYC. The panel will begin with an introduction highlighting trends in J-Theatre today.
Keep Your Hands Off Eizouken! Special premiere screening with Guest from Science SARU (5:30PM to 6:30PM – 1E13)
"Eizouken" is one of the most anticipated winter 2020 anime about three ambitious high school girls' quest to make anime! Join the panel for the world premiere screening of Ep.1 (ANYC edition) with producer Eunyoung Choi from science SARU of "DEVILMAN crybaby" fame.
Lantis Matsuri 2019 [SOLD OUT] (7:30PM to 10:00PM – Special Events Hall)
Anime NYC welcomes the globally renowned Lantis Matsuri concert series to New York City for the first time! This special concert at New York City's largest Japanese pop culture convention will celebrate the 20th Anniversary of Japanese music label Lantis and feature popular anime song or "anisong" performers JAM Project, TRUE, ZAQ, and Guilty Kiss from Love Live! Sunshine!! Aqours! A separate ticket is required to attend this event.
Saturday, November 16
VOFAN Live Drawing Panel and Retrospective (10:30AM to 12:00PM – 1E13)
Don't miss this rare chance to see internationally renowned artist VOFAN (the star illustrator of the Monogatari Series novels by NISIOISIN) drawing his beautiful characters, live on stage! He'll discuss how he got his start in the industry, talk about how he got involved with the Monogatari Series, and maybe even share a few trade secrets!
Dr. STONE Panel Presented by VIZ Media (12:00PM to 1:00PM – Special Events Hall)
Get ready for a rockin' time! Join Riichiro Inagaki and Boichi, creators of the hit Shonen Jump manga and anime series "Dr. Stone," as they share their marble-ous stories and insightful gems that Shonen Jump fans are 10 BILLION PERCENT certain to enjoy!
Code Geass: Lelouch of the Re;surrection Panel with Creators and Yukana (2:00PM to 3:00PM – 1E09)
Code Geass returned in 2019 with a brand new animated film, "Code Geass: Lelouch of the Re;surrection," which continues Lelouch's story years after the dramatic end of the television anime. Hear from the Japanese creators about the narrative and production development of the new movie, as well as what it means for the greater Code Geass franchise as a whole for the next phase! With scriptwriter Ichiro Okouchi, character designer/chief animation director Takahiro Kimura, and voice actress for C.C., Yukana.
Sunday, November 17
Rie Kugimiya Spotlight Panel (11:00AM to 12:00PM – Special Events Hall)
Known as the "Queen of Tsundere" by her fans worldwide, Rie Kugimya makes her first appearance at a US anime convention at Anime NYC. She has voiced many of the most popular and memorable characters from various hit anime titles such as Alphonse Elric (Fullmetal Alchemist), Kagura (Gintama), Shana (Shakugan no Shana), Taiga Aisaka (Toradora!), Happy (Fairy Tail), and many more. Come hear the legendary voice actress talk about her life, career, and everything that makes her scream "Urusai! Urusai! Urusai!" You don't want to miss this once in a lifetime opportunity.
Ramen: Illustrated (12:00PM to 1:00PM – 1E13)
Anime NYC presents "Ramen: Illustrated" – a panel discussion featuring the creators of the newly released comic book cookbook, "Let's Make Ramen!" – chef/author Hugh Amano and illustrator/artist Sarah Becan – alongside home-cook and ramen-educator extraordinaire, Mike "Ramen_Lord" Satinover of Akahoshi Ramen! The panel will breakdown and demystify the ramen creating process, talk about the gateway pleasures that come with learning how to make this wildly-beloved dish from scratch, and inspire a new wave of passionate ramen-lovers to boldly jumpstart their ramen journey – ultimately creating a movement which will influence the dynamic evolution of ramen in America. Moderator and self-professed ramen-nerd Jamie Li from Ramentality.com will lead this illuminating discussion followed by Q&A. Grab a copy of cookbook and have it signed by the creators at an exclusive book-signing immediately following the panel at 1:30PM in the Anime NYC Autographing Area.
Weathering With You: East Coast Premiere (3:00PM to 5:00PM – Special Events Hall)
GKIDS proudly presents, ahead of its January 17 theatrical release, the highly anticipated new film from director Makoto Shinkai and producer Genki Kawamura, the creative team behind the critically acclaimed, global smash hit "Your Name." The summer of his high school freshman year, Hodaka runs away from his remote island home to Tokyo, and quickly finds himself pushed to his financial and personal limits. The weather is unusually gloomy and rainy every day, as if to suggest his future. He lives his days in isolation, but finally finds work as a writer for a mysterious occult magazine. Then one day, Hodaka meets Hina on a busy street corner. This bright and strong-willed girl possesses a strange and wonderful ability: the power to stop the rain and clear the sky. Learn more at WeatheringWithYouMovie.com.
---
Exciting information!
Anime NYC is soooo soon!