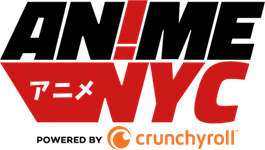 What You Need to Know:
LeftField Media today announced that the second annual Anime NYC convention, a massive celebration of anime and Japanese culture in the Javits Center in New York City from November 16-18, will present three guests from the famed Studio TRIGGER - Hiromi Wakabayashi, Shigeto Koyama, and Mayumi Shintani. The three renowned special guests will be featured in two panel discussions over the course of the weekend at the Javits Center, with admission included for all Anime NYC attendees, in addition to special fan autograph sessions and exclusive collaboration merchandise. Tickets are available at www.animenyc.com with general admission tickets priced from $40-65.
Studio TRIGGER is regarded as one of the most stylish and creative animation studios in Japan, with its titles including Kill la Kill, Space Patrol Luluco, Kiznaiver, Little Witch Academia, Inferno Cop, and DARLING in the FRANXX. TRIGGER's SSSS.GRIDMAN is currently on air, and its highly anticipated Promare is debuting next year.
Source: Official Press Release
About Studio TRIGGER
Wakabayashi and Koyama are veterans of Japan's animation industry, having worked on many iconic projects throughout their prolific careers. Wakabayashi has served as director or producer on titles including Diebuster, Gurren Lagann, Kill la Kill, Space Patrol Luluco, and DARLING in the FRANXX, and Koyama is most known as a designer and director whose work includes Heroman, Star Driver, Eureka Seven, Gurren Lagann, Kill la Kill, Cassette Girl, Space Patrol Luluco, and DARLING in the FRANXX. The pair will offer fans exclusive details on their current and upcoming projects with Studio TRIGGER. Joining them onstage is actress Mayumi Shintani, who is an esteemed member of the theatre group Nylon 100°c. Shintani has lent her voice to many popular Japanese animation series including His and Her Circumstances, FLCL, Kill la Kill, Space Patrol Luluco, and SSSS.GRIDMAN.
Scheduled Panels
TRIGGER presents Promare and SSSS.GRIDMAN – November 17 – 6 PM – Panel Room 1
Stop by Studio TRIGGER's panel to get insights and exclusive information about TRIGGER's two newest shows, Promare and SSSS.GRIDMAN!
Live drawing and Q&A with Studio TRIGGER – November 18 – 12 PM – Panel Room 1
Spend time with TRIGGER and an amazing live drawing and expansive Q&A
---
I sooo want that shirt!
It's most likely going to be limited in quantity so better act fast bee-kun!
---