System: iOS 7.0+/Android 4.3+
Seller: CS-REPORTERS, INC.
Release Date: December 17, 2015
Pricing: Free (In-App Purchases Available)
Rating: 12+ (Infrequent/Mild Sexual Content and Nudity)
Genre: Music
Languages: English, Japanese
Gameplay
Ever wanted to enter the world of cute anime girls? Now you can! PashaloVR is an application that allows you to watch cute 3D characters dance to in-game music as if they were right in front of you. So how do get started? Well first off, you have two viewing options: normal, where you tilt your mobile device whilst holding it away from you, or split screen, which allows you to make the most of the VR experience using a mobile VR headset such as Google Cardboard.
Once you've made your selection from the configuration menu, click the play button on the home screen. Then it's time to choose your character! There are currently four options: Unity-chan, who has three free performances, Million Doll, who have a free trail and paid options, and the paid Aria the Scarlet Ammo Double A and Punchline, each concert from which cost 65 coins, available to purchase in-game.
Once you've made your character choice, you get to choose which outfit they wear. We're going to play with Unity-chan, who has three different outfit choices!
Now she's all dolled up, it's time to press enter! You're then given ten seconds to put your mobile VR headset on before the performance begins. Once you're in front of the stage, you can hop on the spot to get closer to your girl, or tap the right side of your smartphone to take photographs! There are also two menus available - look down to adjust the angle from crouching to standing or vice versa, or look behind you to cancel the performance and go back to the home screen.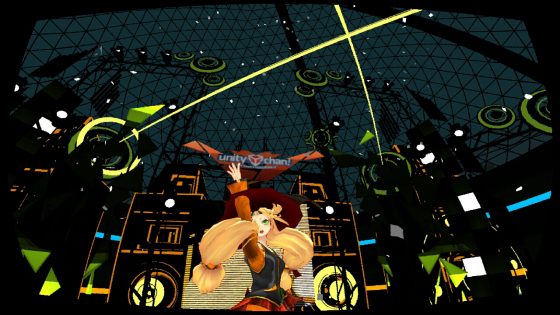 Important: If using a mobile VR headset, please make sure to play in a safe enviroment and be careful of virtual reality sickness!
Let's Play!
Oh wow, she's really right in front of me! Unity-chaaan!! I don't care if I'm a bee, I'm gonna hop closer!
The setting is pretty nicely done, it'd be nice if you could choose the stage set up as well as the character's outfit though!
So is anyone else having issues with the animation? It's kind of slow and glitchy and doesn't match the music like it should sometimes... Pretty funny to watch though.
Oh, she walks off and you have to follow her... Wait... Where are you going, Unity-chan!
Well, that was pretty short but fun. I felt like I'd entered another dimension, I'm sad I had to leave it...