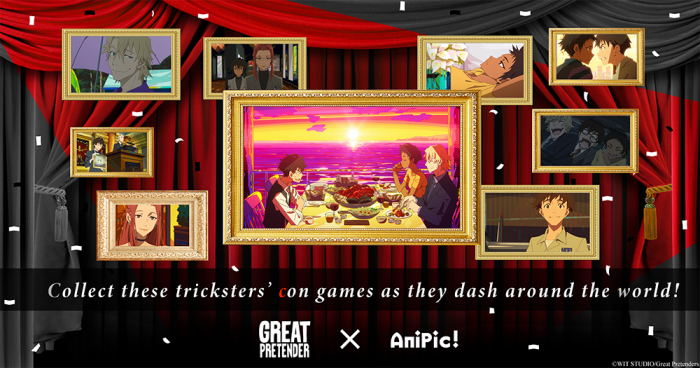 With technology constantly advancing and pushing the boundaries of image sharing and testing the limits of copyright laws, it has become increasingly difficult to legally own and display anime-related images online, which is where we all live now. On top of that, sales from merchandise and other goods don't really reach the creators of your favorite anime and manga so they actually don't even benefit from the merch sometimes.
That's where AniPic! comes in. AniPic is a digital platform that connects fans with official artwork straight from the creators themselves that fans can then own and display proudly. On top of that, all money fans spend on the art pieces goes directly to the creators, therefore fans directly benefit their favorite artists and can get personal messages from cretors too. AniPic! launches today, so we thought we'd give you a crash course on it and tell you about an awesome Great Pretender collaboration that is also starting today!
AniPic! Website
(Get one free AniPic for a limited time!)
https://anipic.io/en/greatpretender-case1-3
It's All Actually Pretty High-Tech!

AniPic looks to provide anime lovers with an environment where our favorite anime are always accessible, AniPic allows users all over the world to have a new digital experience with Japanese content while respecting copyright laws.
AniPic! is "anime image data". On AniPic, every image will have a unique NFT (non-fungible token) which is a blockchain technology to prove that you are the owner of the AniPic you have purchased. The company is working with anime studios to develop a platform to sell AniPic to provide each user with a new digital experienc—a high-definition anime image with their name engraved on it.
Wherever the anime fan is, AniPic aims to connect creators and fans like never before.

What Are the Features of AniPic?

High-quality, original animation data = gorgeous, original anime art.

Customize your own AniPic Album = collect as many as you want and show them off!

Your name can be engraved as the owner on the backs of your AniPics with creators and you get messages from creators!

Owning your own original data with the official copyright = it is YOURS

Blockchain technology that proves original data and secures safety in internet transactions.
AniPic's First Anime Collaboration is with GREAT PRETENDER!

AniPic launched today with Great Pretender images so you can start your collection there! Collaborations with other anime franchises are releasing in the coming months.
You can own digital bromides of famous scenes and precious setting materials from GREAT PRETENDER on the digital platform and there will be a prize campaign in which players will be entered into a lottery to win autographed goods by Director Hiroshi Kaburagi, Animation Director Hiro Kato, and Producer Maiko Okada!
On the AniPic platform, users will be able to keep GREAT PRETENDER's most famous and colorful scenes. Some of the digital bromides include previously unreleased, rare characterizations!
On the backside of the AniPic images, the creator's message is delivered just for the ones who own the AniPic. When you own the AniPic, your name will be engraved on it with the creators of GREAT PRETENDER. Once you have several AniPic images, you can organize your scenes using the AniPic Album!
Price and the Purchase Methods

1 AniPic: 120 Coins ¥360($3)
Purchase methods: Users can roll 1shot, 10 shot, or 50 shot (Don't worry, you won't get repeats!)
Get a Present Code from Honey's Anime + AniPic!

Through a collaboration of our own with AniPic!, you can use a special code to get 12 coins and get some AniPics on us!
Of course, before getting coins, you'll need to create an AniPic account first. When you log in, follow these steps:
Go to 'My Page' on AniPic.com (+link when available)
Go to 'Enter Code'
Enter HoneysAnime_1
Press 'Submit'
Use your coins to buy AniPics!
This code will only be valid through November 30th (GMT) only and is limited to the first 5000 users. Do NOT enter the Present Code under 'Referral Code'!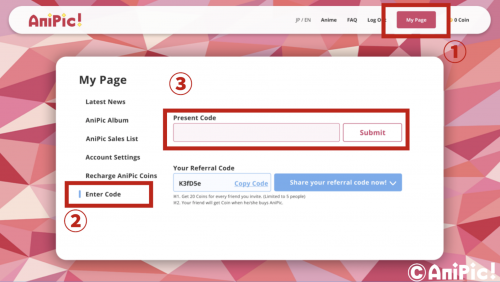 Other Campaigns
LINE + AniPic Campaign
By adding the AniPic LINE official account, 10% off coupons can be received for a limited campaign. Follow our other social media Twitter, Facebook, and LINE to get limited goods from the GREAT PRETENDER anime!
Raffle Campaign for Fans of GREAT PRETENDER
For the users who have bought their first AniPic, raffle winners will be selected worldwide.
Prizes:
- Handwritten signature by Director Hiro Kaburagi, Animation Director Hiro Kato, and Producer Maiko Okada with a hand-drawn illustration by Animation Director Hiro Kato. 3 Winners Worldwide!
- Special Key Visual Jigsaw Puzzle - Signed by Hiro Kaburaki, Animation Director Hiro Kato and Producer Maiko Okada. 3 Winners Worldwide!
---
Final Thoughts

So there you have it! A new, high-tech way to legally own a piece of your favorite anime forever while directly supporting and interacting with creators! Go give it a try and spend those coins on some Great Pretender art and stay tuned for more anime goodness from AniPic!
Will you give AniPic a try? What anime art would you like to see inthe future? Share with us in the comments! And Don't forget to follow ANiPic on all the socials!
Twitter (JP):https://twitter.com/AniPic_official
Twitter (EN): https://twitter.com/AniPic_Global
Facebook: https://www.facebook.com/AniPic-114864350319281
---