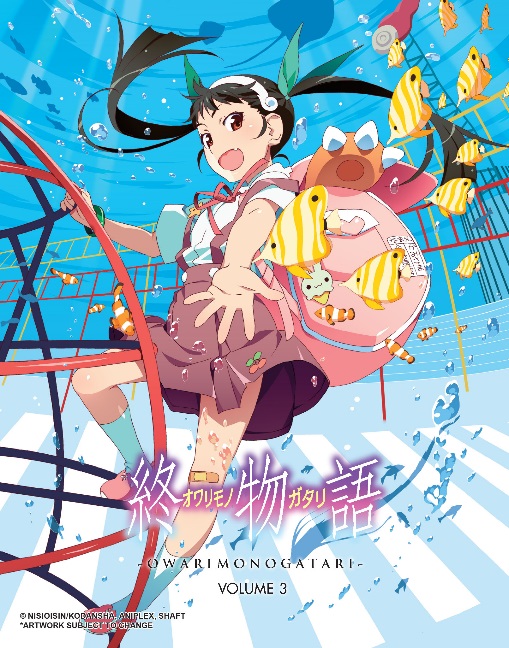 What You Need to Know:
Aniplex of America announced at Sakura-Con that fans of OWARIMONOGATARI will be able to own the complete series on Blu-ray this summer with the upcoming release of OWARIMONOGATARI Blu-ray Set Volume 3. The final volume of the fan-favorite supernatural thriller will include the last 7 episodes of the long-awaited finale to the Monogatari Series, tying up the conclusion of the occult mysteries surrounding Koyomi Araragi.
The OWARIMONOGATARI Blu-ray Set Volume 3 will be released on June 26th, 2018 and will come with plenty of bonus features and contents for the true and casual fan alike. Along with the final seven episodes, the Volume 3 Blu-ray Set will include the textless opening and ending, a deluxe booklet, a package designed by Character Designer Akio Watanabe, and the animated featurettes "STORY OF KOYOMI ARARAGI" and "STORY THAT IS GOING TOWARDS THE END."
After years of anticipation, OWARIMONOGATARI is the season that ties the events of the previous installations together in a heart-stopping finale sure to make your head tilt! Pre-orders have already begun and orders will begin shipment starting June 21st, 2018.
Source: Official Press Release
Synopsis
During the month of October of his third year in high school, Koyomi Araragi is introduced to a transfer student named Ougi Oshino by his underclassman Suruga Kanbaru.
Ougi tells Koyomi that she has something she wishes to consult with him. When she draws the map of Naoetsu High School, she finds something peculiar on there.
This discovery reveals a tale that wasn't meant to be told, and this makes Koyomi's high school life totally different.
This is the story that brings to light "what" makes Koyomi Araragi.
This is the story that reveals the "beginning" of everything. "About how I, Koyomi Araragi, am going to end... and begin. That's this story."
OWARIMONOGATARI Blu-ray Set Vol.3 Features
Spoken Languages: Japanese
Subtitles: English
Aspect ratio: 16:9 Widescreen
Episodes: 7 Episodes
Number of Discs: 2 Blu-ray Discs
Total Run Time: Approx. 170 min.
Rating: 16 UP
Bonus Contents
PV & CM Collection
Textless Opening & Ending
Short Featurette: STORY OF KOYOMI ARARAGI
Short Featurette: STORY THAT IS GOING TOWARDS THE END
* Bonus contents subject to change.
Bonus Materials and Special Packages
Deluxe Booklet
Pin-up Postcard Set
Package Illustrated by Aki Watanabe (Character Design)
*Bonus Materials and Package are subject to change
---
This series has really become an all-time favorite for me. From the powerful story to the awesome character cast, it's amazing!
Totally agree Bombon! It's a must have item for any mystery anime fan!
---