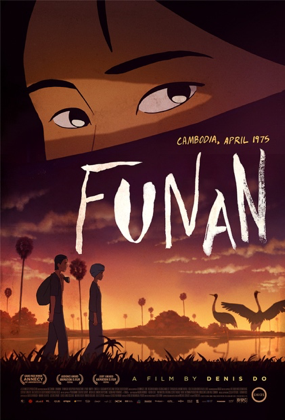 Funan - Blu-Ray, DVD & Digital

What You Need to Know:
Winner of the top prizes at the Annecy Animation Festival and the Animation is Film Festival, the critically acclaimed drama Funan is a searing and remarkable debut from filmmaker Denis Do. Based on the true life stories of his family's harrowing experience under the Khmer Rouge, this thrilling story of love, loss and enduring hope in the most trying of times makes its debut as a Blu-ray + DVD combo pack December 3rd, 2019 from GKIDS and Shout! Factory. Featuring the voices of Bérénice Bejo (The Artist) and Louis Garrel (The Dreamers), as well as a new English-language version, the release also includes an interview with director Dennis Do, storyboards and concept art as bonus features. Fans can pre-order their copies now by visiting ShoutFactory.com
Cambodia, April 1975. Chou is a young woman whose everyday world is suddenly upended by the arrival of the Khmer Rouge regime. During the chaos of the forced exile from their home, Chou and her husband are separated from their 4-year-old son, who has been sent to an unknown location. As she navigates her new reality, working in the fields day and night under the careful watch of soldiers, and surviving the small indignities and harrowing realities of the increasingly grim work camps, Chou remains steadfast in her determination to reunite her family - even if it means risking everything.
Source: Official Press Release
---
Such a deep and powerful story.
Highly reccommend everyone to watch!