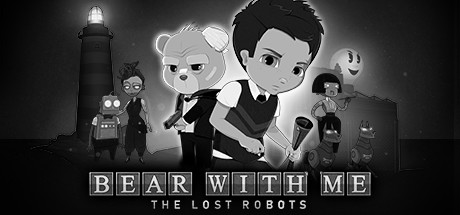 If Humphrey Bogart had been a teddy - he would have been Ted E. Bear. Bear With Me does film noir proud!
System: PlayStation 4, Xbox One, Nintendo Switch, PC (Steam), iOS, Android
Publisher: Modus Games
Developer: Exordium Games
Release Date: July 31, 2019
Pricing:Episode 4 - $4.99 / The Complete Collection (1-4 Bundle) - $14.99
Rating: E10+
Genre: Point-and-Click Adventure
Players: 1
Official Website: http://www.bearwithmegame.com/
Who it Caters to
The first people that will be drawn to Bear with Me: The Lost Robots and those who played the original Bear with Me game. This new title is an exciting prequel that sets up the story for the original game perfectly while still bringing new lore and surprises to the table. For players who liked Bear with Me and want more to play after it's three episodes, Bear with Me: The Lost Robots is an exciting release. You get to explore the story of Flint, who is missing in the original game, and get a lot of extra backstory with the same point-and-click gameplay of the original.
But Bear with Me: The Lost Robots isn't exclusive to returning fans of the series. Because it's a prequel and not a sequel, newcomers can also pick it up and play without any problems. Thus Bear with Me: The Lost Robots also appeals to curious gamers that like narrative-heavy games, puzzles, mysteries, and detective stories. Its point-and-click gameplay style makes it easy to pick up, but the puzzles it presents keeps the game challenging in a different way. For players that are intrigued by the idea of a noir-inspired game with a teddy bear as the leading detective, well, look no further. Bear with Me: The Lost Robots caters to the curious.
What to Expect
Bear with Me: The Lost Robots is a narrative-heavy, puzzle-solving game, so you should expect a lot of dialogue (which is completely voice acted) that needs to be listened to help progress in the game. The puzzles can also be quite challenging, so it's good to expect to be clicking around a lot. Be ready to make a lot of mistakes as you find the wrong way to solve problems and the wrong answers before you find the right ones! Bear with Me: The Lost Robots is as fast-paced as you make it; if you figure something out quickly or happen to be lucky, you can breeze through it fast. But if you take the time to explore everything and try every solution, you can spend a lot of time in each area of the game. Expect to be challenged, expect to be frustrated, and then expect to be rewarded and to feel accomplished when you succeed.
Because of its film noir style, expect Bear with Me: The Lost Robots to have an entirely monochrome colour scheme inspired by those old films. It also has the same cold, sarcastic dialogue that genre is known for. And just because Ted E. Bear is a teddy, that doesn't mean Bear with Me: The Lost Robots isn't made for kids. It does have some bad language and other adult themes. It's very much a game for mature teenagers and adults and should be played with parental discretion in mind for minors.
Story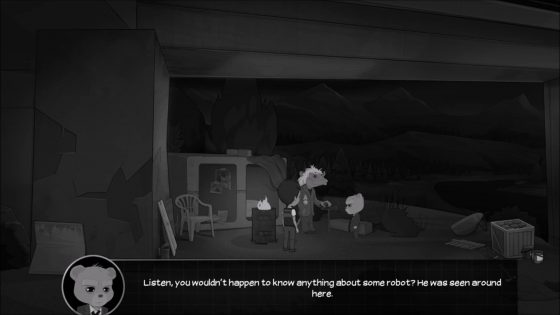 Bear with Me: The Lost Robots is actually a prequel game, telling the first chapter to the story from Bear With Me. While the original game was three chapters long and followed a girl named Amber who was searching for her missing brother Flint, Bear with Me: The Lost Robots instead is the story of Flint himself. Despite being made after the original Bear with Me game, Bear with Me: The Lost Robots can be understood by both new players and returning ones. Because the game is a prequel, you don't need any prior knowledge to understand and enjoy it.
The story of Bear with Me: The Lost Robots centres on Flint and Ted E. Bear, a callous and hard noir detective. Players are taken into the monochrome world of Paper City to solve a mystery by investigating crime scenes, interrogating suspects, and putting together all the pieces to solve the puzzles. The robots in the city have started to go missing, and it's up to you to crack the case. The characters you meet along the way may help or hinder you, so you have to be smart. The purpose of Bear with Me: The Lost Robots is to set up the much larger story that unfolds in the original game, but this prequel is full of its own new lore and characters, too.
Gameplay
Bear with Me: The Lost Robots is a point-and-click adventure game. It centres on solving puzzles, some of which can be quite challenging. Many puzzles can only be solved by using items that you collect throughout the game, so sometimes when one cannot be bested, you have to go and re-explore areas you have already visited to look for something you missed. These puzzles can be revisited and solved at your own pace, slowly piecing together the solution to the greater mystery. Bear with Me: The Lost Robots is about solving mysteries, so there's also interrogation sequences, and crime scenes to search.
The setting of Paper City is pretty large and very explorable. The environments are highly interactive as you search for clues and solutions to puzzles, so it's best to click on everything and see what happens. You can click on nearly everything, and most things have an option to just hear a description of it or to pick it up or interact with it. Items that you pick up can also be combined with each other in your inventory, as well as dragged onto the main screen to interact with the environment. You'll have to be experimental and ready to try a lot of things to crack the case!
Honey's Gameplay Consensus:
Bear with Me: The Lost Robots is a really unique game trying its best to deliver the atmosphere of a film noir film with a modern story - and a teddy bear as the lead suave detective. It does just that, and quite successfully. The story is intriguing and keeps you wanting to solve the case and understand what is happening. Ted E. Bear is a really interesting character with plenty of sarcastic lines if you can get past the initial strangeness that they're being delivered by a teddy bear. For gamers that like point-and-click gameplay and solving puzzles, Bear with Me: The Lost Robots offers something fresh and fun to the genre.
Honey's Pros:
Bear with Me: The Lost Robots combines several narrative genres into one good story.

It's a little bit of comedy, a dash of horror, and some mystery, too. Combined it makes for a story that is gripping without being too intense to enjoy.

Bear with Me: The Lost Robots is done in a "film noir" style that sets it apart from other games and really establishes the atmosphere of the game in an interesting way. Imagine a classic detective movie like the Maltese Falcon; that's the style of this game.

There's plenty of great sarcasm in the dialogue, making Bear with Me: The Lost Robots quite quotable and a must-play for fans of sarcastic wit.

The PC version can be played entirely using just the mouse, making it easy for players to learn the controls and also making Bear with Me: The Lost Robots great for gamers on the go.
Honey's Cons:
While it may not be considered a con by everyone, keep in mind that Bear with Me: The Lost Robots is all presented in black and white to keep with the film noir theme. Better to know now than be surprised later.

Ted E. Bear has great voice acting but the same cannot be said for Flint. A lot of his lines are delivered flat and devoid of any feeling, and sometimes he speaks so quietly it almost can't be heard over the background music.

For players that are sensitive to criticism, Bear with Me: The Lost Robots isn't a great fit. While clicking around trying to solve problems you are guaranteed to make mistakes. Ted often says callous, cold observations about your experiments that may wear on gamers that can't laugh them off.

Point-and-click gameplay may get repetitive for some players so it's best to know what you're getting into before you start. There isn't anything else happening in the game.
Honey's Final Verdict: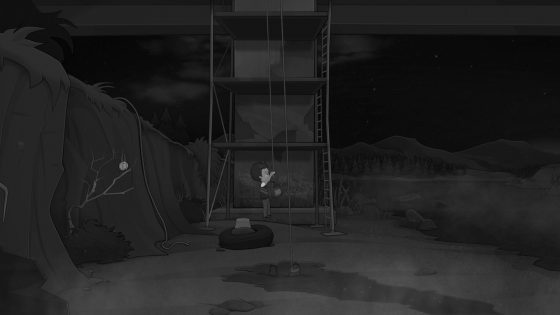 Bear with Me: The Lost Robots is an interesting mystery story done in a very distinct style, taking a concept that sounds weird on paper (cute teddy bear is actually a stone-cold sleuth trying to crack the case of missing robots in a classic city), it really works well. The game is fun, engaging, challenging, humorous, and satisfying. While it's certainly not for everyone, gamers who like the genre of gameplay are sure to enjoy the story and style of the game. And at the very least it will make you laugh - especially for fans of sarcasm, which Bear with Me: The Lost Robots has plenty of.