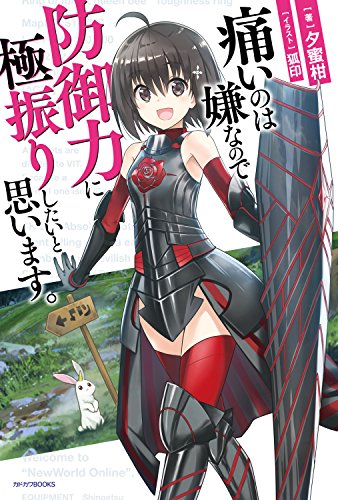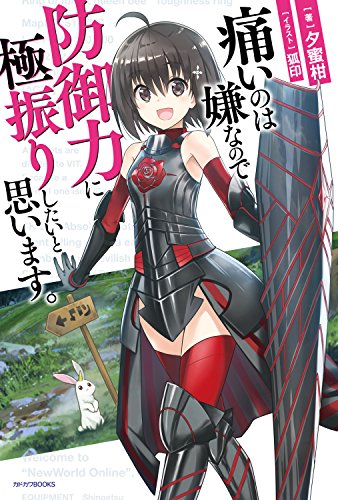 BOFURI: I Don't Want to Get Hurt, so I'll Max Out My Defense

---
---
---
Official Images / Key Visuals
Synopsis
A super newcomer made an appearance in the popular VRMMO "NewWorld Online"!?
With the ability to nullify any attacks and crush both monsters and players with the deadly poison skill!
The identity of that player with that abnormal fighting style and was also called as "a walking fortress" and "the last boss" is just a beauty newcomer!
Actually Maple,
just started this game after being invited by her friend Sally.
As she has little knowledge about gaming, she pumps all her status points into VIT (defense),
to the point where she is able to play with the starting mob monster...
It's pain...less!?
She received zero damaged despite being attacked by the monster,
she was even lucky enough to gain the one-hit KO counter skill!
After being joined by her friends with weird habits, Maple is growing steadily.
This is the start of the no damage adventure!
Characters & Voice Actors
Maple / Honjo Kaede:
Kaede Hondo
Her real name is Honjo Kaeda. After pumping up all the status point into her defense, she is a large shield user that can block any damage. However, she doesn't even realize her abnormal defense at all. She is enjoying the game with her optimistic personality while being curious about it.
Sally / Shiromine Risa:
Noguchi Ruriko
Her true name is Shiromine Risa. She is Maple's best friend and the person who invited her to play VRMMO "NewWorld Online". She is quite knowledgeable about the game and is able to dodge all the attacks with her player skill and her outstanding concentration. She is a person who cares about her friends.
Kasumi:
Saori Hayami
A swordsman that got a high ranking in the event. She is a serious person with common sense and makes an extremely precise move after judging the battle calmly. She has a high attack and agility, and is able to deal with a fixed amount of damage to the enemy.
Kanade:
Satomi Arai
A fair-skinned genius boy with amazing memorizing skills and a sexless appearance. He is able to use some special skill from his staff that is in the form of a rubric cube. Despite showing a smile everytime, his true nature still remains a mystery.
May:
Ai Kakuma
A newcomer player that focuses on attack. She is Yui's elder twin sister. She has an extremely caring personality with the indecisiveness and worried attitude, and is doing her best to not cause any troubles to others.
Yui:
Nanaka Suwa
A newcomer player that focuses on attack. She is May's younger twin sister. While compared with May, she has an extremely optimistic personality. She took care of the worried May a lot. Both of the twins are training as a member of "Kaede no Ki".
Kuromu:
Noriaki Sugiyama
A top player of "NewWorld Online" and a big shield user just like Maple. His battle style is to defend the party by deflecting the attack with his big shield as a front liner. A good brother who takes care of others.
Iz:
Satomi Satou
She is a crafting player. Despite her specialist is in creating weapons and armors, she is also everything related to production such as accessories creation, item creation, etc. She is quite obsessed with her item creation.
Other Title
Itai no wa Iya nano de Bougyoryoku ni Kyokufuri Shitai to Omoimasu.
Airing Info

Legal Streaming:

Theme Songs

Opening Song: Kyukyok Unblance by Junjou no Afilia

Main Staff

Original Creator: Mikan Yu
Director: Shin Onuma and Mirai Minato
Series Composition: Shimo Fumihiko
Character Design: Kazuya Hirata
Sound Director: Kisuke Koizumi
Music: Taro Masuda
(Credit Honey's Anime when you use our description.)
---