A Sleeping Giant Stirs
Mangaka : Horikoshi, Kouhei
Publisher : Shonen Jump
Genre : Action, Comedy, School, Shounen, Super Power
Published : June 2, 2019
Discussion Time
Well, Gigantomachia seems to be stirring. Alright, we're starting our review of chapter 230 by discussing the end of it—which is strange—but let us rewind and talk about this chapter and why it's pretty darn cool. Twice has unleashed his Quirk in a way we've never seen—and no one else has either from the reaction of his fellow league members—with thousands of himself running through the town. With his army, Twice lends his clones to the other villains to help them but don't do much to stop the hooded Meta fighting Dabi. However, after Twice losses a hundred of himself from one of the hooded man's attacks, Dabi learns this dude's Meta ability can control more than just ice but also temperature.
As Dabi stands once more before his opponent, we see the doctor laughing at the league's failings but still seems to not care that Gigantomachia has awoken and is ready for some devastation. All in all, chapter 230 of Boku no Hero Academia didn't do anything overly dramatic. We did see some of the Meta Liberation Army make a bold claim that everything is still going according to plan—which seems like a lie—but other than that, Twice once again stole the show and now it seems as if Gigantomachia will too.
Why You Should Read Boku no Hero Academia (My Hero Academia) Chapter 230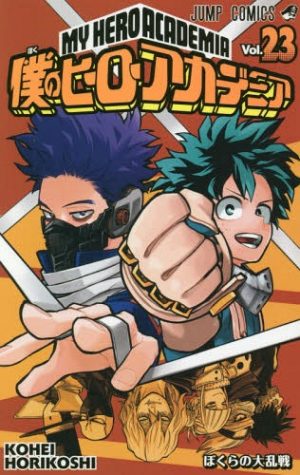 1. Twice Times a Thousand
Twice really went further than we anticipated with his Quirk! Not only did he create hundreds of himself, but it could be in the thousands if you really look at how many Twice were running around in town! Needless to say while they might not be as strong due to their multiple numbers—and how that makes them easier to kill—the size of his army might be enough to help the League of Villains as Gigantomachia awakens.
2. He's Back!
We knew Gigantomachia was sleeping, but finally it looks like the titan is back and fully rested! That final panel was truly awesome with Gigantomachia rising from what looks like the depths of the ground and breaking trees and rocks as he stands! Tomura better get ready, we feel his last battle with the titan is coming and it's coming soon!
---
Final Thoughts
Boku no Hero Academia chapter 230 was a simple but awesome chapter that showed Twice—and his thousand something clones—ready to aid the team in a way never before! Yet, what stole the whole chapter for us was the final moments leading to Gigantomachia arising from his short slumber! Chapter 231 should be pretty intense but for now, go read chapter 230 as soon as possible and discuss your thoughts in the comments below. For all your Boku no Hero Academia chapter reviews, keep stuck to our hive here at Honey's Anime!