Reaching out to the Past
Mangaka : Horikoshi, Kouhei
Publisher : Shonen Jump
Genre : Action, Comedy, School, Shounen, Super Power
Published : December 15, 2019
Discussion Time
Oboro, Aizawa, and Yamada were once a trio with big goals… to start their own hero agency. However, as we learn in chapter 254 of Boku no Hero Academia, some dreams don't always see the light of day. When a building crushed Oboro, their dreams were crushed with him. Our detective in the present, though, unleashes a bombshell on our two now pro heroes.
their friend Oboro might lie in the dark fog that is Kurogiri. Due to the Nomu operations, there exists a shallow chance that Oboro was used as a core for Kurogiri and thus the villain was born. Our duo presence at the prison acts as a final effort to see if the Nomu do indeed retain their former thoughts as proven by Endeavor's fight with a Nomu who long ago was an underground fighter.
Activating his power, Eraser Head tries to talk with the now re-awakened Kurogiri. At first, the talk seems pointless as Kurogiri only remembers their encounter long ago at the UA school incident. However, as Eraser Head begins to talk more about the past Oboro, we begin to witness small signs that maybe…just maybe the detective's comment wasn't too off base. We even learn that Aizawa never actually expels students from the school during his initial assessment but writes it as he does to give the new students a push needed to prove their worth! Aizawa uses all of his passion leading our pro hero teacher to tears as he tries valiantly to reach out to his old friend who might now be lost to the being that is Kurogiri.
Can Aizawa make his promise of them still being heroes a reality or has Oboro died truly when he was experimented on to become Kurogiri? We shall discover the reality in the upcoming chapter but for now, we need to sit back and explain to you all why reading chapter 254 is a priority!
Why You Should Read Boku no Hero Academia (My Hero Academia) Chapter 254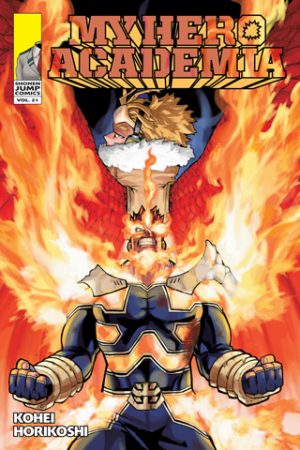 1. Nomu's Original Form
Nomus have always been a strange concept in the Boku no Hero Academia lore. We have learned more about how they came to be as the series has revealed bits of their creation process but never have we understood how a Nomu really acts. Chapter 254 aims to show Nomu aren't just shapeless forms but are built from a combination of more than one body/soul. This means that every Nomu might act like an enraged puppet cut from its marionette strings but in reality, these beasts have a persona still fighting to prove its own existence. Sounds truly creepy in thought doesn't it?
2. Aizawa's Passion
Boku no Hero Academia has always tried to keep some pro heroes in a specific light. Aizawa from the gate has seemed to be a cool-headed hero who is strict, kind and a bit overly listless as a teacher. In this 254th chapter though, we see an Aizawa who was once a normal kid who had dreams of being a hero, meeting friends at UA and then wanting to have his own agency with the friends he considered close. We felt every tear and heartfelt yell from Aizawa in this chapter and it showed us a passion we never knew existed behind those pained eyes.
---
Final Thoughts
Boku no Hero Academia always loves to show us that even the pro heroes we know now aren't fully understood by us readers. Aizawa has shown a side of himself we never before witnessed in chapter 254 of Boku no Hero Academia and that excited us. Will Aizawa be able to reach out to the Oboro from the past or has Kurogiri taken full control and now is nothing more than an advanced Nomu? Time will tell readers but for now come up with some thoughts in the comments down below! Keep stuck to our hive for even more manga chapter reviews done by us here at Honey's Anime!
---