También puedes leer este artículo en:Español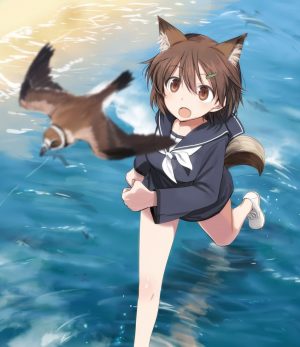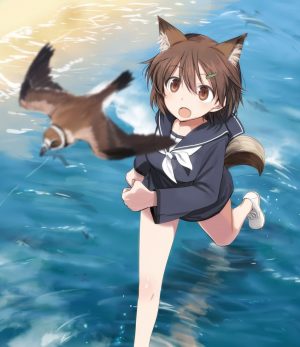 Brave Witches

Genre:
Action, Military, Ecchi
---
Airing Date:
October 6 2016
---
Honey's Highlights
Yess!! Finally, a new ecchi military anime! And it's coming fall 2016!
It feels like forever since the second season of Strike Witches finished, now we get more cute girls and panty shots!
Oh no, what happened to these girls? They're part machine? With animal ears? And they're at war? I-I hope they stay safe!
Haha, don't worry Mo-chan! Remember KanColle and Girls und Panzer? And spring 2016's High School Fleet? This is perfectly normal in anime!
Synopsis
The story of Brave Witches takes place in between season one and two of Strike Witches.
Neuroi: the enemy of humanity that suddenly appeared in 1930s Europe. The only ones who stood up against these Neuroi, which were difficult to destroy with regular weapons, were a group of girls with magical powers known as Witches.
In September 1944, thanks to the efforts of the allied forces and the 501st Joint Fighter Wing, Strike Witches, the Neuroi hive above the Republic of Gallia was destroyed and the safety of Western Europe was secured. Taking advantage of this opportunity, the Allies start to devise their resistance tactics for central and Eastern Europe. Setting up base in the Empire of Orussia's Petersburg, the 502nd Joint Fighter Wing Brave Witches are ordered to sortie.
Shouldering the hopes of humanity, these courageous witches set forth into the cold climate of Eastern Europe.
Three Episode Impression
Strike Witch- What do you mean the name has been changed? Oh okay. Everyone's favorite flying, no pants wearing, World War II soldier/magical flying girls are back! This time this season takes place between the first and second season of Strike Witches. Brave Witches is exactly the same, so if you are a fan of Girls und Panzer, Kancolle, or the original series, then you will feel right at home. The 502nd Joint Fighter Wing reluctantly takes Hikari in after her older sister Takami, is injured in a fight against the mysterious enemy, the Neuroi. Some are more welcoming than others and it comes down to the wire as it seems that she may be kicked out due to her lack of magical abilities! However, Hikari pulls through when Naoe is trapped by a neuroi while the two of them are searching for Nipa, and they all come home safely. Since Brave Witches is set between seasons one and two of Strike Witches, expect a lot more of the same without a lot of shocking reveals. Cute girls who wear oversized T-shirts, no pants, and fly in the sky while shooting guns. It's more and the same, but if you like it, and we do, then it's more and the same of what you want.
Characters & Voice Actors List
Hikari Karibuchi

Voice Actor: Ai Kakuma
---
The protagonist of the story. Earnest with a strong sense of justice. A hard worker with more physical strength and willpower than most. She respects her older sister and her dream and goal is to one day become a witch like her. A positive thinker who's full of energy.
Takami Karibuchi

Voice Actor: Rie Suegara
---
Hikari's older sister, an elite Witch even in the Fusou Empire. Always smiling no matter what crisis happens, she gives hope to those around her. A kind girl who can get along with anyone regardless of rank. She really spoils her younger sister.
Naoe Kanno

Voice Actor: Rie Murakawa
---
Daring and resolute, an inspirational militant who will jump in to strike her opponent without thinking about her own safety. Her way of speaking is violent and she's quick to show her emotions, but she's honest to the core. Also known as 'Destroyer.'
Nikka Edvardine Katajainen

Voice Actor: Natsumi Takamori
---
Has extremely bad luck, but is always positive and trying her absolute hardest in everything. Has a one-track mind and doesn't see the bigger picture, so she often falls for pranks. Also known as 'Unlucky Katajainen' due to her innate bad luck.
Waltrud Krupinski

Voice Actor: Kayo Ishida
---
She may be the ace of the 502nd Wing, but she's also a drinker, a womaniser, and a hedonist. Her demeanor and way of speaking is mature for her age. An optimist who's forever smiling, she doesn't sweat the small stuff and isn't bothered when people get angry at her. Krupinski, Kanno, and Nikka are always breaking the striker formation, so the three are known as 'Break Witches.'
Aleksandra I Pokryshkin

Voice Actor: Yumi Hara
---
A diligent honours student and quite the worrywart. Trusted with the role of Tactical Commander despite her young age, she feels under more pressure than others and is always trying her hardest. Possibly because of this, she's irritable and forever angry at Kanno, Nikka, and Krupinski, who always break formation.
Edytha Rossman

Voice Actor: Hiromi Igarashi
---
Usually serious and good at teaching others, but she's really scary when she's angry. She's like an instructor to the members of the 502nd Wing and is patient enough to deal with any problem children. The oldest member of the 502nd Wing.
Gundula Rall

Voice Actor: Rina Satou
---
The captain of the 502nd Wing, a candid character with big-sisterly disposition. Has sharp observation skills. A realist who is always harsh on herself and others but respects her underlings' opinions. The 3rd strongest Witch in the world.
Theme Songs

Opening Song: Ashita no Tsubasa by Youko Ishida
Ending Song: Little Wing~ Spirit of LINDBERG by LINDBERG

Main Staff

Original Creator: Fumikane Shimada, Projekt World Witches
Director: Kazuhiro Takamura
Series Composition: Striker Unit
Character Design: Kazuhiro Takamura
Sound Director: Tomohiro Yoshida
Original Illustrator: Fumikane Shimada
Music: Seikou Nagaoka
(Credit Honey's Anime when you use our description.)