No matter the genre you're reading or who your favorite mangaka is, there are a lot of possible ways a story can go. Sometimes, you can predict where the plot is going, what's about to happen to the characters... or, when it comes to yaoi manga, who's gonna be on the receiving end. However, some authors still manage to mess with our heads, and what happens when things don't go the way we expect them to go?
It's Not How You Look on the Outside…

It's not how you look on the outside but the attitude you present when getting down and dirty. Some couples find it easier to define who's fucking who, although sometimes it depends more on who takes the lead that night. Upon being introduced to the main couple in yaoi manga, it's only natural to assign each of the partners a specific role based on their looks; simply put, the one with "feminine" features is probably the one being penetrated.
It comes as a shock when the one who's supposed to be the uke takes the initiative and corners the other guy. And of course, we're not the only ones surprised by the turn of events. Imagine the face of the man who's about to be shagged!
It's so refreshing when something like this happens because, after all, it reminds us that we should never typecast someone just because of how they look. The shy-looking ones are always the most energetic and pervy, aren't they?
Koisuru Tetsumenpi
Authors: Akira Nakata
Genres: Yaoi
Volumes: 2
Published: 2016 - 2018
Ryouno is very popular at the office, and he's very good at his job too, but he's very shy and his face turns red after any kind of social interaction. He has a secret that he's willing to take to his grave, but when Ryouno discovers that he can be his true self with his colleague Natsume, they start hanging out... until Natsume can't take it anymore. Turns out, Natsume has a secret of his own!
So, what could Natsume's secret be? Well, he's gay and he's been into Ryouno since he entered the company, four years ago. After some complications, the couple finally gets together and the time comes for them to be intimate. Ryouno isn't technically what you'd call feminine, but he's shy and quiet, not to mention he gets embarrassed really fast. However, that won't stop him from taking the initiative, kissing Natsume and, after that, pinning him down. It's really cute to see how this gentle and soft man overcomes his shyness to be with the person he loves.
---
They Take Advantage of Their Looks

These unlikely seme use their looks to their advantage, getting close to their unsuspecting victim and, once they earn their trust, boom! Pants are nowhere to be seen and things get a little too steamy. Usually, the guy who ends up being the uke thinks that he's gonna be the seme, mostly because their partner looks adorably cute and even girly. Oh boy, they couldn't be more wrong…
Of course, the feminine seme is aware of how he looks, but that doesn't stop them from taking the lead. Most of the time, their features can work in their favor, attracting men with their cute and misleading exterior. In the blink of an eye, however, the confident guy ends up lying in bed, his legs spread open, ass exposed, waiting to be screwed senseless. And we have to admit it, seeing prince-like characters showing their true colors in bed is a nice change of pace!
Ahiru no Ouji-sama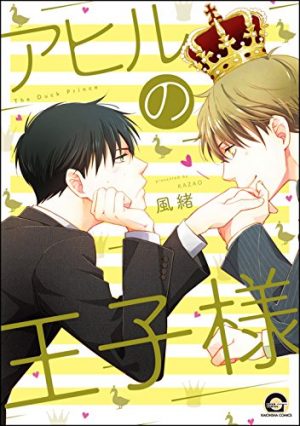 Authors: Kazao
Genres: Yaoi
Volumes: 1
Published: 2015 - 2016
Once upon a time, Ryosuke was a proud boy who had lots of friends and was good at anything he tried. But then, he started growing, and things changed until he became more of a "normal" guy. On the other hand, Yuzuru was an ugly duckling, too fat, unpopular, and unremarkable. As time went by, he became a tall and beautiful prince. The question is: what happens when these old classmates meet again?
At first, Ryosuke couldn't recognize Yuzuru, but it didn't take long for him to remember his chubby classmate. What started as friendship is about to end up being something more, when Yuzuru confesses his feelings.
Yuzuru acts like a prince, smiling and complimenting Ryosuke, but he also takes the opportunity and kisses him out of the blue. Little does Ryosuke know that he's about to be pushed down and his ass is going to be drilled. Ryosuke wasn't expecting things to go that way, but in the end, he enjoyed the experience. It's all about being open-minded!
---
Getting the Job Done

Who said that a feminine seme can't get the job done? If he has a dick, then he can fuck... or so they say because one should never judge a man based only on his appearance. That's a mistake most men make, only to end up being proved wrong through the power of raunchy gay sex.
It's common for the one who's being penetrated to have second thoughts, more so when the time comes to get down and dirty. It's not only about their asses being defiled, but also the belief that their partner is too delicate for stuff like that. Needless to say, that's not always the case; sometimes the uke just accepts it the moment the seme fingers him, soon discovering that it actually feels good!
The Lazy Son and His Naughty Secretary
Authors: Utsumi Long
Genres: Yaoi
Volumes: 1
Published: 2018
Ryunosuke doesn't feel like going to work. He just wants to spend the days partying and spending his dad's money on unnecessary things. That's until Chihiro, who claims to be his new private secretary, enters the scene and drags him back to work. After a long day in the office, things only get worse for our guy, since Ryunosuke and Chihiro have to live under the same roof now.
After years of being a spoiled brat, Ryu isn't having it with his new secretary. What's worse, Chihiro is a real pervert whose masochist side shows whenever his employer insults him… which is quite often. Although Chihiro looks like a nice and collected man on the outside, it doesn't take long for him to show his real self, taking some lewd pictures of Ryu to blackmail him. As days go by, this 'sexcretary' takes things a little further, fingering Ryu's ass, touching his dick and, finally, penetrating him. At first, Ryu isn't very happy, but he soon understands that he can't live without being fucked by Chihiro. Serendipity!
---
Final Thoughts
Again, we're in front of interesting stories and characters, not only because we like hot sex between men, but also because we all need to shake things up and go out of our comfort zone. And the same goes for these manga authors!
Hopefully, after reading these yaoi manga you will never dare to judge a couple until you really see who fucks who. And don't worry, no matter the role they play, be sure they are enjoying it!
---