Overview of C3 Tokyo
The beauty of Japan is that all year round, there are a plethora of events that take place all across the nation. One of them is C3 Tokyo which took place this past weekend, and focused primarily on the latest anime, manga, and games within the country. While most are more acquainted with the ever popular Tokyo Game Show which is scheduled to start in a few weeks, C3 Tokyo is the precursor to that event since it gives people a chance to get a sneak peek of what's to come, and to also enjoy a variety of festivities that take place on the showroom floor.
The event is catered towards everyone and there's a special area of the event that's solely dedicated to family, with various children's activities to choose from. If you ever make your way here to Japan, and would like to get a taste of C3 for yourself, be sure to check out their official website (Japanese only) for more information.
Official Website :http://www.c3tokyo.com/
When it Established
2011
Length of event
August 27th - 28th, 2016
Place / location
Makuhari Messe Kokusai Tenjijou Hall 1-2-3
Cost
Advanced Tickets: 1,300 yen (Including tax)
Two Advanced Tickets: 2,200 yen (Including tax)
On the day Tickets: 1,500 yen (Including tax)
Hotels

We recommend that if you plan to stay for a longer period of time, that you schedule ahead of time to avoid losing the best rooms.

Within 0.5km of Makuhari Messe:

Hotel New Otanai Makuhari

Within 1km of Makuari Messe:

Apa Hotel and Resort Tokyo Bay Makuhari
Hotel the Manhattan
Hotel Springs Makuhari

Within 5km of Makuhari Messe:
Event message for fans
Fused with the passion of character and hobby, C3 Tokyo is one of Japan's largest entertainment events that anyone can participate in. With many company booths ranging from a variety of genres, a main stage catering to our many guests, and more enriching content, we are looking forward to everyone who visits!
What to Expect
C3 Tokyo is full of entertainment and the minute you walk in you're immediately greeted with pamphlets from employees, which show you where all of the different company booths are on the floor. The event tries to primarily focus on chara hobby (キャラホビー) which is all about Gundam, Gunpla, and more. However there's so much else to see and do that you're always on the move to see what else is around. Every booth is filled with something interesting, with a ton of products to purchase such as T-shirts, games, and anime blu ray boxes; pretty much everything you can possibly imagine is sold here.
There's a main stage where small concerts take place, and various interviews are conducted with several Seiyuu from popular anime such as the most recent Ange Vierge. Other notable anime were Gundam Iron Blooded Orphans, Accel World: Infinite Burst, Strike the Blood, and Alderamin on The Sky. The two days have their own special events which we'll cover in more in detail down below, but for those who entered on the 28th were fortunate to get the chance to check out the C3 Market, where various artists would show off their products and buyers would flock the area to see what they could grab, and mind you the prices for these things aren't cheap!
What to Bring in Order to Enjoy the Event
So that brings us to the most imperative part and that's what to carry with you. As aforementioned, prices aren't going to be cheap at this event so you'll need to carry a good amount of yen around if you intend to splurge. When we took a look around at some of the items presented, prices ranged from as low as 2,000 yen upwards to 100,000 yen which roughly converts to $1,000US dollars. Since this event takes place in the summer there's really no need to carry too much, but we suggest perhaps carrying an umbrella should the weather have plans of its own on that day.
We can't stress this enough however, and that's to bring lots of liquid. While the event does provide food and other amenities, pricing isn't very friendly so unless you'd like to spend 120 yen on water from the vending machines, we suggest supplying yourself with a bottle or two since you'll be doing a lot of walking. Perhaps just as important as the money you bring, a camera is what you'll need to truly enjoy your experience and to save your memories for when you go back home. There's going to be plenty to see and do, so it's best to carry one around so that you can snap a few photos with the booth girls, or cosplay. We also suggest to travel light at this event, one because it's a summer event and we wouldn't want you baking in your own juices. There's going to be a lot of swag to pick up from every booth you visit so you'll be walking out with bags anyway. So if you intend to bring a backpack or something, make sure it's a very small one, or carry a medium sized pouch if needed.
What to do While There / What is Available
August 27th - Day One
Saturday kicked off the event with Hobby Japan taking the reins and setting up an exclusive section called Hobby Academy, where enthusiasts and curious passerby can take a look at how gunpla is put together, with many amazing techniques taught to you by the experts. The great part about it is that you too get a chance to try it out for yourself, with the experts guiding you along the way which was fantastic.
Once you've finished learning from the gunpla enthusiasts, there are a ton of events that take place on the main stage exclusively on Day One. If you were lucky enough to grab an early seat for the main stage, you can check out the Gundam Iron Blooded Orphans stage show where various interviews are conducted with the voice actors of the show, with certain animations displayed on the big screen. During this show, photos can't be taken so you can only either sit if you were lucky, or stand among the large crowd to get a glimpse of what's happening. Those who were in attendance however had a special sneak peek at the second season of Gundam Iron Blooded Orphans, which is scheduled to air October 2nd on TBS/MBS.
In total, there were 4 stage events that took place on Saturday with the second one being Binan Koukou Chikyuboueibu LOVE! LOVE! the third Gundam Build Fighters: Tri Island Wars, followed by a special performance by the trio of Chihiro Yonekura, Sayaka Sakai, and Yui Makino who come from the Anison (anime songs put together as one word) genre. Each stage event took place at various times so if you wanted to check out a specific one, the pamphlet handed out at the entrance supplied the information as well as many posters around the stage in case you need an extra reminder.
Once you had enough of the stage performances, many booths await you with a lot of amazing things to toy with such as the incredible VR booth from Bandai Namco called VR Zone Project i Can, where you could try out a truly incredible battle game. You're seated in a mock cockpit next to your opponent and the two of you fight using various weapons to see who can come out on top. What's really amazing is just how organized Japan is when it comes to these types of things.
Prior to being seated in the cockpit, they sit you down and have you test out the various VR features which was great because it made you feel more comfortable going into battle. More so, once you actually are strapped in, a young lady explains to you what everything does and how to properly use your Gundam. This totally blew us away because of how fluid the controls were, and it really felt as if you were sitting in a cockpit controlling your own Gundam in the heat of battle. If you'd like to know more information on VR Zone Project i Can, be sure to check out their website down below.
VR Zone Project i Can Official Website :https://project-ican.com/
August 28th - Day Two
Day two kicked off with a new entry into the event, which was the C3 Market that took the place of the Hobby Japan booth from before. This entire section was massive, and had a ton of amazing art work ranging from anime figures still in their clay form, fully functioning gundams that could walk, grab, and swing their swords, all the way to various figures from other anime and movies. A lot of these were on sale but the pricing was incredibly high, and we can definitely see why. The remarkable attention to detail on some of these figures was unfathomable, while the sheer size of them was breathtaking to see. One Godzilla model was so well detailed that we thought it was alive, while some of the other figures had really immaculate facial features that just demonstrated the sheer talent of these artists. Once you've picked your jaw up off the floor from all of the C3 Market hype you can make your way back to the main stage, where new events took place.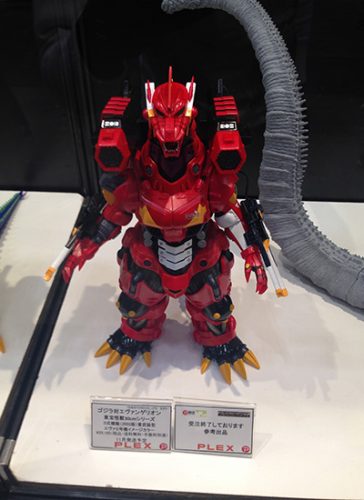 The Sunday special featured Sunshine Sakae, also known as SKE48, who took to the stage to perform, play various mini games, and answer questions from the interviewer. If you felt thirsty after screaming and jumping from their performance, SKE48 actually had their own small cafe where they'd sell various drinks and food, while signing autographs for fans afterwards. This was very nice to see as it truly shows how much Japan doesn't put their major artists up on a pedestal, but allows them to connect with their fans in a profound way and on equal terms. Many fans spent a long time chatting with their favorite girls, which was funny because all the other fans were eagerly awaiting to spread their joy as well, so some of the guards had to hurry them along. The second and most popular event of the day was Idolm@ster Million Live! where a massive group of fans took to the stage to see their favorite girls in action. You didn't have to be near the stage to hear the yelling and screaming of fans, as it truly felt like a real concert and you were surrounded by like minded fans with their epic glow sticks in hand ready to go. The 3 other stage events all focused on anime such as Ange Vierge, Alderamin on The Sky, Accel World: Infinite Burst, Strike the Blood, and Active Raid 2nd Season. These were all exciting to check out, as all the voice actors came through and took their time out to greet fans as well.
The booths on this day for some reason had so much more energy, and one in particular was Mahou Jyoushi Seiren. These 7 girls created an explosion of excitement for those who had the opportunity to check out their live performances. This was a unique experience because booths are mainly used for selling items, but the Mahou Jyoushi Seirin booth took it to the next level offering performances at different times of the day. We managed to join the crowd of passionate fans with their glow sticks, singing along to the captivating melody and waving our hands triumphantly. We loved it so much that we went back a second time just to boost our energy levels again, it was that incredible. Afterwards, we managed to wander around to a number of booths and took a look at some really cool figures from One Piece, Dragonball, Star Wars, Ultraman, and more. There was a booth for just about everyone's tastes, and so you'd always have something new to try out every corner you turned. Sankyo had their own booth set up where you could sit down and relax after walking around, with free wi-fi services to keep you entertained.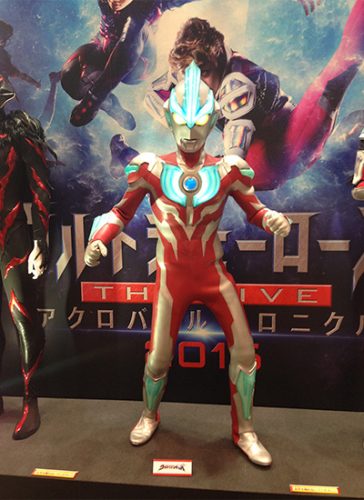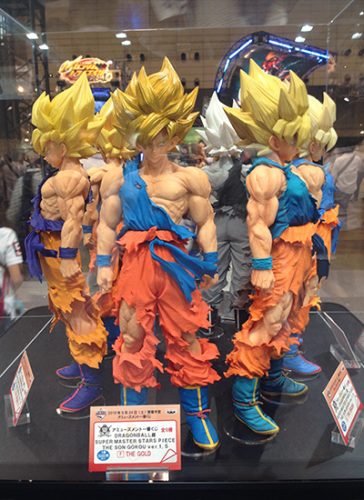 If that wasn't enough for you, Bandai had a few booths where you could play the recently released Tales of Berseria and the upcoming Sword Art Online: Hollow Realization which is slated to be released this year. We had a chance to try out both and we must say they're truly amazing! Hopefully we can provide our own impression on Sword Art Online once it's out here in Japan. While this event was mainly an anime hobby centric event, there was a special section called the cosplay plaza that had a lot of really interesting cosplay, but unfortunately due to the crowd we were unable to grab some photos. You had maid costumes, Dragonball, and Assassination classroom to name a few but to be honest this show was jam packed with so much that you'd be running around doing so many things. We hope that our other photos will satisfy you and that you enjoyed reading the article as much as we loved writing it.
Honey's Final Thoughts
C3 Tokyo was a spectacular event if you're really into anime, music, games, and more. It provided a menu that everyone could dip their hands into, with various booths to visit and experience. While there was much to see at the event, we just can't fit everything into one article for you, so we really encourage you to fly over to Japan to check it out. We'd like to thank Hobby Japan, Bandai Namco, Georgia Coffee, 7-Eleven, Sotsu, and Sankyo for making this all possible for the many fans out there. If you'd like to know more about C3 Tokyo, be sure to follow them on twitter and check out their website which we've listed above. Until the next major event, be sure to follow Honey's Anime on twitter as well, and let your friends know about us by retweeting your favorite articles!
As always, for everything sweet and exclusive news from Japan keep you buzzing, be sure to keep it locked here on Honey's Anime!