Build and destroy to gather
Game Info: (Box Display)
System: PC
Publisher: Crytivo
Developer: Pixelz Games
Release Date: Q1 2018
Who it Caters to
Do you love testing your mind with puzzle games? Do you also like those puzzles games to involve simple physics and some explosions as well? Well then, the game you're looking for is Cefore from developer Pixelz Games. Combining simple systems such as explosives, grappling hooks and even hot air balloons, Cefore is a fun puzzle title to push your mind. Those who love games that make you think outside the box will in turn love Cefore.
What to Expect
Cefore mixes simple themes with complex but fun puzzle mechanics. Players will need to use a wide range of devices such as explosives to solve puzzles that get tougher as the levels move onward. Players will also need to be wary of their explosives as their construction friend isn't invincible. Too many explosives and he will in turn go flying just like the boxes he's trying to take down. Cefore is fun, challenging and simple making it an ideal title for those who love puzzle themed PC games.
Story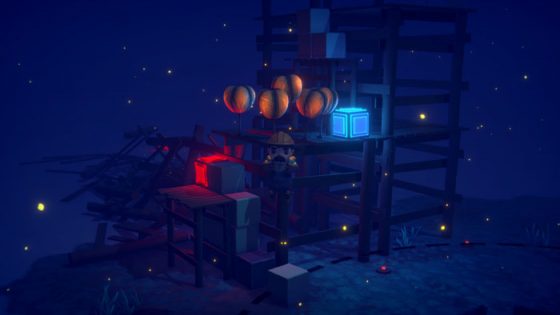 Cefore has no story mode as of yet in the preview. Players simply assume the role of a man trying to gather data blocks. However, in his way are various constructs that need to be taken down. The little construction man—aka the player—will need to use small to medium explosive devices and even some futuristic gadgets like warping tools to destroy the constructs that impede his work. It's time for some explosive puzzle solving in Cefore!
Gameplay
Already in 2018, we're seeing some signs of awesome video games being released. If you're looking for action you'll find it in games like Monster Hunter: World. Need an anime third person shooter/RPG to play? Then Sword Art Online: Fatal Bullet seems to be ready for you. Though in terms of puzzle games, we here at Honey's Anime haven't seen to many titles that wowed us yet. That's why with developer Pixelz Games' newest title called Cefore—which we got to preview—we're hoping that maybe the puzzle genre will have some moments to shine this year. Luckily, we here at Honey's Anime were able to preview Cefore and we'd like to share our thoughts with you folks out there on the web.
Cefore isn't very hard to describe. You play as a small construction worker who must gather data cubes/blocks. In your way of accomplishing this simple task are various constructs that block the cubes from easily being picked up and collected. Thus your job is to take down those constructs to put up a data gathering pylon and get those data cubes. Here is where Cefore becomes the puzzle title it aims to be.
Developer Pixelz Games gives players in Cefore various ways of destroying the constructs and other obstacles in your way. There are items like Hot Air Balloons that can be mounted on blocks, you have warping devices that fuse blocks together and of course, you have explosives—which is why the title of Cefore sounds like C4—to blow stuff up and out of the way. Cefore's preview initially seemed simple with data blocks being easy to obtain by just planting a few explosives but as the levels progressed things got rather tough. Cefore doesn't give you infinite amounts of items to use per level and instead, only gives you a few of a particular set of items meaning you need to plan out your action ahead of time. Will you set up an explosive first to clear debris or will you use a warping tool to ensure the data blocks don't get thrown too far and then place explosives down? You can always redo moves and even delete all unused items if you think a plan won't work ahead of time. Most puzzles in the later missions we played in Cefore could be solved in numerous ways even with minimal tools. Just be warned that explosions will kill your construction man so be mindful of going nuts and placing them too close to your own feet.
In terms of issues we had with Cefore, we only have a few. However, we're hoping these few issues are rectified in the final build for Cefore as it could be a reason for Cefore not becoming a huge puzzle game. Cefore's preview only had a few elements to it, you could customize your character's hats and you can play the actual game itself. There are no level editing tools or even a story mode to enjoy in Cefore and that is a bit worrying. Cefore is a lot of fun and the puzzles are pretty neat but we're not sure if that will be enough for longevity purposes in a final build. A story mode and even a level editor that you can share your puzzles with others would be perfect to see in Cefore's final product and we can tell that developer Pixelz Games is already thinking about it as the main menu has a survey players could fill out for these concepts.
Honey's Gameplay Consensus: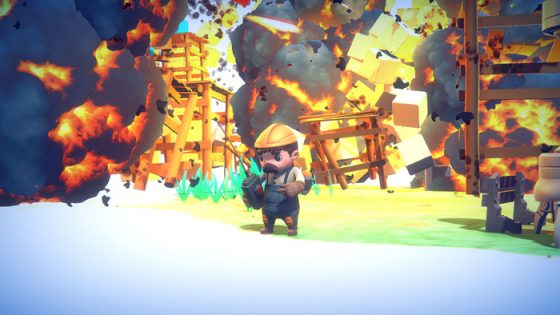 Cefore's preview has shown us here at Honey's Anime a pretty fun puzzle-based title. We enjoyed planet 1's slew of various challenges—some of which were pretty tough—and are excited to see what else is in store in the final product slated for sometimes this year. We hope developer Pixelz Games decides on possibly adding a few ideas like a level editor, co-op and even maybe a story mode as Cefore's preview only shows a bare boned title that needs a bit more to be truly amazing. However, once again this is only a pre-alpha build which means Cefore is at its base construction. We're confident if Cefore adds just a bit more depth in the final release this could be one of the better puzzle titles in 2018 without a doubt.
Honey's Pros:
Fun and challenging puzzles

Simple graphics that are cute but pretty

Has a lot of possibilities to be amazing
Honey's Cons:
Needs a story mode or any other mode than just the puzzles

Controller support is meh
Honey's Final Verdict:
Cefore was a lot of fun for the two hours or so preview we got to play. There is a slew of things we hope developer Pixelz Games decides to implement in the final product for Cefore but as of now we're pretty excited to see where Cefore will lead. Hopefully, we here at Honey's Anime HQ get our hands on the completed Cefore this year and if we do, you can bet we'll have a full review out for you guys and girls to enjoy. What do you guys think so far of Cefore though? Are you excited for this explosive puzzle game? Tell us using the comment boxes down below and for all your gaming previews and review needs be sure to keep returning to our beautiful hive here at Honey's Anime.