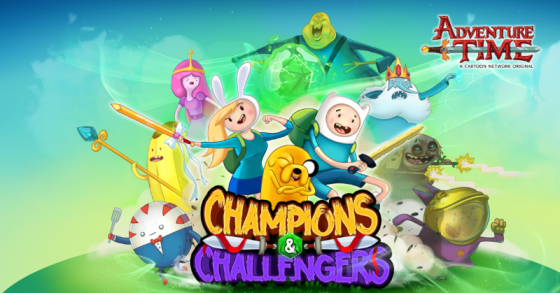 What You Need to Know:
Independent mobile game developer, YesGnome, in collaboration with Cartoon Network, today announced Champions and Challengers – Adventure Time, a tactical role-playing battle game based on the network's hit series, Adventure Time, is now live on the App Store and Google Play.
In Champions and Challengers, the evil Dice Lord has kidnapped the beloved Adventure Time characters so it's up to you to help them. Players will control strategic battles against the Dice Lord to recapture their favorite heroes and baddies—then rank them up to unlock cool new abilities. Battles are fought in real time, with intuitive gesture controls and turn-based RPG-style combat.
Players can discover and upgrade character synergies to build a perfect team to take on the Dice Lord's deadly and dangerous challenges. For more details be sure to scroll down below!
Source: Official Press Release
Game Details
Collect over 70 Champions: Play as heroes and villains from the Adventure Time Multiverse, including Finn, Jake, Princess Bubblegum, BMO, Fionna, Cake and many more!
Real-time Tactical Battles: Command your team in epic battles using intuitive gesture controls.
Fight through 12 Episodes: Complete over 120 battles—then take them on again in hard mode for extra rewards!
Turn-based RPG Combat: Develop a winning strategy to crush opponents by summoning attacks—and bust out special Tricks and Artifacts for bonus damage!
Compete and Cooperate: Battle other players to rise up the leaderboard in the PvP Arena and participate in live events.
Build the Ultimate Team: Assemble a squad of champions and challengers; each champion has a unique set of powerful attacks and players can combine character abilities to smash enemies.
Official Trailer
Champions and Challengers - Adventure Time - Launch Trailer

---
This is my first time coming across this show or characters for that matter. Is it really popular?
I personally can't answer myself since it's my first time too! Looks fun though.
---