A few days ago, Nintendo finally released Clubhouse Games. It may not be the most hyped video game ever, and it's not even an AAA based on one of Nintendo's most popular franchises, but considering we're all at home trying to cope with this quarantine, it's definitely a perfect fit for times like these.
The Perks of Being a Nintendo Game

When it was announced, Clubhouse Games appeared as another collection of analog games for consoles. There's a huge list of Casino video games, for example, and almost every system has one of those... some of them are even free-to-play; if we focus on the Switch alone, the eShop already present several options for those looking for a digital board game, like Monopoly, Catan, Uno, Chess Ultra, or Clue. So, why should we care about Clubhouse Games?
First of all, Clubhouse Games is more than just board games for the Switch. Being a Nintendo game, it takes advantage of all the cool features of the hybrid console: some games are better played in handheld mode, some games are better played with detached Joy-Cons, and some games are better played using the touch-screen. At the same time, the nature of this console makes it super easy to quickly, casually play against a friend, and what's even better, all games look really nice if you're playing on a TV screen too.
Eyes on the World

Another reason to care about Clubhouse Games is how they treat the different cultures behind these games. It's not just about featuring one game or the other; here you'll find timeless classics, but you may also discover popular games from all around the world. Mahjong and Shogi are famous Japanese games, and there's nothing new to say about Checkers (from France, although you can also play Chinese Checkers), Dominoes, Backgammon, Blackjack, Texas Hold'em Poker, or Chess, but not many people know about Hare and Hounds (an old game from Northern Europe), Carrom (original from India), or Mancala (with Afro-Asian roots).
What we liked the most about this title is that you can also find toy-sports games (Soccer, Baseball, Curling, Boxing, and Tennis), but also Air Hockey, Golf, Billiards, Bowling and even Fishing or Battle Tanks. No matter your taste, it's almost impossible not to find something that piques your interest! Variety is key, and speaking of keys...
One Octave Is Not Enough, but We'll Take It

If 51 games are not enough, how about a piano? In fact, how about both a piano and a synthesizer? An extra feature of Clubhouse Games is a piano that easily can turn into a synth and a little percussion thanks to the Joy-Cons. However, you need 8 consoles if you want a true piano experience since you can also play a single octave per Switch—at least that changes for the synth, though.
Even simple songs are hard to play without a second octave (think about C–G–Am–F or E-B-C#-Am chord progressions), so even when the touch controls work great, Clubhouse's piano feels notably frustrating for all piano aficionados. For what it's worth, though, it will bring people together and probably get some people interested in music, so there's that.
---
Final Thoughts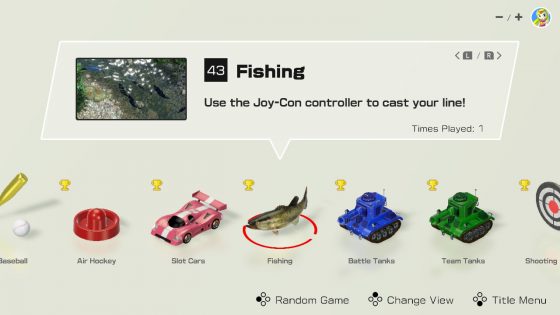 Although you can unlock new guide characters from around the world (and there certainly are some interesting features for those willing to dedicate more time to the single-player experience), there's really nothing stopping you from jumping into your favorite game for a quick match against the AI or a friend, without the hassle of unlocking new modes or games.
If you were looking for a never-ending source of fun, both playing solo or against other people, then Clubhouse Games: 51 Worldwide Classics is what you need!