Kodansha USA Publishing & comiXology Originals Reveal New On Sale Dates for Shaman King & Spinoff Series

What You Need to Know:
After a brief production delay, Kodansha USA Publishing & comiXology Originals announced that they will digitally release all 35 volumes of the original Shaman King series on October 6, 2020 exclusively on comiXology & Kindle.
This release of Shaman King will include the final three volumes never before published in English, completing this foundational shonen-action series in English for the first time ever and featuring brand-new cover art from the creator Hiroyuki Takei himself.
These volumes will be available to read digitally, as part of the comiXology Originals line of exclusive content. These titles can be read upon release at no additional cost for members of Amazon Prime via their Prime Reading benefit, Kindle Unlimited, and comiXology Unlimited, and will also be available for purchase on Kindle and comiXology.

"It's been over 10 years since I've completed Shaman King. But finally –– at last –– I can deliver the true ending to the story to the fans in America. It's a message from my heart, and I think it's a particularly important one in this day and age. I hope that it'll reach the hearts of many comrades."

Shaman King creator Hiroyuki Takei.

It was also announced that the Shaman King spinoff series will also be making their English-language digital debut, following the re-release of the original Shaman King series. The first spinoff, Shaman King Zero will be available October 13, 2020, with Shaman King: Flowers available October 20, 2020, Shaman King: Red Crimson, available October 27, 2020, and Shaman King: Super Star available December 8, 2020. All Shaman King spinoff series will be available to purchase and read across Amazon Kindle, BookWalker, comiXology, Apple Books, Google Play, Rakuten Kobo, Nook, and izneo.
As previously announced, plans for the original Shaman King series print editions are still scheduled for release between 2021 and 2022, with the first two volumes of the 600-page, 3-in-1 omnibus editions slated to debut February 2021. These print editions will be distributed by Penguin Random House.
For more information on this and other Kodansha USA Publishing titles visit: https://kodanshacomics.com/!
And for more updates on comiXology Originals, check out http://comixologyoriginals.com.
Source: Official Press Release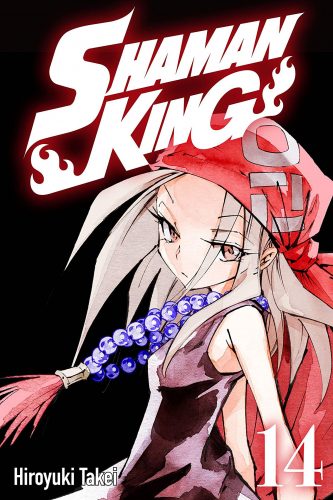 About Shaman King

Shamans possess mysterious powers that allow them to commune with gods, spirits, and even the dead…and Manta Oyamada's about to learn all about them, because his class just welcomed a new transfer student: Yoh Asakura, a boy from way off in Izumo…and a shaman in training!
Shaman King Zero

Return to the world of Shaman King! Before the Shaman Fight, there were countless tales of heartache and worry as Yoh and the others worked their ways toward the tournament...
Shaman King: Flowers

The action returns in this brand-new sequel to Shaman King! Hana Asakura finds that being the son of Yoh & Anna isn't all it's cracked up to be, and his boredom has him itching for any kind of excitement. But when a fight comes straight to his doorstep, it's from a place he least expects—his own family? The battle for Asakura supremacy begins!
Shaman King: Super Star

Can't get enough Shaman King goodness? Then hitch a ride with Alumi, Death Zero and other Shaman King favorites in this action-packed spinoff, Shaman King: The Super Star!
Shaman King: Red Crimson

Tao Jun and Li Pairon are back in an all-new Shaman King adventure, but this time, they're the stars! Join them and their battle against the Red Crimson!
Shaman King Omnibus Print Editions

* 3-IN-1 OMNIBUS EDITIONS
* $19.99 US/$25.99 CAN
* 600 PAGES EACH
* VOLS. 1 & 2 SIMULTANEOUS RELEASE IN FEBRUARY 2021
* ELEVEN OMNIBUS VOLUMES TOTAL COMING IN 2021 & 2022
About Kodansha USA Publishing, LLC

Established in New York in 2008, Kodansha USA Publishing (KUP) is a subsidiary of Kodansha, Japan's largest publisher. Its manga imprint is Kodansha Comics, which began by releasing Katsuhiro Otomo's Akira and Shirow Masamune's The Ghost in the Shell. Today, thanks to hits like Attack on Titan, Pretty Guardian Sailor Moon Eternal Edition, Noragami, and FAIRY TAIL, it is now the No. 2 manga publisher in the United States by revenue. VERTICAL, which publishes fan favorite manga titles like Chi's Sweet Home and BLAME!, as well as the popular MONOGATARI novel series, is also an imprint of KUP. Both Kodansha Comics and VERTICAL are distributed by Penguin Random House Publisher Services. http://www.kodanshacomics.com
---
A whole new generation will get to know the world of Shaman King!
And we definintely have time to catch up before the new anime!