"Ai no Kokyoshi (For Symphonic Lovers)"
Event: Ai no Kokyoshi (For Symphonic Lovers)
Date: April 27th, 2019
Venue: Tokyo Opera City
Intro: History of JAGMO
Intro: History of JAGMO

For those not in the know, JAGMO has made a name for itself in Japan as the premiere video game orchestra. They got their start in 2014 due to the collaboration of several high profile musicians who also happened to either be massive game fans or worked in the field themselves. From there on, JAGMO has largely focused on creating orchestral arrangements from popular RPGs, including but not limited to, Dragon Quest, Final Fantasy, and the Atelier franchise while also dabbling in more mainstream games like Mario Kart every now and then. Currently, Yamamoto Kazuya works as JAGMO's producer.
Their Ai no Kokyoshi show was largely dedicated to highlighting game soundtracks with a more contemporary edge to their instrumentation, with Shin Megami Tensei: Nocturne and the Mother franchise, along with a little Sakura Taisen thrown in for good measure, and arranging them in order to contextualize their heavy rock 'n' roll and jazz influence into the more classically orchestra-friendly soundtracks of fantasy games. To help drive home this comparison, a few select tracks from Ico, Klonoa, and Final Fantasy were chosen to set the mood.
Most notable, however, was the special guest appearance of Kageyama Shota, who most famously worked as the sound director of Pokemon X and Y. As a special surprise, he was there to accompany JAGMO on piano for one section of the concert. For this event, Kageyama chose to play songs from the recently released mobile RPG Last Idea, which Kageyama was so enthralled by the story of the game he composed the score with a live orchestra to capture the feeling of grandeur of Last Idea's world.
So it was understandable that when Honey-chan and Bee-kun arrived at Tokyo Opera City, the 3 story performance hall was filled to the brim with fans from all sorts of different fandoms. However, they did specifically notice several guests who brought their Mother collections with them, potentially hoping to get something signed. For those who may have been general game fans though, the main hall had a sales booth where you could buy soundtrack samples of some of their past concerts; namely for Suikoden, Castlevania, and Undertale.
---
I wasn't expecting the entire concert hall to be so packed! We were lucky to even get seats!
But everyone was still so quiet and respectful of the musicians! I thought that because it was game fans that were there it would get rowdy, but everyone treated it with the same grace they would give an opera!
---
Performance: Non-Stop Variety and a Dream Come True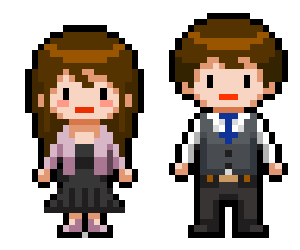 The concert started with a beautiful rendition of Final Fantasy X's To Zanarkard only to follow it up with Final Fantasy IV's Theme of Love. Then, to mix things up, they slid right into an Ico medley starting with the intro to the game (appropriately titled "Beginning" for the sake of the concert) and went through each of the major themes. If Honey-chan and Bee-kun didn't recognize the tracks, they may not have even realized how seamless the transition was! This must have been in order to highlight how naturally classic JRPG music -which generally leaves the feel of its sound up to the imagination of the player- fits with pieces that were already composed with an orchestra.
To close off the first half, JAGMO chose an extended arrangement of eight Shin Megami Tensei Nocturne tracks. Going into it, we have to imagine this was JAGMO's most challenging task, as Nocturne very famously features more contemporary instrumentation for its melodies, going for electric guitars and synthesizers rather than woodwind and piano like many classic JRPGs. In order to properly capture this feel, JAGMO cleverly leaned on its brass section to drive home the modern feel of Nocturne's soundtrack. After so much intense music from Nocturne though, it was time for a 15-minute intermission to give people a chance to reflect on what they heard.
After the break, Honey-chan and Bee-kun were treated to a short presentation by Shota Kageyama where he explained that he has been working on the sound production of Square-Enix's latest mobile RPG, Last Idea, and that he would be accompanying JAGMO for this part of the concert on piano. According to Kageyama, it has always been his dream to perform his own compositions live with an orchestra. And who better to play with than the orchestra that actually played the music in Last Idea? If you have your volume up while completing quests on your phone, it's actually JAGMO you're hearing in the game! Being able to experience it live felt just like being right in the middle of a studio recording! Afterward, Kageyama got an extremely long and heartfelt round of applause, the crowd congratulating him on finally being able to achieve a lifelong dream.

Then, after a light Sakura Taisen arrangement, JAGMO ended with music from Mother, Mother 2, and Mother 3 (the first two known as Earthbound and Earthbound Zero outside of Japan respectively). However, they worked through them in reverse order of release starting with Mother 3's Theme of Love, then moving onto some of Mother 2's homiest music in Home Sweet Home and the Onett theme, just to make you feel like you were about to go out on an adventure. Eventually, things got creepy with a very haunting rendition of the Giygas and Pokey battle theme, which started out as a very melodic, simple tune before descending straight into the second part of the fight where the violins felt less like instruments and more like discordant noise to really sink in the madness of that part of the fight. But then to bring things down a bit, they finished up Mother 2 with Smiles and Tears to remind you that everything would be alright.
But then things got a little wilder with the Mother side of the soundtrack. While at first things JAGMO stuck with the comfort food music of Pollyanna and Mother Earth, conductor Ida Katsuhiro decided to kick things up once they reached the Hippie Battle. Rather than focus on controlling the tempo of his orchestra, he instead got the audience pumped up by getting everyone to clap to the beat. You could really see the love of this music on his face, as he was incredibly excited once everyone was getting as into it as he was. Then, to cap off the concert, JAGMO finished up with Eight Melodies, a beautiful little piece that in the context of Mother is used as a lullaby. It almost felt like they were to trying to calm everyone down and tell the crowd it was time to get some rest.
...Except then, they surprised everyone with an encore performance of their famous Undertale arrangements! This was not even listed in their program, so this was a wonderful treat and felt appropriate, as Undertale, even in Japan, is seen as a mirror to the Mother series and was a beautiful homage to the classics. Here, the Undertale music was set to feel like its own journey, starting off with some of the first tracks you hear in the game before moving onto a stirring rendition of Heartache, which featured some incredible string work that felt like they were playing on Honey-chan's and Bee-kun's own heartstrings! Then the music worked through the progression of the main story with Snowy, the cave theme, Spears of Justice, Death by Glamour, and Bergentrückung before moving onto Hopes and Dreams, indicating this was a pacifist run. Instead of ending there, apparently whoever was playing decided to change gears and went for a Genocide run instead, and shifted into Battle Against a True Hero and the ever-popular Megalovania. To close up, Honey-chan and Bee-kun were treated to the Theme of Undertale, which got a few people to even give a standing ovation.
---
It was really sweet being able to watch Kageyama-san be able to fulfill his lifelong dream in person!
It really made me want to go check out Last Idea!... Maybe after a Mother replay first though!
---
Outro: A Night to Remember
With so much classic game music brought to life with a real orchestra, it was hard not to fall back in love with many of our favorite games all over again. Game music tends to not get a lot of respect from the older, more traditionally minded orchestra goer, but JAGMO has shown that if these songs weren't originally made for games, they'd be viewed to be just as powerful and moving as some of the classic compositions of the 1700s. The melodies are already really strong, but giving them some real instrumentation only adds to their power. Now that the technology has caught up, we're able to even get games like Last Idea that can even be made with an orchestra in mind!
If you have the opportunity, please go check out JAGMO live sometime. They really need to be heard in person for you to get the full effect!
---
There really is something special about hearing your favorite game music orchestrated, isn't there? It makes it feel more real!
I can't wait to see what JAGMO has next! Maybe they'll do another show of those Castlevania piano arrangements I saw in the lobby…
---
Setlist
Final Fantasy X
---
1. To Zanarkand
---
2. Isn't it Wonderful
---
Final Fantasy IV
---
1. Theme of Love
---
Ico
---
1. impression
---
2. Castle in the Mist
---
3. beginning
---
4. Entity
---
5. ICO-You Were There-
---
Klonoa: Door to Phantomile
---
1. AND I BEGIN TO WONDER
---
2. INQUISITIVE WALTZ
---
3. THE WINDMILL SONG
---
4. BALADIUM'S DRIVE
---
5. RESURRECTION
---
6. STAFFROLL
---
Shin Megami Tensei Nocturne
---
1. Title Loop 2
---
2. Tokyo Conception
---
3. Normal Battle
---
4. Normal Battle (Stuck in Amarah)
---
5. Kotowari Boss Battle
---
6. Last Boss After Transformation
---
7. Reincarnation
---
8. Kagutsuchi Tower
---
9. Staff Roll
---
Last Idea
---
Sakura Taisen
---
1. The Manifesto of the Empire's Squadron
---
2. Love like a Diamond
---
3. The Blooming Maiden
---
Mother 3
---
1. Theme of Love
---
Mother 2 (Earthbound)
---
1. Home Sweet Home
---
2. Onett's Theme
---
3. Twoson's Theme
---
4. Winters' Theme
---
5. Hachinosu dance
---
6. Saturn Valley
---
7. Embraced by Skyscrapers
---
8. Pokey: Armed and Dangerous
---
9. The Devil's Machine
---
10. Smiles and Tears
---
Mother (Earthbound Zero)
---
1. Mother Earth
---
2. Pollyanna
---
3. Easter
---
4. Bein' Friends
---
5. Hippie Battle
---
6. Magicant
---
7. Wisdom of the World
---
8. Eight Melodies
---
Undertale
---
1. Once Upon a Time
---
2. Ruins
---
3. Heartache
---
4. Snowy
---
5. Premonition
---
6. Dummy!
---
7. Spear of Justice
---
8. Death by Glamor
---
9. Bergentrückung + Asgore
---
10. Battle Against a True Hero
---
11. Megalovania
---
12. Theme of Undertale
---