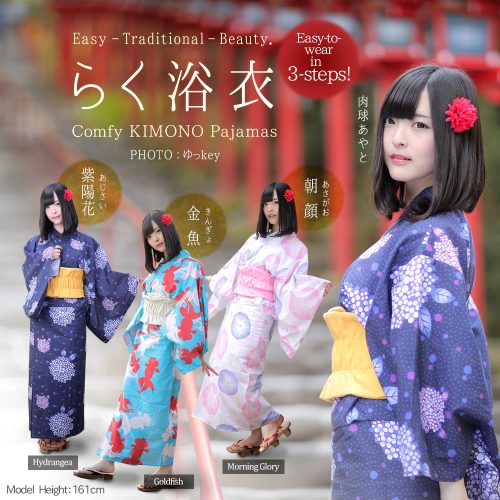 What You Need to Know:
BIBILAB, the idea goods brand of be-s Co., Ltd (Location: Higashi-Osaka City, Osaka; President: Kyo Ooue) announces the beginning of its Comfy KIMONO Pajamas crowdfunding campaign on June 19, 2017, on crowdfunding platform Tokyo Mirai Mode. The Comfy KIMONO Pajamas are a type of kimono-like pajamas that can be worn in three simple steps in less than a minute.
The kimono is a traditional and beautiful Japanese garment that is adored by women in Japan and around the world. However, many have given up on trying to wear them due to factors including the complexity of the kimono fitting process, the difficulty of learning the required techniques, as well as the tightness of the garment and the way it restricts movement.
To help women overcome such difficulties, BIBILAB decided to create a garment that looks just like a kimono but feels as comfortable as a pair of pajamas. This resulted in the creation of the Comfy KIMONO Pajamas, a new type of room wear that simplifies the difficult fitting process, eliminates the discomfort caused by traditional kimonos, and maintains its shape even after movement and lying down. As described on the crowdfunding project page, simply "Wear it, tie it, wrap it, and you're done!"
Product Features
Fewer parts and fewer steps
The Comfy KIMONO Pajamas features only two parts: the easy-to-wear kimono itself and accompanying obi sash. Users can wear it in less than a minute by putting on the kimono, tying the strings together, and wrapping the obi sash around their waist.
Lined and wearable on its own
The Comfy KIMONO Pajamas are lined, which means that users can wear them over underwear or even without anything underneath, making them perfect for warmer weather. There is no need for users to worry about it being see-through.
Free from tightness and discomfort
To make the Comfy KIMONO Pajamas as comfortable and relaxing as a pair of pajamas, sources of tightness and pressure that would exist in traditional kimonos have been removed. Also, the obi sash is fitted with elastics to provide stretch and comfort for a wide variety of waist sizes.
Beautifully detailed for an authentic look
Modifications such as faux-ohashori detailing and a lowered back collar have been made to make the Comfy KIMONO Pajamas look just like standard kimonos.
For more information, check out the video below and visit the official website.
---
Ohh these are super cute! I don't know which colour I love more!!
They look so comfy, too. With one of these you could have your very own fireworks festival episode...