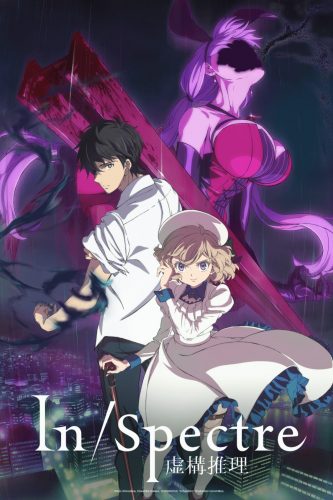 In/Spectre | OFFICIAL PREVIEW

What You Need to Know:
What do you get when you cross romance and mystery with the supernatural? You get In/Spectre, an upcoming TV anime based on the light novel series written by Kyo Shirodaira! Crunchyroll has officially announced the world premiere of "In/Spectre" at Anime Expo, featuring special guest, Mamoru Miyano (voice actor). On Friday, July 5, fans can watch the world premiere of the first episode of "In/Spectre," starting at 4 PM PT in Room LP2 at the JW Marriott Los Angeles - Platinum Ballroom.
"In/Spectre" is a Crunchyroll co-production title and the simulcast of the series will premiere in January of 2020 on Crunchyroll.
Source: Official Press Release
Synopsis
Both touched by spirits called yokai, Kotoko and Kuro have gained unique superhuman powers. But to gain her powers Kotoko has given up an eye and a leg, and Kuro's personal life is in shambles. So when Kotoko suggests they team up to deal with renegades from the spirit world, Kuro doesn't have many other choices, but Kotoko might just have a few ulterior motives…
---
Crunchyroll grabbed hold of a pretty good movie!
Good for them! Hope fans overseas will enjoy it!