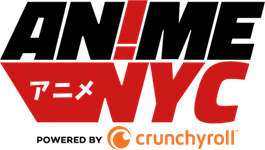 What You Need to Know:
Crunchyroll has two booths for fans to enjoy, including the first-ever Crunchyroll Games booth at Anime NYC.
Photo opportunities galore - The all-new "Dr. STONE" mosaic wall will make its debut, and fans are invited to snap a pic and have their photos placed alongside other passionate fans to create a mural. Fans are also invited to celebrate the 20th anniversary of "One Piece" with a special photo wall featuring fan-favorite characters from the beloved series.
Crunchyroll Games demos - Fans are invited to check out the Crunchyroll Games booth to enjoy playable demos of the upcoming "Mob Psycho 100: Psychic Battle" and "NARUTO x BORUTO NINJA TRIBES," alongside "Attack on Titan TACTICS," and "Grand Summoners."
Shield Hero Training Room - Are you ready to be a hero? Well grab your shield and test your skills to level up. Brave rising heroes will get a chance to pop balloon monsters with their very own legendary shield! The pressure is on since you'll only have limited time to battle some balloon monsters. Get ready for the level grind of your life!
Crunchyroll Industry Panel - The Crunchyroll panel will be held Saturday, November 16 from 6:30 - 7:30 PM in room 1E09 to discuss the latest and greatest coming to the platform. A special gift will be available for all who attend.
Source: Official Press Release
Premiere Screenings and Panels
Friday, November 15 from 6:00pm - 7:00pm, Panel Room 1E09, Crunchyroll Presents: In/Spectre Ep.1-2 East Coast Premiere
Friday, November 15 from 9:00pm - 10:00 pm, Panel Room 1E02, Food Wars! The Fourth Plate Panel
Saturday, November 16 8:00pm - 8:30pm, Panel Room 1E04, Crunchyroll Presents: A Destructive God Sits Next to Me Ep.1 World Premiere
Saturday, November 16 8:30pm - 10:00pm, Panel Room 1E04, Crunchyroll Presents: Somali and the Forest Spirit Ep.1-3 World Premiere
---
Man, this is going to be one truly exciting event!
Can't wait!