A psychological adventure filled with mystery, intrigue, and dark desires.
System: Steam
Publisher: Sol Press USA
Developer: ANAGRAM
Release Date: September 14, 2018
[OFFICIAL] World Premiere Trailer: DareSora: Tears for an Unknown Sky Series
Who it Caters to
At first glance, you may think that Sol Press USA and ANAGRAM's latest visual novel piece, DareSora: Tears for an Unknown Sky, is just another fantastical journey into the slice of life universe. Perhaps for the first 10-15 minutes it may give off that impression, but as you dive deeper into the prologue, you come to realize that this isn't your typical adventure. Anyone who loves a story that's full of twists and turns will certainly be allured by DareSora: Tears for an Unknown Sky, as it really goes beyond what you expect and takes you down a road that will certainly have you raising eyebrows. As a heads up, DareSora: Tears for an Unknown Sky is currently available on Steam, and you can experience the prologue, which is what we'll be reviewing.
What to Expect
For the moment, DareSora: Tears for an Unknown Sky has a very auspicious story that immediately throws you into disarray, having you guess what will happen next in this conundrum of upcoming events. We'll admit that there were some moments of surprise and questionable remarks, but for the most part, we feel that this story will take you on a wild ride and you'll never want to get off. It's like that one roller coaster that seemingly looks innocent at first glance but then once you ride it, you realize how insane it is. You're so hooked by the rush that you have this sudden urge to ride it again, despite how off-putting it made you feel at first. That's the same feeling you may receive when reading through the prologue, as it starts off real nice and calm but then suddenly shifts into 4th gear. Each character you interact with is unique and invites you into their own little world, while you must come to terms with the deep dark desires that plague yours and how to overcome them.
Story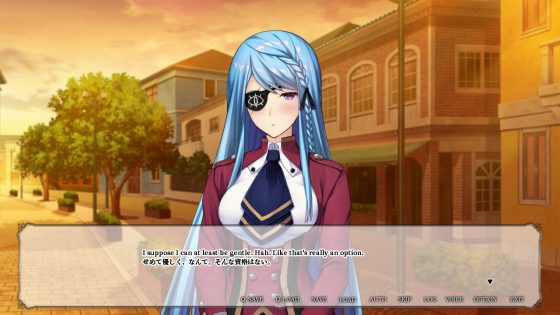 School student Haruka Tendou has a strong desire to know the truth and in doing so creates this insatiable lust to find it. He comes across Luna, the ruler of the Eclipse, who's the only individual who's able to provide sustenance to his grief-stricken ways. With his soul swerving turbulently like a branch caught in a strong wind, Luna offers him a type of job under the name of Oracles in order to somehow provide balance in his tormented mind. If he cannot complete his Oracle more pain will ensue, and so now Haruka looks towards his friends in order to fulfil his twisted desires.
Visual
We feel ANAGRAM did a splendid job capturing the essence of the story by using sharp contrasting colors, which convey a very dark and mysterious ambience. It's a balance because not all of the game is filled with darkness as there are points within the prologue that are joyous, as when you interact with your colleagues. Things are designed in a simple manner regarding environments with character illustrations being the most attractive, really emphasizing each character's personality. The UI is minimal which is good so that more of your focus is planted on what's happening throughout the story, and all that's needed from you is to click the mouse to move forward or if you're like us, putting it all on auto and enjoying the pace.
Sound, Music
The sound and music compliment the mood of the story, often bouncing between light and dark, which is good because it really evokes emotion out of you when reading. Darker moments have this really aggressive guitar-filled feel, while in the more softer moments the use of a piano helps to emphasize the passion and bond Haruka feels towards his colleagues. Both the visuals and music come together seamlessly to create a nice aura, and the voice acting is well executed which helps to bring out that emotion even further.
Honey's Gameplay Consensus:
Since DareSora: Tears of an Unknown Sky was just a prologue, we really only got a chance to experience nothing but the tip of what seems to be an enormous iceberg of dramatic events. While the game was certainly short, it provided a sweet experience that we recommend any fan of visual novels to partake in. Luna and Haruka's relationship is certainly one that we are hungry to know more about, but just the story itself is something that we're itching to discover. Luna's "in your face" attitude and hard hitting statements may disturb a lot of players who aren't prepared for it, seeing as her mouth tends to take precedence over her brain at times. There are some comments that may trigger you such as talks of God and murdering people for the sole purpose of entertainment, but when you leave that all behind and have an open mind about what's happening, the story itself really is provoking in a good way. We can only hope that Haruka's adventure to deliver Oracles on time turns out to be a great one, but from what we've experienced just within the 45-50 minutes of playing this prologue, DareSora: Tears of an Unknown Sky is sure to deliver in a major way. We're stoked for the next volume!
Honey's Pros:
Sharp-tongued characters with attitude!

Great diversity in character personality.

Solid story so far and seems promising.

Haruka's twisted ways may seem off-putting but just you wait for Luna!
Honey's Final Verdict:
We're itching to know more about Haruka's past and just what really provoked him into turning into this weird individual, but even more so what led him to working with Luna and the Bunnies. Who's Luna and what's her story about? All of these questions race through our minds and so all we can do for now is wait, scratching our heads in bewilderment. GRAB THIS GAME! It's GOOD!
As always, for all things sweet, with news straight from Japan, be sure to keep it locked here on Honey's Anime.