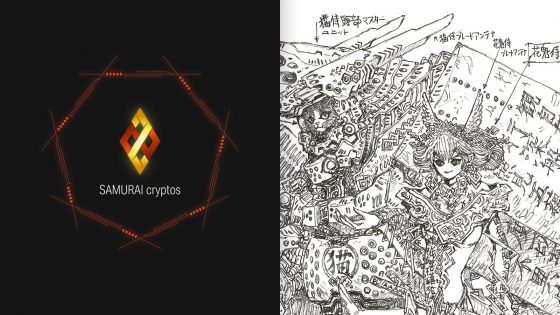 What You Need to Know:
double jump.tokyo Inc. today announced the launch of a new partnership with animation studio Gonzo Inc. to create "SAMURAI cryptos" through its business service, "NFTPLUS". The service will auction the design art of samurai characters by famous artists from Japan and also foster the creation of new anime IP through blockchain technology and NFT (non-fungible token) content. The SAMURAI cryptos project consists of limited availability Art NFTs and Symbol NFTs, and the creation of a new Discord community that starts today, September 22 at 5:00AM UTC, and is available globally for anyone to join and follow the project.

Join the Samurai cryptos Discord community here: https://discord.gg/zWEMFPQKEB
double jump.tokyo and Gonzo are designating the Discord community as a place for Samurais to interact with each other, and for Samurai cryptos to be fostered here and grown into a new IP. Roles in the discord community are set according to the rarity of the symbol NFT owned. The higher the rarity, the more features and scope of use will be provided.
As the starting point of the Samurai cryptos project, seven famous animation artists will create new individual artworks according to the theme of "Legendary Samurai" available at auction as a one-of-a-kind "Art NFT". Each artist will expand on this theme to create artwork based on the following focal points: "Cypher", "Decentral", "Solidarity".

Further, the Samurai cryptos project includes "Symbol NFT" that indicate members of the project. The Symbol NFT will be sold and distributed in conjunction with the seven Legendary Samurai artwork. There will be four rarities: Shogun, Ninja, Soldier, and Stardust. Each rarity has its own number of issues and price. Shogun, Ninja, and Soldier are sold at fixed prices, while Stardust is distributed for free (details through Discord Community).
The first artwork of the Samurai cryptos series will go to auction from October 6 at 5:00AM UTC until October 8 at 5:00AM UTC. Details include:

"Neko Samurai and Oiran Samurai" by Makoto Kobayashi
Number Of Issues: 1
Sales Site: OpenSea
Sales Format: English Auction
Start Price: 1 ETH (scheduled)

Kobayashi is an illustrator, modeler, mechanical designer, and manga artist famous within the Japanese culture. In recent years, he has also been involved in animation direction with works for major IPs such as Mobile Suit Gundam, Dragon's Heaven, Last Exile and Samurai 7.
Following Kobayashi's art work, the Samurai cryptos project will feature designs from other artists including Michinori Chiba (Basilisk, Sk8 the Infinity) and Hiroya Iijima (Afro Samurai, Mazinger Z: Infinity) throughout time.
Additionally, the NFT variations will also be represented by attributes including "Samu-rights", which are an index of Samurai rights set on the symbol NFT and may be used in the community, such as voting on project policies. Rights will also apply to "Samurai Loot" where name, attributes like native place and Japanese zodiac are randomly set and will include other hidden attributes as well.

---

double jump.tokyo Inc.

double jump.tokyo Inc., was established in April 2018 as a specialised development company of blockchain games. double jump.tokyo is led by a team of experts in the development and operation of numerous games including: mobile social games, PC online games and home games. The team also maintains experience in finance, as well as blockchain technology and crypto assets. For more information, visit https://www.doublejump.tokyo/en.

The double jump.tokyo team are responsible for the creation of the world renowned blockchain games My Crypto Heroes and Brave Frontier Heroes.

Gonzo Inc.

As an animation studio in Japan, Gonzo is well known for its international franchises such as Afro Samurai, Samurai7, LASTEXILE, Gantz and Basilisk, and acclaimed for its cutting-edge style in creating animation content. For more information, visit http://www.gonzo.co.jp/.
Source: Official Press Release
---
NFTs are coming in Strong!
These NFTs look AMAZING!!