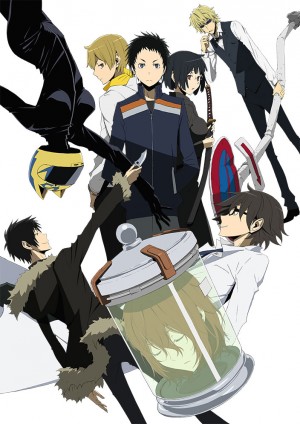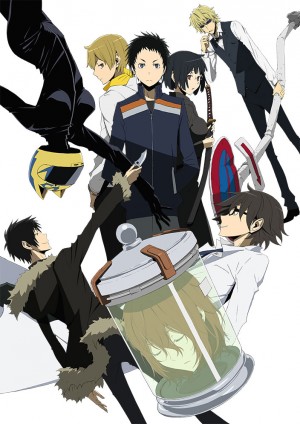 Durarara!!x2 Ketsu

---
Genre:
Action, Mystery, Supernatural
---
---
Synopsis
The third and last instalment of Durarara!! season 2.
With numerous, repeated incidents occurring, the city of Ikebukuro is being enveloped in chaos. Each with their own circumstances, a certain group of individuals has gathered at Shinra's condo. Across the city, the Dollars, Yellow Scarves, and Saika are all jostling to exert influence. Once Celty's "head" is unveiled, things will devolve into a conclusion no one could have seen coming!
Characters & Voice Actors List
Celty Sturluson

Voice Actor: Miyuki Sawashiro
---
She's known as the Headless Rider and often suddenly appears throughout Ikebukuro. She rides around on her familiar, named Cóiste-bodhar. She originally lived in Ireland, but made her way to Japan in search of the "head" she lost.
Mikado Ryugamine

Voice Actor: Toshiyuki Toyonaga
---
A seemingly regular high school student, he came to Ikebukuro planning to enroll in Raira Academy.
He yearns for the extraordinary everyday which the city has to offer. He is the founder of the poorly understood color gang known as Dollars.
Masaomi Kida

Voice Actor: Mamoru Miyano
---
As Mikado's childhood friend, he is the one who suggested he enroll in Raira Academy.
His jokes aren't knee-slappers, but he's high in spirits and is usually the life of the party. He used to be the leader of the Yellow Scarves color gang, but disappeared from the city following the incident with the Dollars.
Anri Sonohara

Voice Actor: Kana Hanazawa
---
She's Mikado's classmate. She's a well-mannered, reserved beauty, with glasses and a huge chest being trademarks of her appearance. She wields a katana, while channeling the bewitching sword, Saika.
Izaya Orihara

Voice Actor: Hiroshi Kamiya
---
An information broker who acts from his place in Shinjuku. He's always feuding with Shizuo. He's a person of great interest, currently in possession of Celty's head.
Shizuo Heiwajima

Voice Actor: Daisuke Ono
---
Known as the Strongest Man of Ikebukuro, he's a debt collector with a reputation for being the strongest (and unluckiest) around.
He loathes Izaya from the bottom of his heart, and a fight to the death unfolds every time the two cross paths.
Shinra Kishitani

Voice Actor: Jun Fukuyama
---
He's Ikebukuro's Dark Doctor.
He often uses stilted idioms when talking. From a young age, he's been seriously in love with Celty, and now spends joy-filled days with her.
Kyohei Kadota

Voice Actor: Yuuichi Nakamura
---
He's the boss-like figure of the 4-person station wagon crew. He's from the same graduating class as Izaya, Shizuo, and Shinra. He's a chivalrous man, well-recognized by his peers.
Other Title
デュラララ!!×2 結
Airing Info

Legal Streaming:

Theme Songs

Opening Song: Steppin' out by FLOW
Ending Song: Joker ni Yoroshiku by PENGUIN RESEARCH

Adaptation

Light Novel


Main Staff

Original Creator: Ryogo Narita
Director: Takahiro Omori
Series Composition: Noboru Takagi
Character Design: Takahiro Kishida
Animation Director: Akira Takata
Original Illustrator: Suzuhito Yasuda
Music: Makoto Yoshimori
(Credit Honey's Anime when you use our description.)