Yum Yum Yum! It's time to cook! That's right everyone! Once again this week, we are bringing you eat like your anime faves where we show you how to make fantastic recipes at the drop of a hat! Sometimes easy, sometimes hard, always fun!
Gate: Kanochi nite Kaku Tatakaeri brought us a lot, but it also brought with it a staple in Japanese cuisine! Tonjiru or pork miso soup is something that you can find on most Japanese dinner tables, breakfast tables or even in cafeterias and restaurants as a staple side dish to meals like katsu or karaage! Also, as if it couldn't get any better we will also be teaching you how to make a common main dish to couple with Tonjiru; Shiojake or Pan-Fried Coated Salmon straight from hit BL anime SUPER LOVERS! Shijake is a fairly healthy dish and is commonly eaten alongside a salad, rice, and tonjiru! Well, what are we waiting for? Let's get right into it!
Tonjiru from Gate: Kanochi nite Kaku Tatakaeri
Like we said above, tonjiru is a staple to most meals as the Japanese often have a bowl of soup with usually one meal a day. This allows for an easier intake of nutrition because it is often loaded with vegetables and it helps fill you up so that you don't eat too much of everything else. Tonjiru or pork miso soup has to have at least two-man ingredients, miso paste, brimming with nutrition and probiotics, and pork, a good source of protein. Without further ado, let's not keep you waiting and get right into how to make this dish that can be enjoyed year round!
Our stomachs are currently imploding on themselves. Yum!
What you will need:(Note: Serves 2-3 people.)
miso paste. (red or white is okay! Red=Stronger flavor while White=weaker flavor)
2 tablespoons
---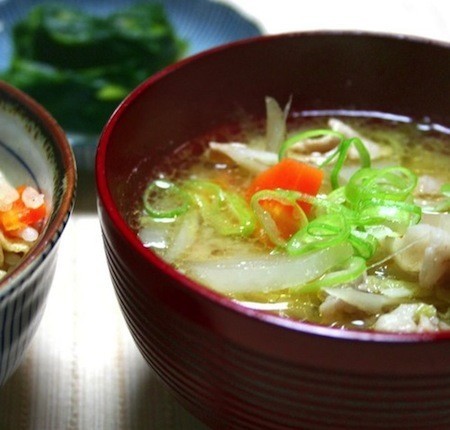 How to Cook It:
Start by combining the olive oil in a medium sized pot and turn the heat on low. Add in the garlic and onion to gently roast them. This will not take long as once you can smell the garlic and the onions, they are done.

Next, take your pork that you have cut up roughly and stir fry the pork in the same pot.

Add in the carrots and konnyaku as well to stir fry.

Once the carrots become aromatic, add in your chicken stock and the water.

Bring this to a small boil. Once it does start to boil, add in the potato, reduce the heat to low again and simmer for about 20 minutes.

Break apart the tofu with your hands into bite-sized pieces and gently add it to the pot as well.

Melt the miso paste in a bit of water and then add it to the soup. Once it has been added in, kill the heat.

It's done!
(Note: Wash your hands. Raw pork does not play and neither does bacteria. )
Yum!
---
Shiojake from SUPER LOVERS
Next up is the popular breakfast or dinner, yes we said breakfast; Japanese people eat fish at all times of the day, Shiojake aka Pan-friend coated salmon! This time, shiojake is served up in an Episode of SUPER LOVERS and seems to be served for lunch at the school cafeteria! Served up with pickles, cabbage, rice, tonjiru and more, this is a fantastically light lunch that will leave you energized and ready to push on through that long afternoon! Well, it would be mean to keep you waiting so let's just get right to it. (NOTE; You need to start preparing this the night before. )
What you will need:(Note: Serves 2-3 people.)
either breadcrumbs or smashed saltines.
400g (2 cups)
cooking sake or white cooking wine(*)
3 tablespoons
sweet rice wine aka mirin(*)
4 tablespoons
white sugar(*)
5 tablespoons
Optional Ingredients:
If you cannot find these ingredients for the life of you in your local supermarket, you can always get them at an Asian grocery store OR via amazon!
---
How to Cook It:
The night before, take the crackers and after smashing them to the point that they become the side of bread flakes, heat them up in a heatproof bowl in your microwave for about 1-1.5 minutes. After it's done, take a whisk and run it through the mixture. Microwave for another minute or so.

Next, add in all of the ingredients with the (*) mark into the bowl mixing very well until it all starts to come together.

Next in a large container, line up your fillets and then proceed to pour the entire wet breadcrumb mixture on top of it making sure to coat every single inch of the fillets. Next, soak in the mixture and chill overnight.

The next morning or day depending on when you feel like eating them, simply pull them out of your fridge and heat up a frying pan. Simply cook them until they are cooked all the way through.
(Note: These fillets, essentially due to them being coated with bread, will burn easily. You need to cook on low to medium heat and you need to make sure that you keep a close eye on them. Feel free to gently dust with salt while cooking to flavor to your liking. )
(Double Note: Be very careful when handling raw fish. Wash your hands with warm water and antibacterial soap. )
If you did everything right, it should come out looking something like this!
Yum!
Final Thoughts
Woooooo! We did it! Another week down, another delicious two dishes are able to be made easily. The best part too is, is now that it is summer, you totally have time to try and make them! Surprise your friends and family with while flexing your cooking prowess. When people ask you, just tell them that you found it here on our site! Did you enjoy this week's session? We sure did. Let us know if there is something you want to know how to cook next and be sure to leave a comment or tweet us a picture if you make either!
Till next time,
---
[RP_eat_like]