The Age of Crowdfunding
Whether it would be making a product or starting your own business, it is going to cost a lot of money. Undeniably, getting investors and sponsors is quite an obstacle due to the risks possibly outweighing more than the rewards. As a result, crowdfunding sites such as Kickstarter and GoFundMe have been used by ordinary citizens so they can fund a passion project, a political cause, start a business, or take care of one's enormous medical costs and the other financial burdens that come with them. Some range from just a simple thousand to seven figures. Some meet their goals within the reasonable time while others cannot.
In recent years, both amateur and reputable artists alike have been using these sites to fund their own projects whether they would be animation, movies, games, etc. And you'd be surprised why some costs can be enormous for reasons such as getting the hardware and software, tools, filming permits, paying staff, distribution, taxes and so on to the point it can be its own article. Heck, a simple animated short can cost as at minimum $10,000! A good number of crowdfunded projects have been met with praise while others have been controversial.
Today's Editorial Tuesday will cover how Internet crowdfunding is progressively becoming a part of today's generation of anime and gaming, and the good and bad that comes with it.
Why Resort to Crowdfunding?
All of you readers have probably asked why can't reputable game creators like Yu Suzuki or Kenji Inafune get the funds for Shenmue 3 or Mighty No. 9 through normal means? First, Suzuki and Inafune are no longer part of the parent companies they were once employed by (Sega and Capcom) and being independent, they don't have the strong financial backings to make projects of that magnitude. And due to factors such as piracy, entertainment industries are becoming progressively reluctant to fund independent projects in favor of established franchises that can make the big bucks. Unfortunately, money makes the world go round and sometimes trying to sell on artistic quality and fresh as opposed to something familiar but stale is not easy in today's society.
With Suzuki and Shenmue, the first two games cost $70 million to make and were unable to turn a profit. The Dreamcast user base was too small and the game needed to be sold twice per user in order to make anything. Despite Shenmue's financial failure, the game was met with praise and managed to become a cult hit with a dedicated fanbase. Thanks to the power of the fans, in June 2015, Suzuki started a Kickstarter campaign to start Shenmue III.
At the minimum, the campaign needed $2 million to be a success and to get the game rolling. It met the minimum within 24 hours and within 30 days, made around $6.5 million with a projected release for Dec 2017. For Inafune, since he no longer had the IP for Mega Man since it still belonged to Capcom (while Suzuki got the permission of Sega to use the Shenmue IP), he wanted to continue the Megaman legacy in his own way since Capcom was doing nothing with the property.
At the minimum for this particular game, it required $900,000 to get the game rolling and by the end of its campaign, including PayPal contributions, it made a little over $4 million. Thanks to virtually free to use programming software such as the Unreal Engine, it can significantly reduce costs in making the game, which makes crowdfunding a lot easier.
Last, due to the current state of how widespread the Internet is, it has been a great foundation for not just reputable figures in the anime and game industries, but for the up and comers as well. For a newer anime studio such as Trigger, they made their claim to fame through an anime short known as Little Witch Academia that was uploaded to various video sites. Thanks to its positive reception and number of views, they managed to start a Kickstarter to expand a new short with a base goal of $150,000 only to make over $600,000. Thanks to its continuous success, it now a series streamed on Netflix.
Has Crowdfunding Always Been Around?
Though crowdfunding is becoming widely popular thanks to the well-reputed sites we have discussed, but even before the Internet, it has been done in various ways. It used to be done through the newspapers and telephones. In 1885, the American government actually used a newspaper campaign to raise money for a monument for the Statue of Liberty. In fact, Legend of the Galactic Heroes, an anime that debuted in the late-1980s, happened to have been partially crowdfunded through the phone. So in some form or another, fans have found ways to become part of the process.
However, this was during a time when Japan's economy was at an all-time high and with Japan's present economy not what it used to be (in addition to piracy), getting original content out has become increasingly difficult due to fears on whether or not the product can make a profit.
The Dark side of Crowdfunding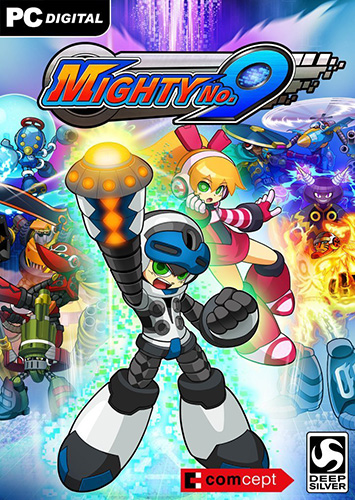 In all business ventures, investors are going to be demanding. In the case of crowdfunding, the consumers themselves are the investors and it puts different kinds of pressures on developers due to a more direct sense of expectations. In the case of Inafune's Mighty No. 9, it faced numerous backlashes.
First off, the game was met with multiple delays (with the initial projected release date being April 2015 but only to come out by June 2016) and lack of transparent communication. And the Kickstarter itself dates back to 2013! Though delays are not unheard of in gaming, with the game being funded by customers, (and you know the saying the customer is always right) it created outrage. Upon its release, it was mostly met with mediocre reviews from gaming media and fans. Plus, some versions of the game suffered from technical difficulties.
Last, many backers who were given the wrong codes and awards. In addition to the underwhelming reaction to Mighty No. 9, Inafune's following attempt at crowdfunding, Red Ash, failed to meet its minimum funding (through a Chinese publisher would step in to fund it). Some blame the failure due to poor management and communication amongst the developers and Mighty No 9 has been seen as a model on what not to do with crowdfunded games.
Plus, some people naturally fear that some of these projects are scams or will amount to nothing. Of course, some people have openly used crowdfunding for frivolous projects but there is nothing worse than bailing out on a project by taking the money and running with it. As some of you know, Breeding Season, a so-called a hentai version to Harvest Moon was making big on the donations on Patreon. Then suddenly, the project disappeared from the site and was considered canceled.
It turns out a contract stipulation led to this fiasco. It turns out that Vladimir Sandler, the art director, had the artistic rights to the game, and just suddenly bailed out on the studio along with a good portion of the funds to start a new project. Patreon has tried to buy the rights back but Sandler refuses to sell them and leaves the studio back to the beginning and feels they don't have the energy to complete it. The possibility that a fan-funded project such as this with no money back is also an unfortunate reality in what could happen. Though what Sandler did was by no means illegal (since his contract said he could do what he did), ethically many can agree what he did was wrong.
The Rewards of Crowdfunding
In some instances, by being part of the process, investors can get rewards. For starters, you get your name in the credits if you donate a certain amount of money. It may not seem much but getting acknowledgement that you made something happen does have its own unique fulfillment to some individuals. In some instances, you may get a DVD, Blu-ray or game just for giving money. It is understandable some people may have their reservations, but if you find something that you believe in, then make that contribution!
Sometimes, crowdfunding is used to bring back old properties. In one instance, Funimation did a Kickstarter for the Blu-ray release of Escaflowne, on emphasis for a new dub. The reason is because the original dub contained numerous edits and in order to have the series faithful to the original Japanese (along with some scenes being re-animated and updates for HD release), a new dub was required. The Kickstarter was more seen as a pre-order as opposed to a real funding according to Funimation. In the end, they made more than their $150,000 goal. Of course prizes for donating ranged from being credited to receiving a DVD, or autographs from the original English and/or Japanese cast.
Just last year, In This Corner of the World (Kono Sekai no Katasumi Ni), an anime film based on a hit manga that happened to be crowdfunded, premiered in Japanese theaters. Though it was not a big hit as Your Name. (Kimi no Na wa.), it still made a great return of the 1.1 billion yen with a budget of 250 million yen (with 39 million yen being from crowdfunding). In addition to its financial success, it has also been nominated and won numerous awards in film festivals such as Excellent Animation of the Year at the Japan Academy Awards. So sometimes crowdfunding can lead to great things. Though some may have their reservations, in the end, such methods can be used to reach audiences.
---
Final Thoughts
Upon writing this Editorial Tuesday, there are some unique projects that some of you may find of interest. On Kickstarter, an anime called NekoPara based on a visual novel, which has exceeded its $100,000 goal by $500,000! Some of its rewards range from digital copies of its OST, digital episodes, a digital artbook, and the Blu-ray. So if this project is still active and is of interest to you, please feel free to give your support.
Also, Paul "Otaking" Johnson, the maker of Star Wars Tie Fighter anime short recently released his sample of a Street Fighter anime. He has his own Patreon site for you to help him fund his numerous passion projects (https://www.patreon.com/otaking77077).
Last, fans can still donate to Shenmue III and still receive prizes for whatever they can give (Shenmue.link). You never know what the power of your dollar can hold so either invest wisely or save well.
Are there any projects that you may have of interest? What are your views of funding new or continuing projects, thus, investing in them? Let us know in the comments section below.
---