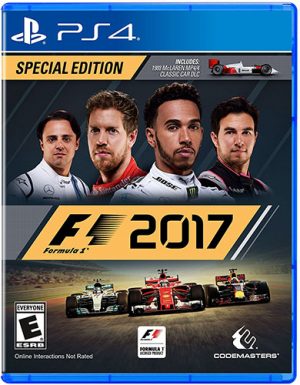 F1 Racing at its best
Game Info: (Box Display)
System: PS4, PC, Xbox One
Publisher: Codemasters
Developer: Codemasters Birmingham
Release Date: Aug 25, 2017
Who it Caters to
For those who love Formula 1 racing or the long running F1 series, then you're in luck as F1 2017 speeds into your grasp. This formula one racing simulator gives players the feel of jumping into one of the fastest type of machine around with an immersion not seen in many racing games. Control the tuning of the car, sign up with one of ten teams and take your formula one racer onto one of the numerous tracks to beat the competition. Prove to the world you're the better racer on the F1 scene by hopping online and challenging others worldwide. F1 2017 will make you sit on the edge of your seat as you hit the accelerator and feel the speed through your controller.
What to Expect
Developer Codemasters has continuously been expanding on the F1 series as the years pass. With their latest entry in the form of F1 2017, they have once more crafted a brilliant racing simulator. F1 2017 contains 20 circuits, ten teams and twenty drivers to make this one of the biggest of the F1 series so far. The level of detail within F1 2017 is mind blowing giving players cars that can fail if run too hard or poorly maintained and a complete control over how to upgrade and control their cars. F1 2017 aims to give fans of the series and sport the feel of having complete control over every little detail on their formula 1 cars and in many ways, that succeeded.
Story
You have just chosen to be part of one of the legendary F1 teams around. Signing your contract, you're now in charge of winning races through whatever ways you see fit. Your team now relies on you taking charge and making sure to help the team as a whole rise to be the next champions of the F1 world. Are you up for the task? Well then sign up and get ready to race in F1 2017!
Gameplay
F1 2017 is indeed one of the most robust F1 games we've ever played here at Honey's Anime. There is a mind blowing amount to do in F1 2017 whether you're on the circuit or before a race is going to begin. That's why to keep this review from being just as dizzying, we're going to go bit by bit on what works in F1 2017 and what doesn't. First we'll start off with the various gameplay modes you can expect once you boot up F1 2017. Now buckle up folks let's dive into our review of F1 2017.
Upon starting F1 2017 up, you're going to be met with several options. You're going to start by making a racing persona—using pre-set character faces/genders and various other things—then you can choose the game modes. Players of F1 2017 can go into the long career mode—which we'll dissect in a moment—multiplayer mode, Grand Prix, Championships, Time Trial and Event. Each of these modes bring various styles of play and while Time Trial and Grand Prix mode are just straight up races with various altercations on your end, the other modes are where players will get probably the most out of F1 2017. Nonetheless though, F1 2017 gives players a large amount of ways to play. If you were worried that you'll get bored of being in one particular mode, you can put those fears aside.
As we said the most amount of time most players—at least those who don't wish to play online—will invest in comes in the form of career mode. Here you're to take up the mantle of a new driver for one of the ten teams available and race your way through a long career to rise up in rank and become number one. Players will find it feels almost like a RPG here where you can upgrade your vehicle via a giant skill tree—seriously we mean giant—and even customize your car in terms of performance and various other mechanics. Developer Codemasters Birmingham clearly wanted players to feel as if they had literally just entered a team. If you wanted control over multiple faucets in a racing game, then the career mode of F1 2017 is going to be your place of Zen truly.
For those who want some more interesting races, you'll find event mode and multiplayer to be your means of play. Event mode is very interesting as every several days—real world time mind you—players can download via a free update several events that have the player dealing with various restrictions or problems. An example comes in the event we played where you start the race with a damaged car nose and must figure out how to handle it so you can still win the race. This adds a random racing element that is both fun and almost puzzle like. The multiplayer mode also is very robust giving players multiple ways to play online with either friends or random players.
Now while all of these cool modes and large amount of detail in game are impressive, they wouldn't matter if the gameplay wasn't up to par. Luckily though F1 2017 plays incredibly well. Cars feel responsive and the various issues that you may deal with such as rain and car damage add to that gameplay feel. What's also neat is if you have a microphone you can actually talk to your crew and ask for updates regarding the weather, car performance and track issues. Simple ideas like this give F1 2017 a truly gripping gameplay feel that we were wowed by.
Graphically and sound wise, F1 2017 is pretty dang impressive. While character models don't look that great at times and the various environments off the track look about the same, the real focus is going to be the tracks and cars which look splendid. Whether it's a sunny day or a massive rainstorm, F1 2017 will blow you away with how realistic everything looks and seems. Tracks are very lifelike and the same can be said of both the modern day cars as well as the older ones. Same can be said of the sound which gives your car a nice sound. You can tell developer Codemaster Birmingham captured either live sounds or made sure they used only the best in the sound department.
Now let's talk about the very few issues that we had while playing F1 2017 and being honest there aren't many. While we love racing games here at Honey's Anime, F1 2017 is only going to appeal to those who are diehard about the F1 scene. The dizzying amount of detail in F1 2017 is a boon to those who love the sport but if you're a newcomer be prepared to invest some time into looking up details of what stability does and how fuel can cost a race, seriously that's how much detail went into F1 2017. If this sounds like too much than your experience with F1 2017 may not be that great. Besides that and the ho hum character models/off track environments, F1 2017 is basically perfectly fine and we can't find much fault in it.
Honey's Gameplay Consensus:
F1 2017 is one of those games that aims at a niche faction of racing game enthusiasts. The amount of detail in car management, tracks, car models, and various modes is incredible for any racing game. That being said, it's a lot to process and those who are just picking up a racing game for the first time will have some issues wrapping their heads around F1 2017. However, if you are a fan of racing games that give you depth beyond just picking a track and racing in it, than F1 2017 will be a must own title as we here at Honey's Anime loved the incredible amount of detail put into it. Racing game enthusiasts get your wallets out and pick up F1 2017 as soon as you can if you've been waiting for a realistic Formula 1 title to grace your console or PC.
Honey's Pros:
Very realistic graphics

Deep Single Player Career Mode

Massive amount of detail for car management

Classic Cars and Modern Cars

Excellent Gameplay

Great multiplayer
Honey's Cons:
Character Designs are hit and miss

Obviously for those heavy into the F1 scene

Can be a bit overwhelming to newcomers
Honey's Final Verdict:
Our time with F1 2017 was a great ride indeed. We honestly loved the feel of controlling the machines as well as managing the various car details which gave us an immersion unlike any other racing game we've played as of late. F1 2017 will only appeal to those who love the genre as newcomers may be a bit overwhelmed with all the fine tuning and management cars need to win the seasons but if you're into it then you're going to love F1 2017. We here at Honey's Anime are now entering the pit stop to take a much needed reprieve. Let us know if you're planning on getting F1 2017 and as always though we're done with this review we're going to be back at it with other games to review very soon.