Introduction
Something about action anime is just so much fun. Maybe it is the fact that right after the supernatural genre, action is the next most paired genre. Look everywhere and unless it is some pure slice of life, then there is pretty guaranteed to be some aspect of action placed in the anime. This season is no different offering yet again, another 10+ action anime. But how can you be sure that the action anime is going to be good? Well, with our having translated hundreds of anime pages, we have a good feel from the start what looks to be good for anime each season and this one is no different. Action anime is ready to get you pumped up and going and some of the shows look like they are going to be real winners. So, here are the top 3 anime that we here at Honey's Anime are looking forward to for Fall 2017.
1. Black Clover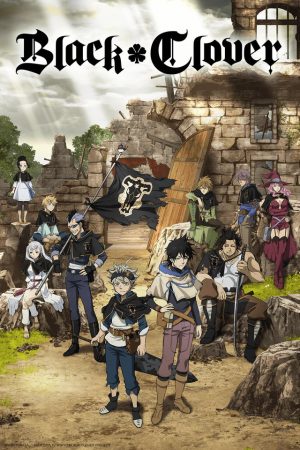 In a world where magic can determine your worth, Asta and Yuno are born and raised by the church. When they turn 15, they are given magical grimores that are supposed to raise their inner magical powers. Yuno gets the super powerful Four-leaf clover grimore while powerless Asta gets an anti-magic grimore. They are rivals, but they do not hate each other, rather as they join their respective clans, they struggle against each other to be better. Eventually they want to become the one thing that they promised each other one day, long ago: The Magic Emperor.
After receiving an OVA a few years ago, Black Clover is finally coming to us in the form of a Television Series. Shuueisha has already stated multiple times that this is the series that they want to become the next Naruto (R.I.P. Boku no Hero Academia). It has all of the shounen anime tropes checked, and honestly, it seems as if it could be a lot better than Naruto if they have learned anything from their predecessor and the endless filler arcs. The main character is super upbeat and loud, the best friend/rival looks dark and mysterious, there is a lot of fighting that goes on even in the PVs, no parents and raised by an organization, it's set in a fantasy world, and there is a large cast of characters to like! Keep an eye on this one as it could blow up to be the next big shounen anime.
2. Kekkai Sensen & Beyond (2nd Season)
New York is gone overnight and what appeared in it's place is Hellsalem's Lot. There, covered in a thick fog, reality and fantasy collide. When the Beyond opened, suddenly creatures from other dimensions appeared alongside humanity and those who were a part of the secret organization Libra, were in charge of keeping the peace. When his sister goes blind and he receives the All-seeing Eyes of the Gods, Leonardo Watch starts looking for answers, but what he finds, is nothing like what he wanted. His life is uprooted and changed overnight.
The internet imploded when this second season was announced. Kekkai Sensen aka Blood Blockade Battlefront did something well back in 2015 when it came out because the show resonated heavily with fans. They are trying to do the same again with this new season, so what can we expect? Fights, supernatural beings, those powers, and more: exactly what we wanted. We are waiting with baited breath for this and we cannot wait to see more!
3. Garo:VANISHING LINE
Sword lives in the highly advanced city Russel City. He has stumbled across a plot to bring the city to his knees and is currently hunting down clues. He only has one though: "El Dorado". While he is searching, he comes across a girl named Sophie who was left that exact same clue by her other brother who disappeared. His heartstrings tugged, he decides to take her along with him. They then meet Luke and Gina along the way as well as they try to all crack this problem.
Originally this show was something that caught our attention immediately and would have made it #1 on this article. Finding out that it is a part of the Garo series has diminished it slightly since the series overall has been rather cringey. However this one seems to be less cringey and more about the action with unique art. Plus, it's Mappa! Mappa has been cranking out hits lately, so it is definitely worth taking a look at this series. The seiyuu lineup looks good as well so there is a lot to be expected from this series.
Final Thoughts
That wraps up our list of the top action anime that are debuting this summer that we feel are must-watches. At the very least, we will absolutely be giving them a 3 episode test and we are hoping that we will be able to keep watching them. Summer has let us down with a lot of shows, but thankfully fall holds a lot of promise with these shows!
---