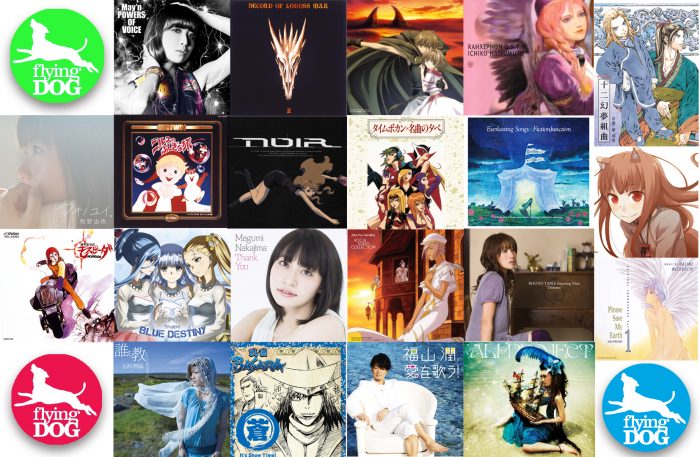 Available worldwide on Apple Music, Spotify, YouTube Music, and Amazon Music Unlimited

What You Need to Know:
This week, FlyingDog released approximately 3,500 songs, both new and old, from anime soundtracks that the company has worked on on streaming services.
This release encompasses a vast line-up of anime theme songs and soundtracks, from nostalgic 70s classics to hits from yesteryear, and brings the total number of FlyingDog songs available for streaming up to almost 6,000.
Some of the soundtracks of classic series such as Time Bokan, Nils no Fushigi na Tabi, Spoon Obasan, Genesis Climber MOSPEADA, Megazone 23, and The Five Star Stories have been released for the very first time, delighting older fans.
Then, there are songs from masterpieces such as Record of Lodoss War, Please Save My Earth, MEMORIES, and You're Under Arrest. More recent hits such as NOIR, RahXephon, Twelve Kingdom, Tsubasa Chronicle, ARIA The ANIMATION, Sengoku BASARA, Kiniro Mosaic, Arpeggio of Blue Steel, Space Dandy, Amagi Brilliant Park, and Kantai Collection have also been included. Finally, this release includes all songs from artists such as Akino Arai, ROUND TABLE featuring Nino, Yui Makino, Chiaki Ishikawa, FictionJunction, May'n, Jun Fukuyama, and Trident.
Drawing from this vast collection of 3,500 songs, FlyingDog has compiled special playlists by theme, allowing you to enjoy old favorites or make new discoveries.
To commemorate this 3rd streaming release, they are also planning to create a comprehensive "FlyingDog All-time Playlist," which will include songs from affiliated artists and the 1st and 2nd streaming releases in the near future, so look out for it!
Please visit www.jvcmusic.co.jp for upcoming series titles and artist releases!
Source: Official Press Release
FlyingDog Special Playlists

FlyingDog 3rd Streaming Release! Part 1: The Victor Era (up to 2007)

FlyingDog 3rd Streaming Release! Part 2: The FlyingDog Era (2007 onwards)

FlyingDog 3rd Streaming Release! Part 3: Artist Albums

Major albums:

Time Bokan Meikyoku No Yuube - Masayuki Yamamoto, et al.
Megazone 23 Music Collection - Shiro SAGISU
Record of Lodoss War Original Soundtrack - Mitsuo Hagita
Arjuna : Into The Another World - Yoko Kanno
NOIR ORIGINAL SOUNDTRACK - Yuki Kajiura
RahXephon OST 1 - Ichiko Hashimoto
Twelve Kingdoms Original Soundtrack 1 - Kunihiko Ryo
ARIA The ANIMATION Original Soundtrack - Choro Club feat. Senoo, et al.
Sengoku BASARA Director's Special Edition - Hiroyuki Sawano
Arpeggio of Blue Steel -Ars Nova- Original Soundtrack Complete Edition - Masato Koda
Space Dandy OST 1 Best Hit BBP - Various
Kantai Collection -Kan Colle- Character Song "Kanmusu no Uta" Vol. 1 - Various
Tsuki ga Kirei Sound Collection - Various
Keikan Shijin SINGLE COLLECTION PLUS - ALI PROJECT
---
That is a LOT of music!
Great anisong picks!