INTRODUCTION
Born from Yun Koga in 2001, Loveless is a shounen-ai, dramatic manga revolving around Ritsuka Aoyagi, a twelve-year-old boy in the darkest period of his life. Loveless is a slow-paced manga, which can pull your heartstrings. It gained so much popularity that in 2005 it got an anime adaptation, as well.
Ritsuka Aoyagi is a boy with a broken home: his mother's gone insane, while his older brother – Seimei – has been killed. After Ritsuka meets Soubi Agatsumi, his life is turned upside down even more. Soubi is a mysterious twenty-year-old guy who shows Ritsuka a totally new world: the world of "fighters" and "sacrifices". Two people with the same names are bound to fight together, and while one protects, the other one attacks.
As days go by, and Ritsuka gets to know Soubi better, he discovers a shocking truth: Soubi knew his brother. Not only did he know him, he and Seimei had the same names - "Beloved" - and used to fight together. Ritsuka is sure that Soubi knows more about Seimei, while Soubi wants to find out what happened to him. They agree to fight together, in spite of the fact that their names don't match – Ritsuka's name is "Loveless" – and their adventure toward the truth begins!
If you're enjoying Loveless so far, but keep craving for more, we can help you! We put into this list, six other manga sharing similarities with Loveless. Stick with us until the end, and have fun!
Similar Manga to Loveless
1. Dengeki Daisy

Mangaka: Motomi, Kyousuke
Genre: Comedy, Drama, Romance, Shoujo
Volumes: 16
Published: May 2007 – December 2013
Teru Kurebayashi has lost her brother. Before dying though, he left her a cellphone and told her to contact a person called "Daisy", if she ever felt lonely. The elusive figure of Daisy becomes Teru's strength; in fact, living alone and without relatives, Teru doesn't feel sad. One day, though, in order to repay a debt, she is forced to deal with the school janitor – Tasuku Kurosaki – who is abusive and inconsiderate: the opposite of Daisy. What will happen, then, when Teru's two distant worlds collide?
Dengeki Daisy is a shoujo manga sharing a lot of similarities with Loveless. Even though Dengeki Daisy lacks the supernatural trait, our protagonists – Ritsuka and Teru – live the same situation. They both have lost their older brother, and they both are entrusted to their brother's best friends. As for the deaths of Seimei and Souichiro – Teru's brother – there are a lot of mysteries around them. Ritsuka and Teru fall in love with their brother's best friend, who, in both cases, is way older than them. We can't deny that Loveless has more obscure themes, but if you want to enjoy a lighthearted version of it, Dengeki Daisy is a perfect choice!
---
2. Houkago Hokenshitsu (After School Nightmare)

Mangaka: Mizushiro, Setona
Genre: Mystery, Drama, Horror, School life, Romance, Supernatural, Shoujo, Psychological
Volumes: 10
Published: December 2004 – 2008
Houkago Hokenshitsu revolves around Mashiro Ichijo, who keeps a big secret within him. A secret that could destroy his life for good: he isn't fully male nor female. He lived as a boy, and managed to go on, but his life changes when he is informed that in order to graduate, he needs to attend a special class... A class where all the students are asleep and live a nightmare, with the goal to find the "key", that will allow them to graduate. As days go by, those who find the key in the nightmare, disappear from school the day after. What is actually going on in that strange elite school?
After School Nightmare and Loveless may differ in their plots, but they share the exact same atmosphere. In both these manga, there's a lingering feeling of distress that makes the readers unable to expect what could come next. Both of these series have psychological undertones; in fact, we find very serious themes like abuse and violence. What's more, the supernatural trait is strong in both, as in Loveless, the characters use superpowers to fight, and in After School Nightmare, they can fight with weapons in their nightmares. In both these series, we find love triangles, and BL hints – even though in Loveless they're more explicit. If you are enjoying Loveless for its dark themes, After School Nightmare is what you're looking for!
---
3. Karneval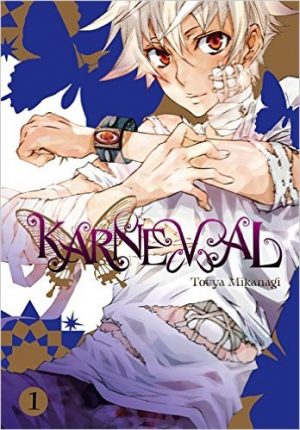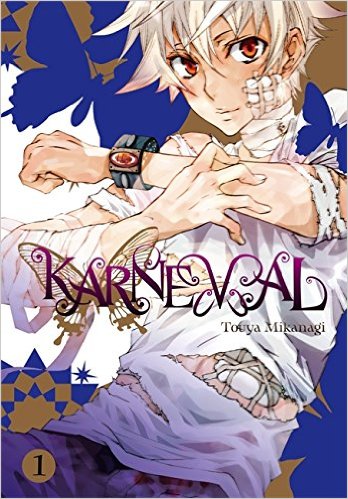 Mangaka: Mikanagi, Touya
Genre: Action, Mystery, Sci-fi, Fantasy, Josei
Volumes: 19
Published: August 2007 – ongoing
Nai is looking for the most important person in his life, starting from a bracelet as the only clue. Gareki is a guy who steals in order to survive. These two boys meet by chance in a mansion, and because of some circumstances, they suddenly become criminals. From there, getting in contact with the most powerful defense organization of the country – "Circus" – takes just one step. Nai and Gareki will become their journey together with the funny Circus crew! Will Nai be able to find the person he is looking for?
For starters, Karneval and Loveless share a similar art style which is neat and cute at the same time. In Karneval, we have almost the same pattern that we can find in Loveless: a boy who is looking for answers about the most important person in his life – Karoku. At the same time, chapter after chapter, we discover a similarity in Karoku and Seimei's characters. That is, they're almost the exact opposite of what the readers would expect. As for the supernatural parts, we find in both fights and turn of events, but we need to say that in Karneval the action trait prevails. If you are liking Loveless, you'll love Karneval, too, as the huge range of amazing characters will overwhelm you!
---
Any Manga Like Loveless ?
4. Chobits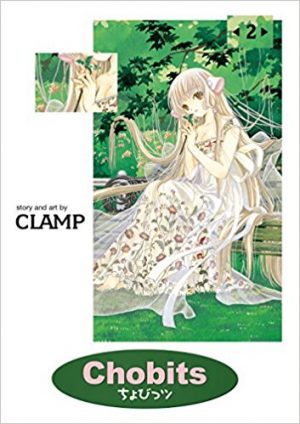 Mangaka: CLAMP
Genre: Comedy, Romance, Seinen, Ecchi, Sci-fi, Psychological
Volumes: 8
Published: September 2000 – October 2002
Let's go on with this story brought to us by the CLAMP. Our protagonist is a normal guy of the 22nd century, whose name is Hideki. This guy craves for a good job, in order to afford a sexy "Persocom", alias a robot girlfriend. He feels lucky when, by chance, he finds Chi in a pile of trash. Chi is a Persocom, but she seems to be a bit stupid even though she's adorable. Taking care of Chi proves to be a hard task for Hideki, who will almost regret even wanting a robot girlfriend. How will Hideki manage to overcome all the embarrassing situations Chi will put him into?
If plot-wise we are in front of two different manga, Chobits and Loveless have something in common, too. First of all, we find two characters – Ritsuka and Chi – with cat-like ears, who suddenly come into contact with a handsome stranger. Then, in both Chobits and Loveless there's a close focus on the relationships: they are analyzed from all perspectives, with their faults and hardships. The main theme of love is ever-present throughout both these stories. Both Chobits and Loveless have an alternation of touching moments, funny and romantic ones. It's not a stretch to say that those who are enjoying Loveless, will enjoy Chobits all the same.
---
5. 1001

Mangaka: Sugisaki, Yukiru
Genre: Adventure, Mystery, Fantasy, Shoujo
Volumes: 9
Published: June 2012 – ongoing
Naito and Yuta Fuuga are twin brothers and opposites. While Naito is calm, good at school, and elegant, Yuta is hot-headed and always up for a fight. In spite of their huge differences, these two brothers are very close and get along. Their lives are turned upside down when their father disappears and they have to leave for Dubai in order to search for him. Something goes wrong, though, because a strange meeting with a peddler brings Naito and Yuta in the world of One Thousand and One Nights. Separated, in a world they didn't even know existed, will they manage to find each other and their father?
1001 shares with Loveless a BL subtext and has a strong bromance between the two main characters. In both, the main theme of the research is powerful, as Naito is frantic to find his brother, and Ritsuka is frantic to find out what happened to his brother. While plot-wise these two manga may differ, it is obvious that they share the same atmospheres and stir up curiosity. We can consider 1001 like a more adventurous version of Loveless, as its characters travel in a different world. Be sure to give it a try!
---
6. 07-Ghost

Mangaka: Amemiya, Yuki (Story) Ichihara, Yukino (Art)
Genre: Action, Adventure, Comedy, Drama, Fantasy, Josei, Mystery, Supernatural
Volumes: 17
Published: April 2005 – August 2013
Let's end this trip with a manga full of adventures! 07-Ghost revolves around Teito Klein, attending the elite Barsburg Academy. Teito is a reject as he is an orphan and a slave, without memories about his past. His only friend is Mikage Celestine, a sweet guy who befriends Teito in spite everything. When some circumstances make Teito discover the truth about the Empire and the Seven Ghosts, his life becomes a mess. It's the meeting with Frau, a priest, that will change his life for good and will make his long journey begin!
07-Ghost and Loveless are two manga that share the same vibes. In both, the main theme of the loss is strong, and both Teito and Ritsuka have to face the death of someone very dear to them. Both of them start their journey with a guy who is older than them, who becomes something similar to a mentor. They will face a new path that will allow them to grow up, through hardships. Loveless and 07-Ghost have a good amount of drama, it's true, but both of them have some comedy parts that can make the readers crack up. If you wish to read a more dynamic version of the same themes you can find in Loveless, give 07-Ghost a chance. You won't be disappointed!
---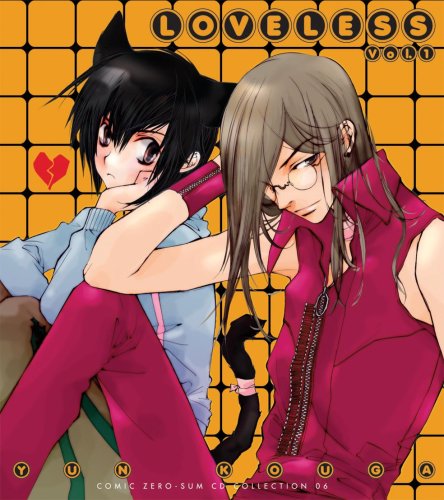 Final Thoughts
With o7-Ghost, our list comes to an end. We tried to put in it manga of different genres, that share with Loveless either its themes, or its plot, or other subtle things. Loveless is a rare gem in the shounen-ai universe, as it is deeply emotional and brings the readers to cheer for little Ritsuka from the beginning. As it is still ongoing, why don't you put up with one of these on this list, while waiting for the next volume? We truly hope you enjoyed the ride, and as we always say, if you know other manga that could have been a good fit, please let us know in the comments below!
---