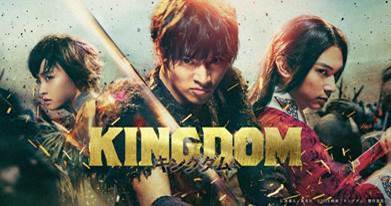 KINGDOM‐International Trailer‐Sony Pictures Entertainment (Japan)

What You Need to Know:
Amid a strong theatrical run in Japan, Funimation Films, the theatrical division of Sony Pictures Television's Funimation, today announced its acquisition of the new live-action epic "Kingdom."
Produced on a grand scale by Sony Pictures Entertainment Japan, "Kingdom" is a major motion picture based on the bestselling adventure-historical manga series of the same name and presents a fictionalized account of the Warring States Period (475-221 BC) of ancient China through the eyes of Li Xin, one-time orphan and future great general, who helps unify the country under the Qin dynasty and its emperor.
Directed by Shinsuke Sato, the highly-anticipated film premiered on April 19 in Japan, where it has grossed more than $31 Million to date. Funimation Films plans to release "Kingdom" this summer in both the U.S. and Canada.
The complete episodes from Season 1 & 2 are available in ad-free, HD streaming on FunimationNow. Both seasons are also available on DVD via funimation.com or from select retailers. The film's director Shinsuke Sato is well known for other live-action adaptations including "GANTZ," 'Bleach," "I Am a Hero" and "Death Note: Light Up the New World."
Source: Official Press Release
Movie Details
KINGDOM
FUNIMATION FILMS
Opening date (U.S. & Canada): Summer 2019
Directed by: Shinsuke Sato
Written by: Tsutomu Kuroiwa, Shinsuke Sato, Yasuhisa Hara
Produced by: SONY PICTURES ENTERTAINMENT JAPAN
Production Year: 2018
Country of Origin: Japan
Genre: Live-Action Feature; Action/Adventure
Language: English subtitles
---
Watching the movie in theatres must've been an amazing experience.
The manga was incredible so I hope the actors put on a good show!