También puedes leer este artículo en:Español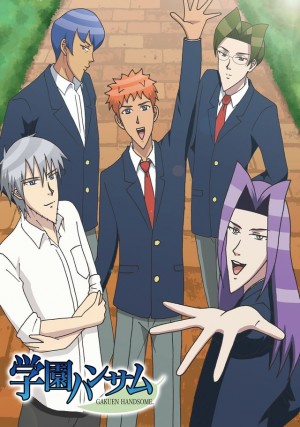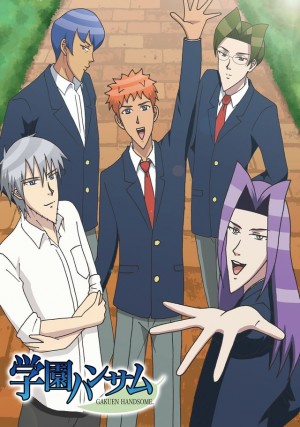 Gakuen Handsome

---
Airing Date:
October 4 2016
---
Honey's Highlights
What is this?! Why do they look like that? What happened to them?!
Pfft, you don't know? It's a famous BL parody based on a game! It's so funny!
Yeah, it already got an OVA in 2015 called Gakuen Handsome: The Animation!
I'm sad this will be a short, 3 minutes per episode isn't enough! But if you enjoy random comedy anime like Osomatsu-san and Cromartie High School, you should definitely check this out!
Synopsis
This is Baramon High School, the most elite private boys school in the district. It is here that the protagonist of the story, a transfer student, meets many powerful and brave men.
Whenever he slips through the back entrance… There is handsomeness.
The outlaw teacher, the soccer club captain, the childhood friend he is reunited with after seven years etc… Love, friendship, conflict… All kinds of stuff happens between these individual characters and the protagonist. This is a school love story that brings together fierce feelings.
Three Episode Impression
There are harem, BL, ecchi, and school romance shows, and then there is Gakuen Handsome. If you don't like it, we suggest you have several seats because you take yourself and your anime too seriously. 10/10, this show has some of the worst art ever, but that is how it is intended to be, which in a twist, actually makes the show fantastic. The characters as well, while unique, are all weird, but fit together cohesively to make up this BL romance story. Adapted from a game that was also a parody of the entire BL and harem genres, Gakuen Handsome will leave you in tears for some of the stupid antics that go on. Yoshiki has gotta find love "even though he is a guy!", as he goes to an all boys school known for having pretty boys. Chins to the floor, eyes that make you come back for more, Yoshiki has Sakuya, the delinquent and soccer king, Renji, the uptight straight-A student, Takuya, the shoe-in childhood friend, and Shinya, the weird transfer student who could be violent, to choose from. Kick back, relax, and let's see who he chooses. This is a must watch, for sure.
Characters & Voice Actors List
Yoshiki Maeda

Voice Actor: Natsuki Hanae & Tokiokakeru
---
Yoshiki is an extremely normal second year high school student. Due to his parents being transferred for jobs, this is his first time coming back to his hometown in seven years. He is transferring into Baramon High School.
Sakuya Mitsurugi

Voice Actor: Ryohei Kimura & Kinkin
---
Sakuya is a third year student at Baramon High School. The captain of the soccer club that is known throughout the Prefecture for boasting of their abilities. That being said, he is still mischievous and a problem child who has strong arms.
Teruhiko Saionji

Voice Actor: Yuuto Suzuki & Nekoroji
---
Teruhiko is the outlaw teacher. His lawlessness frightens not only his students but also the teachers! He is the Art club's advisor.
Takuya Saotome

Voice Actor: Tetsuya Kakihara & Gakenouenopo Niyo
---
The childhood friend the protagonist is reunited with for the first time in seven years. His family manages an Okonomiyaki (Japanese Pancake) restaurant.
Renji Kagami

Voice Actor: Kazunori Nomiya & Ijuuin Yoshida
---
The brightest student in school, the school council president. Renji is the son of a very distinguished family who are also the head of a large conglomerate. However, he can sometimes be lacking in common sense.
Shingo Shiga

Voice Actor: Satoshi Tsuruoka & Haurunougoku Shiro
---
The mysterious transfer student who transferred into Baramon High School in May. He likes to be alone and is a bit of a lone wolf but, is he actually harboring something deep inside that he cannot bring himself to say?
Jirou

Voice Actor: Taiten Kusunoki & Takaaki
---
Jirou is the outlaw Baramon High School Principal. He doles out advice to Yoshiki when it comes to love and supports him.
Yuu

Voice Actor: Satomi Akesaka & 10Re;
---
Yuu is Yoshiki's younger sister who loves handsome boys and she is in the second grade in elementary school. Mischievous and meddling, she also supports Yoshiki in his quest of romance.
Episodes
12
Theme Songs

Opening Song: GET!! Yume & DREAM by Shou Kagami
Ending Song: Shin Handsome Taisou de Zundokohoi by 10Re;

Adaptation

Game


Main Staff

Original Creator: Toneso Kiashi
Director: Toneso Kiashi
(Credit Honey's Anime when you use our description.)