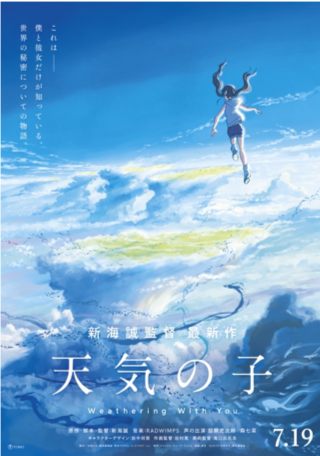 [Trailer - Weathering with You - Forecast]

What You Need to Know:
GKIDS have officially announced it has acquired North American distribution rights for the animated feature WEATHERING WITH YOU, the new film from director Makoto Shinkai and producer Genki Kawamura, whose previous film Your Name set box office records in Japan and around the world ($360 million worldwide box office), and is currently receiving a major studio live-action remake from JJ Abrams.
GKIDS has set an awards qualifying run for 2019 with a theatrical release in early 2020 in both the original Japanese and a new English language version.
The all-rights deal finalized out of this year's Cannes Film Festival was negotiated by GKIDS' CEO Eric Beckman and Akihiro Takeda for Toho. The film opens in Japanese cinemas on July 19. Rights are sold worldwide by Toho.
Source: Official Press Release
Synopsis
GKIDS proudly presents the highly-anticipated new film from director Makoto Shinkai and producer Genki Kawamura, the creative team behind the critically-acclaimed, global smash hit Your Name. The summer of his high school freshman year, Hokoda runs away from his remote island home to Tokyo, and quickly finds himself pushed to his financial and personal limits. The weather is unusually gloomy and rainy every day, as if to suggest his future. He lives his days in isolation, but finally finds work as a writer for a mysterious occult magazine. Then one day, Hokoda meets Hina on a busy street corner. This bright and strong-willed girl possesses a strange and wonderful ability: the power to stop the rain and clear the sky...
---
This film is definitely going to explode at the box office.
If it's anything like Your Name then we're definitely going to see a massive surge in popularity!