Hakozume: Kouban Joshi no Gyakushuu

Genre:
Comedy, Drama, Slice of Life
---
Airing Date:
January 5, 2022
---
Official Images / Key Visuals
Synopsis
"I quit being an officer!"
Mai Kawai took every civil service exam there is, but the only one she passed was for police. She enlists for the shallowest reasons, and now comes to regret it. She would've never applied for the police if she'd known how hard the work was, or how unpopular she'd be.
Resignation in hand, Mai seeks to turn over a new leaf in her life when she meets the new instructor, Seiko Fuji, a former ace detective who graduated from the police academy at the top of her class and is known as "Miss Perfect."
Seiko, rumored to have been transferred out because of harassing her juniors, is now partnered with Mai for patrol duty, which only intimidates the latter.
The fresh recruit Mai Kawai and the former ace Seiko Fuji. Between this unusual pair is a rich and fascinating relationship between policewomen, a comedy with laughs, twists, and some tears.
Now begins a realistic (?) story between two policewomen!
Characters & Voice Actors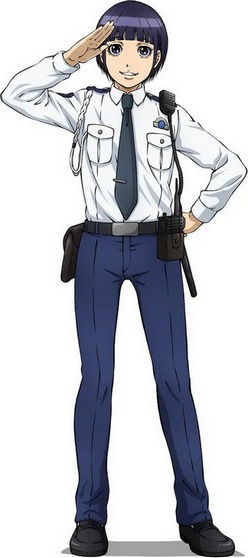 Mai Kawai:
Wakayama Shion
A rookie officer assigned to Machiyama Police Station. She resents the difficulty of her job and intends to resign. For better or worse, she is an honest individual, gradually learning to take pride in police work.
Seiko Fuji:
Yui Ishikawa
The top graduate of her police academy class and the former ace of section one of the detective division. She was transferred to Machiyama Station as a police instructor, and paired with Mai for patrol duty. It's rumored that she was transferred for harassing her juniors, but the truth is unclear. She's competent and beautiful, but people walk on eggshells around her due to her personality and behavior.
Seiji Minamoto:
Ryouta Suzuki
A detective of the section one criminal investigations division who joined the police academy at the same time as Fuji. His trademark is his natural perm. Though they exchange wisecracks back and forth, they recognize each other's abilities as police officers. His grades in school were abysmal, but his natural con-man-like talent of capturing people's hearts in an instant has earned him due respect as an "investigative genius."
Tekashi Yamada:
Shinba Tsuchiya
A detective of the section one criminal investigations division who is partnered with Seiji. He joined the police academy one term after Seiji and Fuji. Ever since his academy days, he's been taken advantage of but also doted on(?). He has a strong sense of justice and wants to help those in need, but sometimes he works too hard on what's in front of him and loses sight of the bigger picture.
Miwa Makitaka:
Kana Hanazawa
A fellow officer who belongs to the section one criminal investigations division and joined the police academy at the same time as Yamada. She has established a reputation for doing solid and thorough work. She's also trusted by the lead investigators. Miwa is a Shinsengumi Police Force nerd and female history buff who is deeply in love with the author Ryotaro Shiba. She's a quirky person who became a police officer because she thought police work is similar to what the Shinsengumi did.
Adaptation

"Hakozume: Kouban Joshi no Gyakushu (Police in a Pod)" (Manga)


Main Staff

Original Creator: Miko Yasu
Director: Yuuzou Satou
Assistant Director: Tooru Ishida
Series Composition: Ryunosuke Kingetsu
Character Design: Kei Tsuchiya
Sound Director: Kisuke Koizumi
Music: Tomo Nobusawa
(Credit Honey's Anime when you use our description.)
---