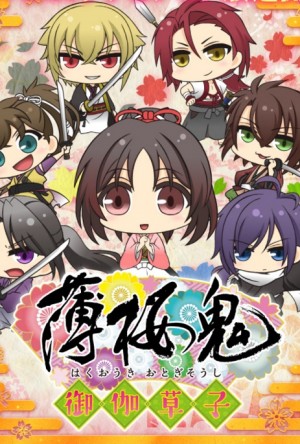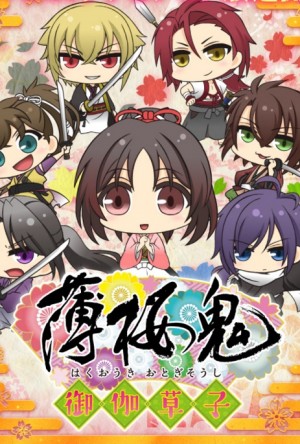 Hakuouki: Otogisoushi

---
Genre:
Shoujo, Historical, Fantasy
---
Airing Date:
April 5, 2016
---
Synopsis
The characters from super-popular otome game Hakuoki have shrunk! This series follows the everyday life that they may or may not have lived.
Characters & Voice Actors List
Chizuru Yukimura

Voice Actor: Houko Kuwashima
---
A girl who comes to Kyoto from far away in search of her missing father. Due to certain circumstances, she travels with the Shinsengumi. She can be a bit of an airhead sometimes, but she is honest and strong-willed. In reality, she is special in that she has demon blood flowing through her veins.
Toshizou Hijikata

Voice Actor: Shinichirou Miki
---
The vice commander of the Shinsengumi. His nickname is the Demon Vice-Captain. He is forever worrying because he purposefully acts like the bad guy in order to bring the rowdy troops together.
Souji Okita

Voice Actor: Shoutarou Morikubo
---
The commander of the first unit of the Shinsengumi. A genius swordsman. He loves jokes and pranks, and is always pestering Hijikata.
Hajime Saitou

Voice Actor: Kousuke Toriumi
---
The commander of the third unit. An expert in left-handed iai, a quick-draw sword technique. He has a very serious personality, is thoughtful and quiet.
Heisuke Toudou

Voice Actor: Hiroyuki Yoshino
---
The commander of the eighth unit. The youngest of the higher-ups. A real child of Edo, he loves festivals and has a curious nature. Lifts the spirits of everyone around him.
Sanosuke Harada

Voice Actor: Kouji Yusa
---
The commander of the tenth unit. He's quick to pick a fight and has a bad mouth, but he's also empathetic and deeply loyal.
Shinpachi Nagakura

Voice Actor: Tomohiro Tsuboi
---
The commander of the second unit. An Edo child who loves swordsmanship, alcohol, and women, and hates dishonesty. Is one of the most skilled swordsman even within the Shinsengumi.
Keisuke Sannan

Voice Actor: Nobuo Tobita
---
The general secretary of the Shinsengumi. Formerly from the Sendai domain. On the surface he is always smiling, but he also leads his troops with a cunning expression. Is secretly researching medicine.
Chikage Kazama

Voice Actor: Kenjirou Tsuda
---
A mysterious swordsman who was hired by the Satsuma Domain to target the Shinsengumi. The head of the western oni.
Other Title
薄桜鬼〜御伽草子
Airing Info

Legal Streaming:

Theme Songs

Opening Song: Don't Cry by Renka

Adaptation

Game


Main Staff

Original Creator: Nozomi Uda
Director: Kawatsura Shinya
Series Composition: Akemi Omode
Character Design: Haruko Iizuka
Music: Hiromi Mizutani
(Credit Honey's Anime when you use our description.)