---
Hana wa Saku ka (Does the Flower Bloom)

Genre: Drama, Romance, Slice of life, Yaoi
Airing Date: From February 24
Producers: Toei Video
---
When It Started
Hana wa Saku ka (Does the Flower Bloom) is one of Hidaka Shouko's most popular work that was originally serialized back in 2009 in the Rutile comic magazine. It tells the love story between a 38-year-old salaryman, Sakurai Kazuaki, and the owner of an impressive Japanese traditional house, Minagawa Youichi, who is only 19 years old and currently a student at an Art University. Youichi's late father, who was a genius painter, used to manage the house as a sharehouse for university students, but after his passing, Youichi now lives there with his two cousins, Shouta and Takeo. Sakurai, who later gets closer with the residents of the house and realizes that he's attracted to Youichi, must overcome all his reservations as an adult about his feelings for Youichi—who apparently loves him back—unless he'd let Youichi be stolen by his university friend, Fujimoto Kouki. How would the two deal with their relationship and considerable age-gap?
For this live-action adaptation, we get to see a number of really good-looking boys casted to bring the characters into life. The role of Minagawa Youichi falls to Watanabe Tsurugi who had played the role of Tusk or Juuoh Elephant in Doubutsu Sentai Juuohger. Fans of Kamen Rider Blade and Fourze would recognize Amano Kousei who plays Sakurai Kazuaki, while the role of Sakurai's love rival, Fujimoto Kouki, is played by the cute Shiono Akihisa, who had also played Rippuukan Souji or Kyouryu Green in Zyuden Sentai Kyouryuger. Youichi's older cousin, Takeo is played by Mizuishi Atomu, who had been involved in the TV Series GARO as well as the Musical Stage of Prince of Tennis. Additionally, this movie would be the debut of Tanimoto Kaori as a director, while the script was handled by Takahashi Natsuko who had also handled the script for similar live-action adaptation of BL series such as Seven Days, Doushitemo Furetakunai, and Hidamari ga Kikoeru.
---
Basic Info
| | |
| --- | --- |
| Length of event | 30-40 minutes. |
| Place | Ikebukuro HUMAX Cinema. |
What Happened: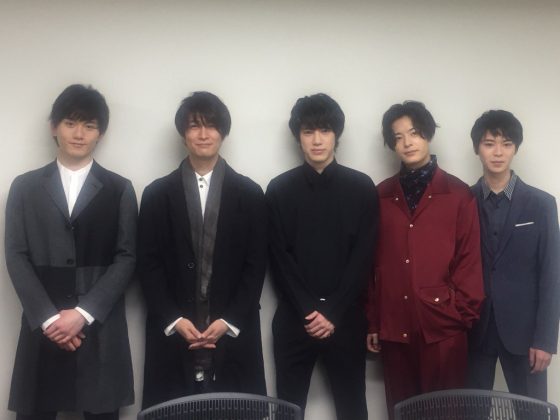 As to not spoil excited fans of how the movie went, this event report isn't going to be talking about the movie as much as it is going to be about the cast greetings. However, it should be noted that while there are several differences compared to the manga (presumably to fit into the limited length of a movie), the movie was very enjoyable and surprisingly more satisfying than what we had expected! It's got really nice directing with considerable amount of nice fanservice shots, and the cast did very well in bringing the characters to life. If you're a fan of Hidaka Shouko and the original series, or if you a fan of one of the cast, we'd very much like to recommend this series to watch!
For the cast greetings, five of the main cast were invited on the stage along with the director. The MC called out all five main cast: Watanabe Tsurugi, Amano Kousei, Shiono Akihisa, Mizuishi Atomu, and Obara Yuito, along with the director, Tanimoto Kaori. Remarking how this would be the entire cast's first BL work, the MC asked Watanabe about how his feelings on being chosen as the main character Youichi, to which Watanabe admitted that he felt the pressure of having to play a main character from a series so popular and beloved as Hana wa Saku ka, especially because this is his first time acting as a main character.
When asked about their impression of being involved in a BL work and on the original series, Watanabe remarked that it made him think that love is really not about being of opposite sexes, and that the original manga was very beautiful, and since it does not have that many love scenes, it's easy for those who have just only gotten into BL genre to enjoy it. Amano remarked that being involved in this movie was his very first interaction with the BL genre—he had no idea what BL was. "I was worried if it'd be okay in the end, because I'm already an old man," he said with a laugh.
Similarly, Shiono also said that he was quite impressed by the story of human relations depicted in the series and consequently brought over to the movie. "I even thought it's better not to have Fujimoto anymore since these two's relationship is so good!" he joked, to which Watanabe responded, "No, no, if Fujimoto isn't there, the story wouldn't progress, you know!" The youngest member of the cast, Obata Yuito, who is only in his third year of middle school, admitted that he'd read the original manga back-to-back over and over again after being casted as Shouta, and despite not knowing anything about BL work before, he really loved the story. Director Tanimoto commented that with a beautiful work such as Hana wa Saku ka, she really tried to bring into the screen the scenes she really wanted to see.
The discussion goes towards, of course, the exciting part of the movie: the kissing scene! Both Amano and Watanabe commented that they did nothing special before the scene was shot except for small talks and, interestingly, making sure both of them eat the same food. Amano added that surprisingly, he was much more relaxed when kissing a guy than a woman, to which Watanabe said that considering this was his first kissing scene on screen, he was glad that his partner was Amano. "If my first kissing scene had been with a woman, I would have been expected to lead and such, and I would have been extremely nervous and stumbling around it, but Amano-san led me in the kissing scene and made me feel more relaxed. It became a good memory." The Director also commented that they both did the kissing scene in one cut, with Amano telling her to leave it to him, which she thought was impressively cool!
The cast were asked about a number of things, including what their approaches in acting as their characters. Watanabe and Yuito both said that they read the original work over and over again, while Amano was quite impressed with the way Shiono approached his character. While he only flipped through the original work, Shiono focused on the script he was given and explored Fujimoto's character from there by himself. "I acted out what I felt when I read the script," he told the audience, to which Watanabe added, "Seriously, this guy gets really touchy-feely when he acts as Fujimoto!" Mizuishi also shared how his approach to acting as Takeo differed from the manga because the Director let him act more as himself rather than Takeo. Hmm, aren't you curious about how different Mizuishi's Takeo compared to the manga's Takeo now?
As Hana wa Saku ka is a movie about breaking outside of one's box, the entire cast was also asked if they had anything they want to break out of. The answers we got were pretty hilarious—Amano simply said that he would like to be a proper adult, drawing giggles from everyone because he is the oldest among the cast and reassurances from the Director that he is already a proper adult. Obara, who would be entering high school this spring, hoped that he would be able to talk more to people around him once he got to high school, especially since he is apparently pretty shy around new people! Mizuishi, on the other hand, only wished that he could break out of his problem of waking up in the morning.
Lastly, keeping with the theme of Hana wa Saku ka where the characters were finally able to try new things for themselves and aim to be better people, the MC asked if the cast had anything new happened to them lately. Watanabe apparently received Valentine's chocolate from a stranger for the first time recently. Shiono's story isn't as happy; he broke his phone for the first time the other day, despite having put his phone in a glass coating. Mizuishi shared a story of his going to a movie festival abroad, where he was being asked out by a foreigner for the first time. Obara, being the youngest and most adorable, innocently told that he'd just tried the spicy mentaiko for the first time.
Afterwards, before the MC closed the event, there was a brief photo session for members of the press. Luckily, this time the audience was also allowed to take pictures of the cast! Both Watanabe and Amano thanked the audience for coming, hoping that they enjoyed the movie as much as the manga, and hoped that people would come again to rewatch the movie on the cinema. Well, Honey-chan was definitely in love with how cool Fujimoto is in the movie, and loves Sakurai and Youichi's relationship, so she's already planning to see it again!
---
Final thoughts
For fans of BL works, live-action adaptation oftentimes isn't really something to get very excited about—we have had several very disappointing live-action adaptations that really doesn't live up to the manga, after all. This probably caused most of us to look at live-action BL adaptation with little to no expectation. However, Hana wa Saku ka live-action adaptation was executed quite finely, and the final result was a very enjoyable movie that still has the atmosphere of the manga, with a bonus of nice soundtrack and really good-looking, adorable young male actors. From the cast greetings, it was obvious that all the actors took their characters very seriously and tried their best in bringing them to life on the screen, and we would say that their efforts did pay off! If you're a fan of Hidaka Shouko's works, or simply into BL works, the live-action adaptation of Hana wa Saku ka should be something you should watch in the cinema if you're around in Japan this month!