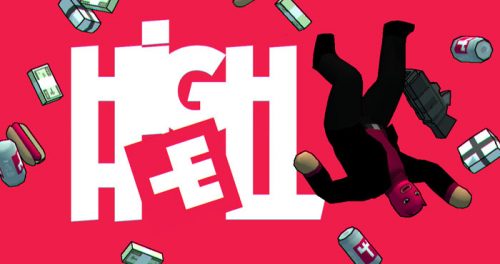 A wild and frantic shootout between you and the devil.
Game Info
System: Steam[PC]
Publisher: Devolver Digital
Developer: Terri Vellmann, Doseone
Release Date: October 24, 2017
Price:$8.99
Rating: M
Genre: Gore, Violent, FPS, Arcade, Indie
Players: Single Player
Official Website: http://highhellgame.com/
High Hell - Launch Trailer
Who it Caters to
First person shooters have been all the craze these past few years, with the likes of Call of Duty and Battlefield being prime examples of how successful the genre has become. It's evolved in an incredible ways especially when you look back 10 to 15 years ago when the genre was somewhat niche. Now with a more mainstream approach, we're starting to see more companies come up with unique ways of incorporating the first person shooter mechanics to create original and exciting games. One great example is High Hell which is developed by Terri Vellmann and Doseone, and published by the popular Devolver Digital. This frantic action packed FPS title reminds us of those early Quake days when everything seemed to be moving in quick succession, and that your only way to survive was to develop strong reactions and hand eye coordination.
What to Expect
High Hell is a shooter that speaks to any fan of the genre and as we stated earlier, provides a nice nod to the classic shooters that helped to pave the way for the titles we know and love today. Every level is quick and yet so deep in the sense that, your every move must be calculated because every enemy can pinpoint your movement and tag you at any time. It's certainly frantic in every sense of the word but there's still a great deal of strategy that one must implement in order to stop dying frequently. Death will come just as fast as the game's overall speed and if you aren't able to keep up, well much like the title there's a lot of hell to experience. Be that as it may, High Hell is a wicked experience that combines humor, over the top fun and just an overall awesome experience, so if you want to test your reflexes in an all out battle to kill the Devil this is the game.
Gameplay
Before we jump into the gameplay, there's one great thing to point out and it's that High Hell has some awesome music and the minute you load up the game you're immediately greeted with an extremely up tempo score that gets you real hype to play. For that very reason alone High Hell just always feels like you're always on the maximum settings, never falling short whatsoever. The game is so in your face that it gets your adrenaline pumping because you're on the edge of your seat trying to clear objectives while taking out each enemy that stands in your way. Due to the game's speed, your aim at first will be all over the place but once you find that stride, man High Hell just becomes so much more entertaining (nothing beats dogs wearing pants and shooting guns).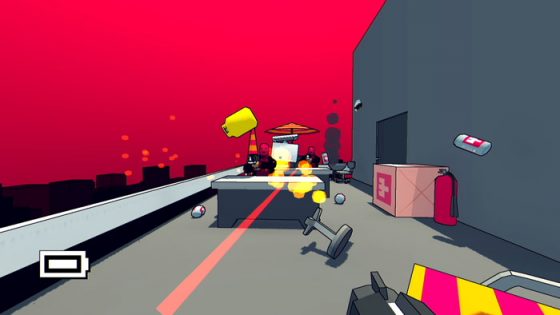 Much of the enemies in the game aren't necessarily the smartest but that doesn't mean they don't put up a fight against you. Fail to kill an enemy on the floor below you and they'll stalk you and shoot at you until you're dead. For that reason, your level of awareness needs to be at an all time high because oftentimes we felt like the level was completed, only to be shot from behind and mauled by a rabid dog. Of course, this caused a bit of frustration on our end but you really can't blame the game for your lack of awareness and that's where High Hell really tests you. Each mission you embark on comes with an assortment of missions, some of which are very easy while require that you pay close attention to what you're shooting at. It's very easy to lose control of yourself in this game since everything is being thrown at you crazily, one example is that we accidentally shot a goat which made us fail our side mission. Now failing a side mission in this game doesn't affect the overall direction of the game, so long as you manage to clear the main objective you're good to go.
Mind you however that the main missions, the farther you go into the game, gradually become much harder and the enemies become more of a hassle to deal with. You kick down one door and you're greeted with a room full of enemies shooting at you from all directions, so your reaction time needs to be on full in order to take each one out. Fortunately enemies have a distinctive pattern and so you'll be able to tag them quite quickly once you figure it out, but if you just run into a room full of enemies expecting to win then expect to die swiftly. There's going to be a lot of repetition to fully grasp everything around you and once you get the hang of strafing, hiding behind walls to evade bullets, and memorizing enemy positions, that's where High Hell really rewards you. It's really all about decoding the patterns and once you've accomplished that, High Hell becomes much easier to deal with.
Honey's Gameplay Consensus:
The only issue that perhaps seemed to plague the game, at least from our point of view was that it all ended too quickly. The game can be completed in 2-3 hours at best if you're quick enough and leaves you begging for more since the action really draws you in. You're left on such a high that you're itching to come back but there's nothing really left since you blew it all up. We loved the overall art direction of High Hell which made very good use of reds, while contrasting it with greys and the more monochromatic forms. It really helped to bring out the visuals in a big way which only made it harder to walk away from, since you're always immersed in this really funky futuristic world.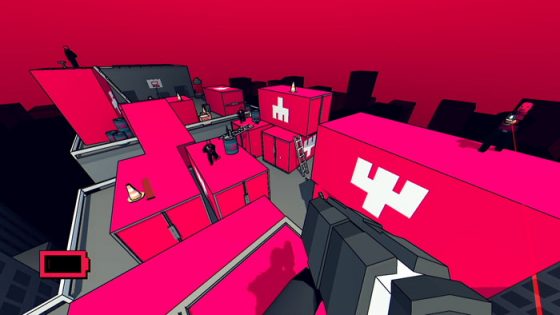 The remnants of Quake, Doom, and even Hexen can be felt in this arcade FPS and that's an extremely good thing. Taking what made those games memorable and throwing it into a more modernized version of that is where High Hell truly excels. It doesn't try anything it's not good at, it only focuses on the strong points and emphasizes them really well in the gameplay. If this game had some sort of online multiplayer capability that would surely up the ante but sadly, that's another hit that High Hell takes. However it doesn't take away from the awesome experience you'll have in single play so don't sleep on this one!
Honey's Pros:
Awesome visual appeal.

Fast paced and frantic fun.

Brings back memories of the Quake days!

Wicked soundtrack.

The crude humor and violence balance out really well.
Honey's Cons:
No controller support.

The game just felt too short.

Lacking an online multiplayer
Honey's Final Verdict:
Despite its length in terms of gameplay, what you get in this package is abundant with fast paced fun with lots of laughs along the way. While it may not cater to every gamer out there it will most surely speak to the souls who grew up in the arcade heydays when FPS games were evolving, and that frenetic gameplay was welcomed with open arms. We only hope that the team can perhaps come up with some DLC content to add more wealth to the experience, but at $8.99 you do get what you pay for which is a lot if you ask me. If you'd like to see this game played live on stream then be sure to hit us up at Twitch.tv/honeysgaming where we play just about anything, from your over the top anime to the fast and crazy fun that is High Hell!
As always, for all things sweet, with news straight from Japan, be sure to keep it locked here on Honey's Anime.